https://mediumhappy.com/?p=8812
by John Walters
Going, Going, Gone
Here's the next Yankee legend.
D.J. LeMahieu had just tied the score in the 8th inning doing what he does better than anyone in baseball—stroking an opposite-field base hit—when Aaron Judge strode to the plate. Judge, the 6'7″ 280-pound right-fielder, the "Supernatural," had already hit a home run earlier. It had been his fifth in as many games.
Red Sox pitcher Matt Barnes got behind in the count, put a "cement-mixer" out over the plate, and Judge smoked a no-doubter 460 feet into the left-center bleachers. Judge now has six home runs in eight games for the 7-1 Yankees. A-Rod actually said as it left the park, "Tiger Woods, Michael Jordan, LeBron James, Aaron Judge!"
Not quite yet. But he has the potential. At $8.5 million this season, he may be the best deal in all of baseball. He may earn as much as $35 million next season.
By the way, the wonderful thing about watching a Yankee home game this season is that it really doesn't look much different to the home viewer, behind the plate, in terms of the number of fans.
Missing, Missing, Gone*
*The judges will also accept "OF Goes AWOL" and "Bat's All, Folks!"
New York Mets outfielder Yoenis "A Cespedes For The Rest Of Us" Cespedes simply did not show up for Sunday's game against the Atlanta Braves. Then it was announced that he'd decided to opt out the remainder of the 2020 season for "Covid-19 related reasons" or "Would you risk your health to play for the Mets?"
Is this the beginning of a trend?
Rule No. 7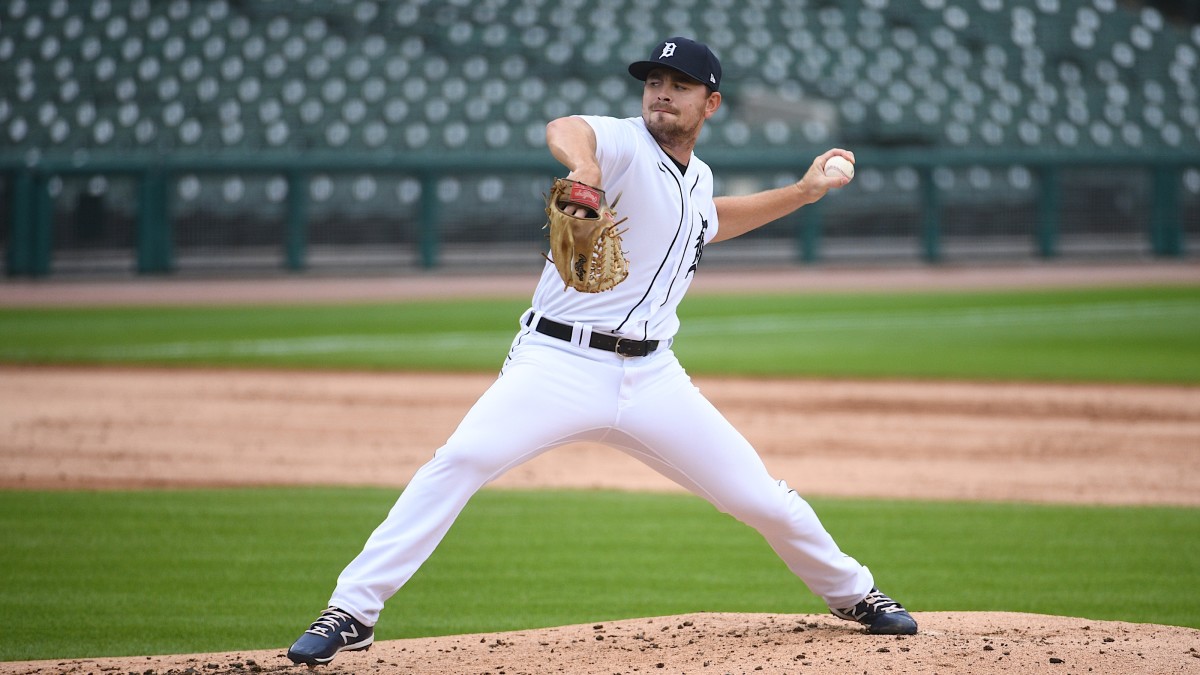 In which we remind you that every baseball game affords the viewer/attendee the opportunity to witness something that's never happened before…
A few wild nuggets from baseball's first 10 days:
–After three games not a single team had a 3-0 record. That had not happened since 1954.
–Through this many games—admittedly a small sample size—the average number of strikeouts per game has been 18. That's the most in baseball history. Also, runs are up (as are home runs). Baseball is more and more a pitcher-batter showcase. Fielders have never been so extraneous.
–Detroit Tiger rookie reliever Tyler Alexander whiffed nine straight Cincinnati Reds yesterday. That ties an American League record, held by former Tiger tosser Doug Fister. Only former New York Met Tom Seaver, a.k.a. "Tom Terrific," who once struck out 10 batters in a row, has compiled a longer list of consecutive K victims in one game (10).
By the way, Alexander's streak ended when he plunked Red batter Mike Moustakas on a 1-2 pitch. Ouch.
–The Tigers lost the game and the other game they played the Reds in the twin bill. Both games only went 7 innings. That's the first twin bill in which both games lasted only 7 innings since 1912.
–Something we mused about watching the final two innings of the Red Sox-Yankees game last night: Umpires must be the only ones who are happy about the current situation. They get to call an entire game each day without hearing, "You suck!"
No One Is Clean Here
If you have not read the Pac-12 football players' letter of demands that was published in The Players Tribune over the weekend, here it is. They make a few good points and they also make some points that had me summoning the wisdom of Rebecca DeMornay in Risky Business…
"Go to school, Joel. Go learn something."
A few of the demands make plenty of sense to us and in fact are things we've advocated in print for years, such as…
"Six-year athletic scholarships to foster undergraduate and graduate degree completion."
And…
"End performance/academic bonuses."
On the other hand, demands such as this one…
"Larry Scott, administrators, and coaches to voluntarily and drastically reduce excessive pay" are rather naive. If you demand that they do this, it isn't quite voluntary, is it?
Here's what rankles us most: In a story titled #WeAreUnited, The Players Tribune never bothered to address how many of the more than 1,000 Pac-12 scholarship football players signed off on this list of grievances/demands. It was almost enough to compel me to jump back on Twitter.
And here's the other thing: when the founders of this nation penned a similar letter to King George in 1776, they individually signed off on it. By doing so, these men literally put their lives at risk for having committed treason. Not a single player's name appears at the bottom of this letter. Not one.
No one is blameless here. The players properly address that college football has become a gridiron industrial complex in which they are the infantry and everyone else (the institutions, the outside contractors) are getting rich. The schools are at fault for basically Joel Goodson'ing it: turning their homes into a whorehouse for the weekend and then being upset when Guido the Killer Pimp conspires with the workers to take their cut.
But the players are also somewhat to blame. First, for not signing their names to this. Second, because let's face it: high school players do not sign scholarships in order to become pro athletes or to earn business degrees. Those are ancillary reasons, yes, but let's be honest about this: the young man signing that football scholarship almost wholly identifies himself as an elite football player.
This is his identity. This is what provides him self-esteem. To be offered the chance to continue in this identity for four more years, where potential glory and babes await, well, that's likely the best offer he has. The chance to not have to re-make his identity, at least for another four or five years, that's a seductive offer for most anyone, much less an 18 year-old.
So let's quit with the "We're being exploited" crap. No one forced you to sign that scholarship. No one is forcing you to stay. Just because the owners of the company are profiting disproportionately as compared to you, well, welcome to the working week. They are also offering you something no one else can, and they know that you want that. You could never just start up a minor league of football and replicate the tradition, the aura of college football. It would take decades and even then it wouldn't approach it.
So if you're really serious about making changes, sign your names. And sit out if your demands are not met. Be willing to walk away and be known as "that big dude in my sociology class." Otherwise, to me, it's an empty gesture.
Okay, Ozark
(The final scene from Season 2)
I wouldn't say I hate-watched the first two seasons of Ozark, but I often felt as I watched like penning a letter to Vince Gilligan and thanking him… and telling him that he made Breaking Bad look much easier to pull off than it is.
Much of the first two seasons of Ozark was bad Breaking Bad, from the fact that everyone gets away with murder (I realize the sheriff is compromised, but is there any way everyone gets away with murders even the most vapid dancer at Lickety Splitz could solve?) to the fact that too many people die too conveniently to all the redneck shenanigans that never seem to lead anywhere.
But I stuck around and now I've devoured the first three episodes of Season 3. The show has taken a quantum leap. The primary reason: the game of cat-and-mouse, of Spy vs. Spy, taking place between Marty and Wendy Byrde. They are no longer Byrdes of a feather, and this has ratcheted up the tension.
I was a little tired of Jacob Snell and the show runners obviously deduced that Darlene was the stronger character. The producers lost Rip Torn (DNP, Death) but felt as if they needed to toss another fly into the ointment so they produced Wendy's troubled but charming brother, who only happens to be built like a pro athlete and soon will be partnering (one way or another) with the show's best character, Ruth.
Season 3 has already had some magnificent scenes, from Ruth's roofdeck run-in with Frank Cosgrove, Jr. to the "Time For Me To Fly" montage at the end of Episode 3. We loved when the dentist told Wendy that Branson isn't just "country," that they'd seen Molly Hatchet open up for .38 Special. You have to understand that Ozark's executive producer and lead writer is Chris Mundy, a former senior writer at Rolling Stone (we met him at a party once, 23 years ago; we were already a fan of his writing then). That line was totally him.
So Ozark has pulled out of its tailspin. And Laura Linney has become even more mercenary and complicit than Skyler White ever was. In fact, she's sort of become the show's villainess. Also, I'm not sorry to see less of Charles Wilkes. Never bought that dude as that character.
Looking forward to the rest of Season 3. Where Marty Byrde will be "Riding The Storm Out."