https://mediumhappy.com/?p=8838
by John Walters
Elaine Benes to Trump: "Get OUT!"
No, we did not watch this live, either, but apparently Julia Louis-Dreyfus ("Lainey!") did some emceei'ng at the Remote DNC Thursday night. From the clip we saw, her best jab was when she noted that the number to text to learn about voting, 30330, would be easy to remember "because that's the year Donald Trump will finally release his tax returns."
And if you're saying to yourself, Didn't JLD play the vice-president of the United States who then later became the president in Veep, well, yes, you'd be right. So that's a little ironic.
Four For Four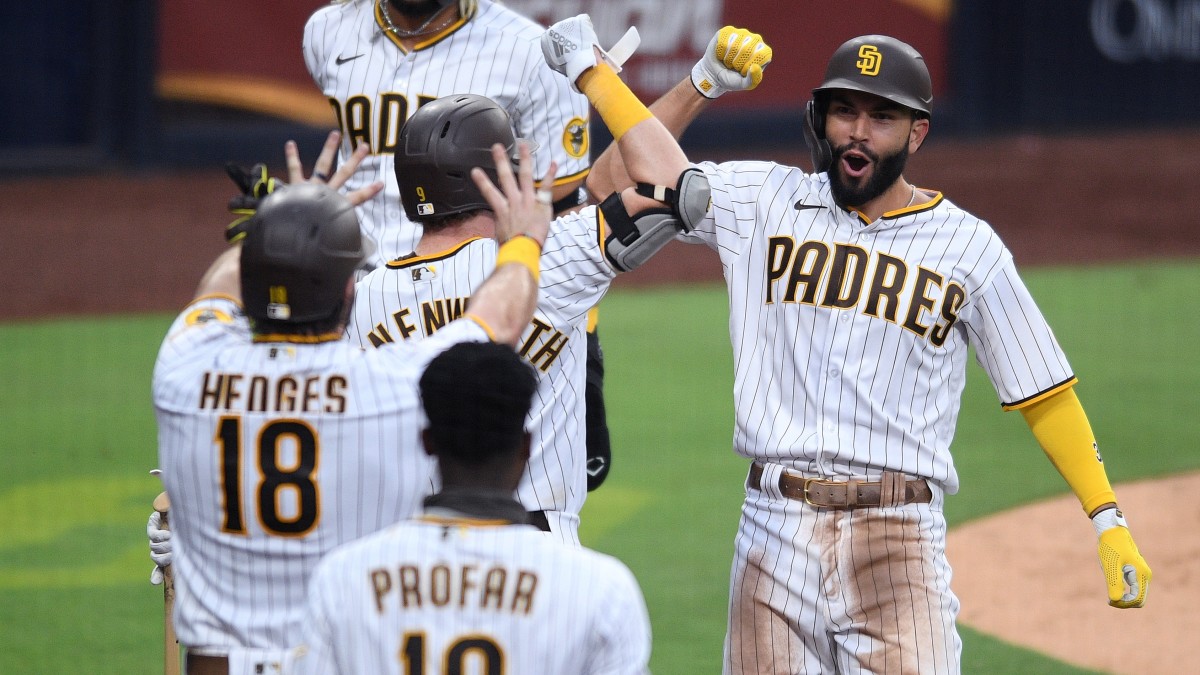 Remember Rule No. 7, kids? Some variation of "Every baseball game offers the opportunity to witness that has never before happened." Well, here you go: In Thursday's win against Texas, Eric Hosmer of the San Diego Padres hit a grand slam. It was the fourth consecutive night a Padres batter had hit a bases-loaded round-tripper and THAT had never before happened in Major League Baseball history.
All four grand slams came against the Rangers—which makes them the first team to surrender grand slams in four straight games—and the Padres swept the bizarre, no-fans, home-and-home series.
The best note: None of this happens without Fernando Tatis' Monday night grand slam that he belted on a 3-0 count in the 8th inning with the Pads up 10-3. And he took such grief for it. Turned out the baseball gods had a grander plan all along. Or maybe this is just their way of validating his "violation of baseball's unwritten rules."
Let history recall that four different Padres hit the four grand slams. In order: Tatis, Manny Machado, Will Myers and Hosmer.
Tesla: $2,020 in 2020?
Did any of our readers take our advice back in mid-January??? Because we didn't.
Back when Tesla was hovering around the $500 mark which, to be fair, meant it had run up quite rapidly in the preceding months, we augured that someone should put all their chips on the battery-powered vehicle stock and see how they were doing in six months.
Well, it's seven months and Tesla just toppled $2,000 per share on Wednesday. It closed at $2,001. This, one day after Apple became the first company in human history to have a $2 TRILLION valuation.
Sean Parker to Mark Zuckerberg in The Social Network: "You know what's cooler than a million dollars? A billion dollars."
Tim Cook to both of them: "Hold my iPhone."
We DO own Tesla stock (just not as much as we'd like) and we've made a nice little profit what with Tesla's $330 per-share gain this week. But not as much as Elon Musk, who became $8 billion wealthier just yesterday. He's now the fourth-wealthiest person in the world. The only people who should ever cover his lunch are Jeff Bezos, Bill Gates or Zuckerberg.
Both Apple and Tesla will have stock splits at the end of this month, which will be a boon for millennial investors. Which is part of the reason they're doing so.
Bieber Believer
The planet's best Bieber is now Shane, not Justin. The Indian ace struck out 11 Pittsburgh Pirates to improve to 5-0 thus far in the shortened baseball season. Not only that, the 6'3″ 25 year-old has whiffed 65 batters in just six starts, the most prolific K-rationing through six starts to open a season for a pitcher since 1900.
Putin Gotta Putin
On the left, that's outspoken Vladimir Putin critic (those four words are maybe the world's most dangerous job) Alexey Navalny sipping tea at a Moscow airport. On the right that's Navalny a few hours later on a tarmac in Siberia after an emergency landing due to his falling ill.
He has since slipped into a coma and is on a ventilator. It is suspected that someone slipped poison into his tea. Vlad strikes again. Man, on days like this Trump must wonder how he can cross that bridge and go full-Putin. The dream for him is only 9 1/2 weeks away.
What If ESPN (and Fox and CBS and NBC) Just Said No?
Some of the nation's more prominent and long-standing college football writers (Pat Forde at SI.com and Sally Jenkins of The Washington Post) have published columns the past two days excoriating colleges, particularly the ACC, for their hypocrisy when it comes to college football. They're not wrong, of course: the Summer of Covid has proven once and for all that football players are not students as much as they are semi-pro athletes. Yes, the tail is wagging the dog.
But what I haven't seen—and granted, I have not been looking closely—are any columns wondering how come ESPN or any other network that televises college football has to be complicit in this devil's bargain. What if ESPN, for example, were simply to say, "We don't think it's safe for these young men to be playing football right now and we're not about to contribute to it. So we're out."
After all, these schools aren't pushing to play football for the gate money. They're doing it for the TV revenue. So what if ESPN and Fox just told them, "For the same reasons that you're not holding in-person classes, UNC, we're not going to televise your games."
Ah, but you say, but ESPN is a business. And what's college football?