https://mediumhappy.com/?p=8850
by John Walters
Once Upon A Mud Night Dreary
From what we were able to ascertain, the president gave a speech blaming Joe Biden for what's wrong with America. Which might have been effective rhetoric if Biden had been president the past four years as opposed to the man who was speaking.
And Ivanka spoke but did not wear her wedding ring. No explanation on that one so we won't presume to guess why.
As for Trump's speech, Frank Bruni does a good job of sifting through the bullshit in his column this morning. "It's not a lie if you believe it, Jerry."
Also, we thought David Brooks did an excellent job here illustrating what Trumpism is attempting to do: create a Mean World that doesn't necessarily exist. It's Bogeyman America.
Meanwhile, we hear that Trump PROMISED that there would be a vaccine "by the end of the year, if not sooner." And why not promise that? The election is on November 3rd. If he's wrong and he loses, who cares? And if he's wrong and he wins, he won't care. It's the kind of guarantee a seasoned con man knows how to make, because there's no downside in promising this lie. And if you think this president hasn't lied about this pandemic already, well, you're too dumb to be reading this blog.
A Farce In The Crowd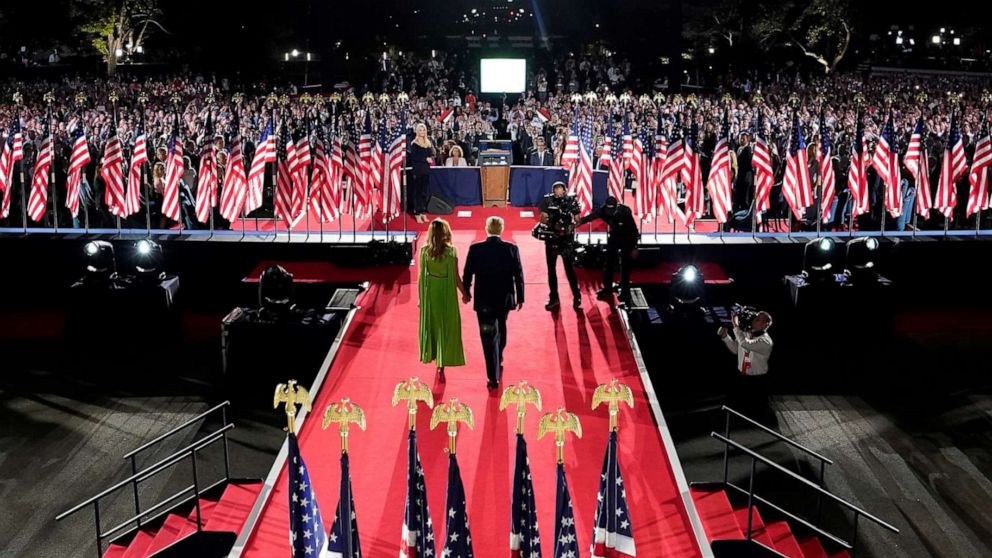 Meanwhile, the attendees of the RNC on the South Lawn of the White House numbered in the hundreds, seated close to one another, with few wearing masks. Apparently the president invoked his dead brother, Robert, whose death remains a mystery (did he go to a farm upstate to live with other overshadowed siblings?), and you had to wonder how many folks in this Sturgis East gathering might now meet the same fate. Wilbur Ross didn't look so good, did he?
Posting Dale
This nerdy rant by CNN's Daniel Dale is magical. You can hear the astonishment and earnestness in his voice as he fact-checks the president's lies from his speech. Watch Cooper's reaction at the end of his breathless polemic ("Well, that's it?"). What's truly incredible is that there's no way Dale is reading off a teleprompter. He has all of that stored up in that gigantic brain of his and he's simply flushing it out. Outstanding.
Lute Leaves
Arguably the most successful big-time coach in the history of Arizona sports, Lute Olson passed away earlier this week at the age of 85. Olson led the University of Arizona to the national championship in 1997—the Wildcats became the first and still only team since teams began being seeded in 1979 to defeat three No. 1's en route to cutting down the nets in April.
Olson was the head coach in Tucson for 24 years and beat more No. 1 seeds in the NCAA tourney (7) than any coach has with the lone exception of Mike Krzyzewski (8). He took the Wildcats to 23 straight NCAA tourneys and a quartet of Final Four appearances.
We've always thought that one of the important factors in Olson's success wast that in the 2nd through 6th seasons (five years) of his tenure in Tucson, he had a mature coach-on-the-court player by the name of Steve Kerr. In many ways Kerr has blossomed into the NBA style of coach that Olson was in college.
Gubernatorially handsome and always flashing a smile, Olson could have risen far in politics had he wanted. He had the look and the demeanor. Fortunately, he simply retired and enjoyed the 330 days of sunshine a year the Sonoran desert affords.
Karsten's Koming
The oldest existing world record in men's track? That belongs to Kevin Young of the USA, who in 1992 ran a 46.78 in the 400 hurdles at the Olympics in Barcelona. At the time Young became the first man in 20 years not named Edwin Moses to break the WR in that event.
But on Sunday in Stockholm Karsten Warholm of Norway, running in front of no fans during the pandemic, clocked a 46.87. That's the second-fastest time in history…and Warholm struck the last of the 10 hurdles he needed to clear, which definitely slowed him some.
The men's 5,000-meter world record was broken earlier this month by Joshua Cheptegei (12:35.36) in Monaco. The previous record (12:37.35) had been set in 2004 by Kenenisa Bekele. So on August 14th a 16 year-old world record was broken and on August 23rd a 28 year-old world record was nearly broken.
Are runners better off without fans?