https://mediumhappy.com/?p=8869
by John Walters
U.S. And Thiem
What a Sunday night in Flushing Meadows, as Dominic Thiem of Austria became the first man in 71 years to overcome a two-set deficit and win the U.S. Open. If you're scoring at home, that means since 1949… back when characters from Strangers On A Train were competing at the Open and then whisking themselves off to New Jersey amusement parks to confront murderous nemeses.
Too bad no fans were there to witness this one. One day earlier, Naomi Osaka overcame a one-set deficit to win the U.S. Open, the first female in 25 years to do so. Again, no fans.
A U.S. Open with no Federer, no Nadal, no Djokovic, no Williams sister, and no fans in the finals. Who ever would have believed it?
Nikola!
Watching Nikola Jokic burying unconventional shots as he led Denver back from a 19-point deficit against the Clippers to force a Game 7, I was reminded of an out-of-shape dad playing against the kids on the block. Now, the dad was at one time the best shooter in his high school conference, a highly skilled player, but he's let himself go. There's a beer gut. And if you want him to play full-court, don't expect him to get back on defense every time.
However, if you get him the ball and don't ask him to drive to the hoop, he's unguardable. Jokic finished with 34 points to force a Game 7—the Clippers are now 0-7 in games to advance to the Western Conference finals in franchise history—but it was the nonchalant nature with which he fired, and drained, these circus shots that amazed us. The Nuggets trailed by double digits in what was for them an elimination game and the 7-foot Serb played as if all he was doing was procrastinating from mowing the lawn. It was a thing of beauty to behold.
South Bend's Next Great Mayer
Move over, Mayor Pete. Now there's true freshman Notre Dame tight end Michael Mayer. The five-star from Kentucky only had three catches in his debut Saturday (on four targets…don't throw a 6'5″ man a pass to his knees, Ian Book), but it's pretty easy to see that he's going to be the best Fighting Irish tight end since Tyler Eifert.
Our Notre Dame tight end crush is well-documented and goes all the way back to Dave Casper…and Ken McAfee… and Mark Bavaro. And then in 2005 Anthony Fasano began an almost uninterrupted run of NFL greatness that has included himself, John Carlson, Kyle Rudolph, Eifert, Troy Niklas, Ben Koyack and Cole Kmet.
(Just click on the tweet)
We're not here saying that Mayer will be the best of that lot. But the 6'5″ super stud will be in that Eifert/Rudolph/Bavaro realm. And he already looks like a super hero.
Rally Capsize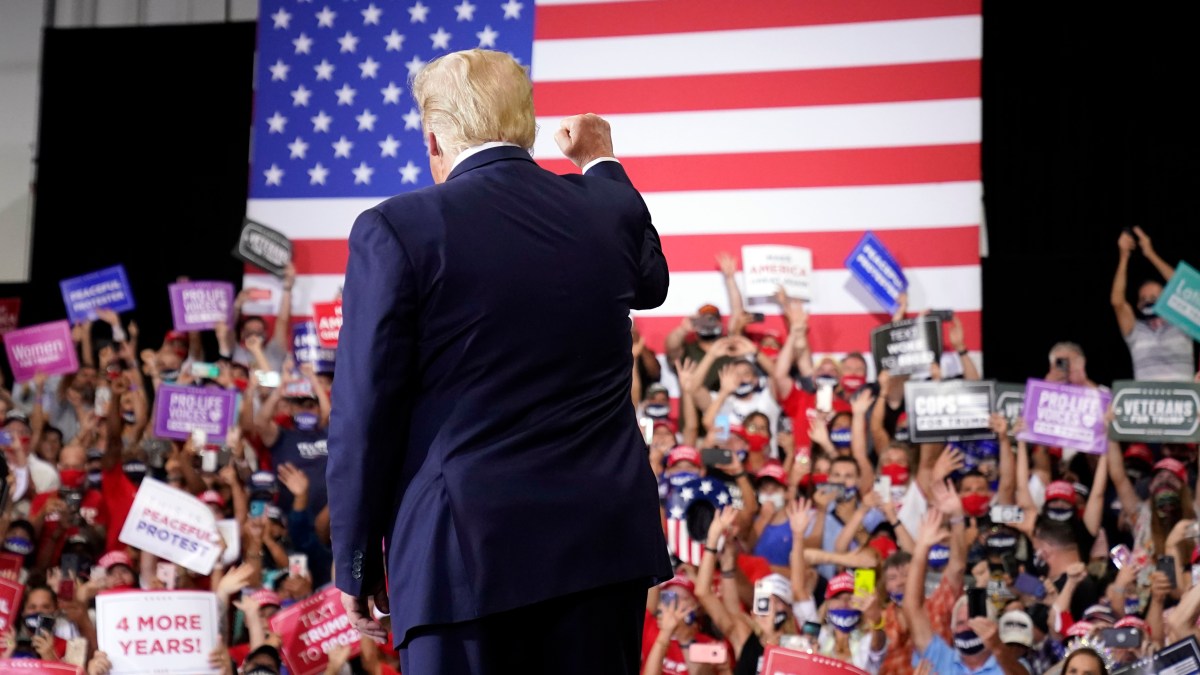 One of our favorite things about the Donald Trump Experience is how an entitled buffoon who lived most of his adult life on Fifth Avenue and within two blocks of 57th Street—literally the most cosmopolitan intersection in America, with Tiffany on one corner—has found love with a gaggle of middle-Americans with whom he'd have absolutely nothing to do with if he did not need their votes.
He loves them because they don't know who he really is or maybe they just don't care. And they love him because he blames all the people they want to blame for whatever is wrong with their version of America… because maybe looking into a mirror is too difficult. It's quite the lovefest, and President Trump continued it with brazen disregard on Sunday as he held a massive indoor rally near Reno, against the state's Covid-19 mass gathering regulations.
It's interesting that the president would travel all the way from D.C. to the American west and not think to drop in on Oregon, or Washington, or northern California, states that are reporting massive losses of life and hundreds of millions of acres burned. But, you know, they didn't vote for him in 2016, so f*** 'em.
Meanwhile, as Maureen Dowd notes in her Sunday New York Times column, Trump's sociopathic need for attention is so overwhelming that he's even willing to incriminate himself, to Bob Woodward, in exchange for reading about himself more. Of Trump being his own whistleblower in terms of what he knew about the coronavirus and when, a fellow Times employee went on MSNBC Sunday morning and said, " "Trump is the first candidate for president to launch an October surprise against himself. It's as if Nixon sent the Nixon tapes to Woodward in an envelope by FedEx."
Not that Trump's open-and-shut case against himself will sway any of the thousands who flocked to his rallies this weekend. He used to joke that he could shoot someone on Fifth Avenue and get away with it. Hell, he's killed nearly 200,000 Americans in a little over six months. Of course he could.
The NYC Marathon Turns 50
It was 50 years ago yesterday—September 13, 1970—that the first New York City Marathon was staged (in the past eight years, 2013 and 2020, the Marathon was not held, first because of Hurricane Sandy and now because of the pandemic). The 26.2-mile race was held entirely in Central Park which, if you've run the 6-mile loop, you know is quite a challenge.
The inaugural race had 127 starters and 55 finishers. Only one woman entered, and she dropped out at mile 14. The winner, above, was a firefighter, Gary Muhrcke, who wan a 2:31 and only caught the leader at Mile 24. The running boom was still a few years away, obviously.
Recent NYC Marathons have had upwards of 35,000 entrants and it's still not easy to get in. Fair to say that the running boom is more than a fad.