https://mediumhappy.com/?p=8875
by John Walters
The Rise Of Troye
How many people who literally worked with and for President Trump in the White House have to tell you what a scumbag he is before you begin to listen? With some folks, I doubt they'd listen if Trump himself said so (though, in not so many words, he does so every day).
The latest Trump Truther is Olivia Troye, who was vice president Mike Pence's top aide on the coronavirus task force before resigning in late July. On Thursday Troye released a video statement in which…well, let her tell you herself:
Excerpts: "The truth is that he doesn't actually care about anyone else but himself (things we already knew)."…
…and "Maybe this Covid thing is a good thing. I don't like shaking hands with people. I don't have to shake hands with these disgusting people." I mean, I pretty much agree with Trump here, but then again, these people are not my base.
Remember when Hillary uttered "Deplorable" and they all used it as their badge of honor? Maybe they should upgrade to calling themselves "DDs," or "Disgusting Deplorables."
It's one thing to hear Don Lemon and Rachel Maddow and Joe and Mika rant and rave about how unbelievably unfit Trump is to hold office/be married/touch his toes. But when you get a chorus of ex-staffers, many of whom were not shown the door but instead left of their own accord (or were arrested), well, is everyone else lying? Or is Donald?
I think we all know the answer to that one.
Alrighty Then!
Saturday Night Live has wrangled one of our faves, Jim Carrey, to play Joe Biden this season. If you're scoring at home that's Jason Sudekis, Woody Harrelson and even once John Mulaney who have played Biden. We loved Sudekis' Biden the best but can't wait to see what Carrey does with it. Carrey's probably the most talented SNL-type performer who was not a cast member (he or Robin Williams). In his twenties Carrey was on In Living Color, which was Fox's Sunday night version of SNL. The talent jumped off the screen back then.
Lowering The Barr (Yet Again)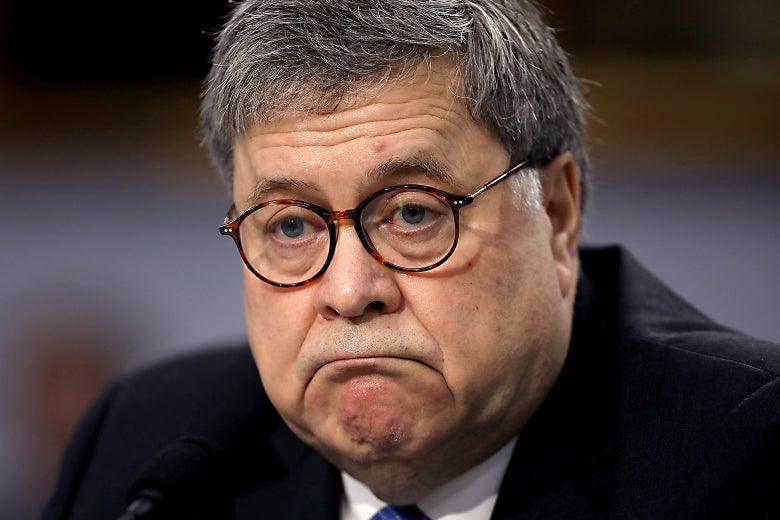 You'd thought Attorney General William Barr had already hit bottom, but then he says what he did Wednesday and fracks down even lower. Speaking at Hillsdale College in Michigan, Barr said, "Putting a national lockdown, stay at home orders is like house arrest. Other than slavery, which was a different kind of restraint, it's the greatest intrusion on civil liberties in American history."
Wow. Most people who make Holocaust, Hitler or slavery comparisons with anything they are currently enduring, in public, put their jobs in peril. And perhaps, unless they're comedians, they should (be in peril). But here's the nation's top law enforcement official comparing 100s of years of slavery to a few months of please-wear-a-mask-and-oh-yeah-LA-Fitness-is-closed-for-the-time-being.
If this is the American Apocalyptic Olympics, Trump has already wrapped up the gold, of course. But William Barr and Mike Pompeo are running neck-and-neck for the silver. Fat, rich, angry, powerful, late-middle-aged white men, all three. How did this country not only produce such figures, but worse, give them access to power? Shame on you who voted for Trump.
Bronx Bomb Shelter
The New York Yankees have had some pretty decent home-run hitters over the years. Mickey Mantle. Roger Maris. Alex Rodriguez. Aaron Judge. Messrs. Gehrig and Ruth.
But in the past three nights these Pinstripers did two somethings that no Major League franchise had ever done while also separately setting a new franchise mark. In a three-game sweep of the Toronto Blue Jays, the Yankees set an MLB record for most home runs in a series of any length with 19. They also became the first team to hit six home runs in three consecutive games.
On Thursday evening the Yanks set a new team mark with five home runs in one inning. Luke Voit was among the five to hit a home run in that inning, bashing his 20th of the season in the Yanks' 50th game. Only two other players in Yankee history have hit 20 home runs in the first 50 games of a season. Their names? Babe Ruth and Mickey Mantle.
A little over one week ago the Yanks had fallen to 21-21 and were actually in danger of not being one of the eight A.L. teams that will make the playoffs. They've since won eight straight, all without Aaron Judge, to move to 29-21.
Was It Really Necessary To Mention Amber's Age?
The headline screamed at readers from CNN's home page: "Oldest animal sperm discovered in 100-million-year-old amber." It's bad enough that they had to name the poor woman, but then to include how old she is? Poor form.