https://mediumhappy.com/?p=8906
by John Walters
Bo-Ring
Did the Lakers win the NBA championship, or did LeBron James? I'm sure Susie B. will have plenty to gush about in the comments, but we watched no more than two minutes of all six games of the NBA Finals. When the league's flashiest franchise pulls in two of its top five players to form an insta-team, yes, we acknowledge their superiority, but it does not much fascinate us.
Two notes worth noting: 1) The Lakers were 57-0 this season when taking a lead into the fourth quarter. That's more impressive than the championship. 2) Adam Silver pulled it off: the NBA not only got through The Bubble but did so without a single positive coronavirus test. Well done.
Spanish Bull Dozer
Another French Open, another Rafael Nadal grand slam title. This time Rafa defeated Novak Djokovic, making a nice recovery from his early U.S. Open exit, in straight sets.
If you're snoring at home, Nadal has now won 13 of the past 16 French Open singles titles. He has won seven of the other three Grand Slams, total.
Nadal and Roger Federer are now in a dead heat for the most Grand Slam singles titles with 20. Djokovic, a few years younger, has won 17. Wait them out, Novak. Wait. Them. Out.
Hand Him The Theismann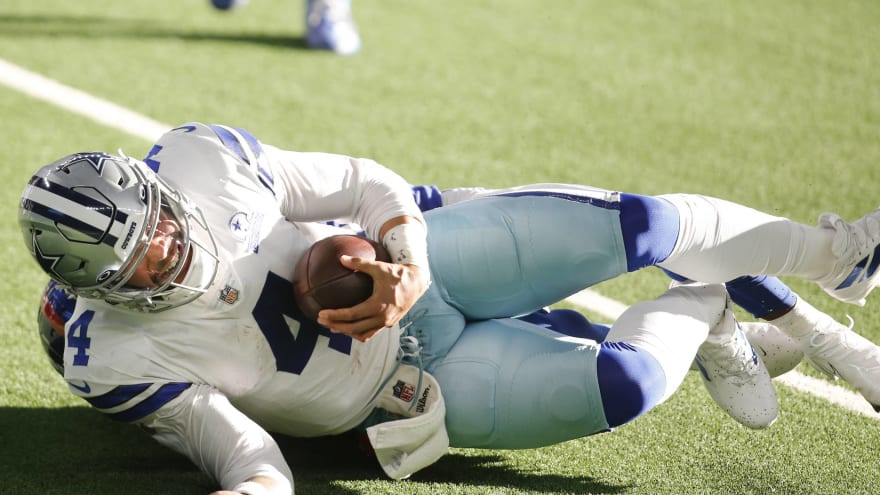 Dallas Cowboy quarterback Dak Prescott suffers a gruesome ankle injury in the Stars' defeat of the winless New York Giants. It looked Theismann-esque but Joe's was even more gruesome as it took place higher up on his leg. And yes, both injuries came against the New York Giants.
Worse for Prescott, he rejected a long-term contract in the summer and took the Cowboys' franchise tag, essentially a one-year deal. He was betting on himself in free agency next offseason. Now his career may be over. We'll see.
Fumble-Screwski
In Auburn, Arkansas gets hosed when the referees fail to recognize Tiger quarterback Bo Nix's backward pass spike, a.k.a. fumble. The Tigers kick a game-winning field goal moments later.
Believing Las Vegas
The Las Vegas Raiders ("YEAH RAIDAS!") become the first team to defeat the Super Bowl champion Kansas City Chiefs, 40-32. In K.C.. The Raiders and Chiefs have a long and quite hostile history so this was nice to see. Does this mean Derek Carr gets his own State Farm commercial soon?
Elsewhere, the Bears and the Browns are 4-1. What is this world coming to?