https://mediumhappy.com/?p=8916
by John Walters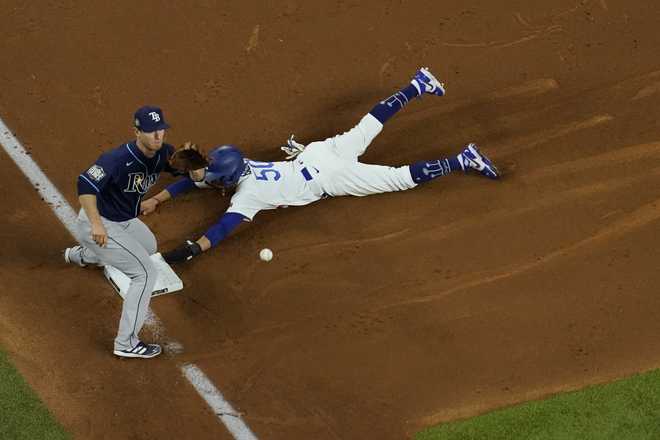 Mookie Business
Is it too much to say that Game 1 of the World Series turned on a no-outs, 5th inning walk Tyler Glasnow yielded to Mookie Betts? The Dodgers' five-tool stud stole second and third, then scored on a one-hopper to the first baseman (Take the out, Rays! Take the out!).
L.A.'s three studs showed up: Betts and Cody Bellinger both homered and Clayton Kershaw retired 17 of the last 18 batters he faced in the 8-3 win.
Pandemic Baseball Changes We Like: 1) Games every night, which means 2) The season ends before Halloween even though 3) Eight teams in each league made the postseason. Keep as much of this as possible, please.
One suggestion, and we've said this before: If MLB can play an entire 60-game season minus fans, why not start the first two weeks of the season in Florida and Arizona, at spring training sites? Let Opening Day be on the Ides of March. This way you can start the postseason a week earlier and be done before Halloween with 16 teams making the playoffs.
Me Tua Movement*
*The judges will not accept "Ahi Tua"
The Miami Dolphins announce that Tua Tagovailoa, the fifth overall draft pick last spring, will replace Ryan MisFitzpatrick as the starter. The Dolphins are 3-3 and Fitz, now in his 16th season after being the last of 14 quarterbacks selected in 2005, has the 7th-best QBR in the NFL.
That photo, above, represents a cool moment. After Tua was put into the game last Sunday versus the New York Jets in a Fish romp and completed his first NFL pass, he returned to the field postgame alone. One assumes he was thinking about how far he'd come in just 11 months after suffering a potential career-ending injury at Mississippi State. A very cool moment. Happy for him.
Lekki Massacre
Details remain scarce, but in Lagos, Nigeria, at the Lekki Tollgate, an unknown number of peaceful protesters were set up on by soldiers who cut them down with bullets. Many deaths. The #EndSARS protesters were assembling about the government's poor response to its epidemic (any of this sound familiar?).
This is what happens when you empower a bad-faith government that abhors free speech and insists on "LAW AND ORDER" at all times. We're really not that far away from Lagos… if the wrong man wins in less than two weeks.
By the way, check out the caption in this story and see if you cannot spot the irony…
Summers In Rangoon
By the way, if you're on the Twitter and not following Rex Chapman (yes, the former hoops star), you're missing out on great humor and humanity. That's where we found this.
Which Biden Ad Do You Prefer?
This official one that candidate paid for and that aired during the World Series last night…
…or this one, property of The Simpsons a week or so back, that cost his campaign nothing?
Look closely and you'll see one of the things that happened is "Served McDonald's to the Clemson football team."