https://mediumhappy.com/?p=8947
by John Walters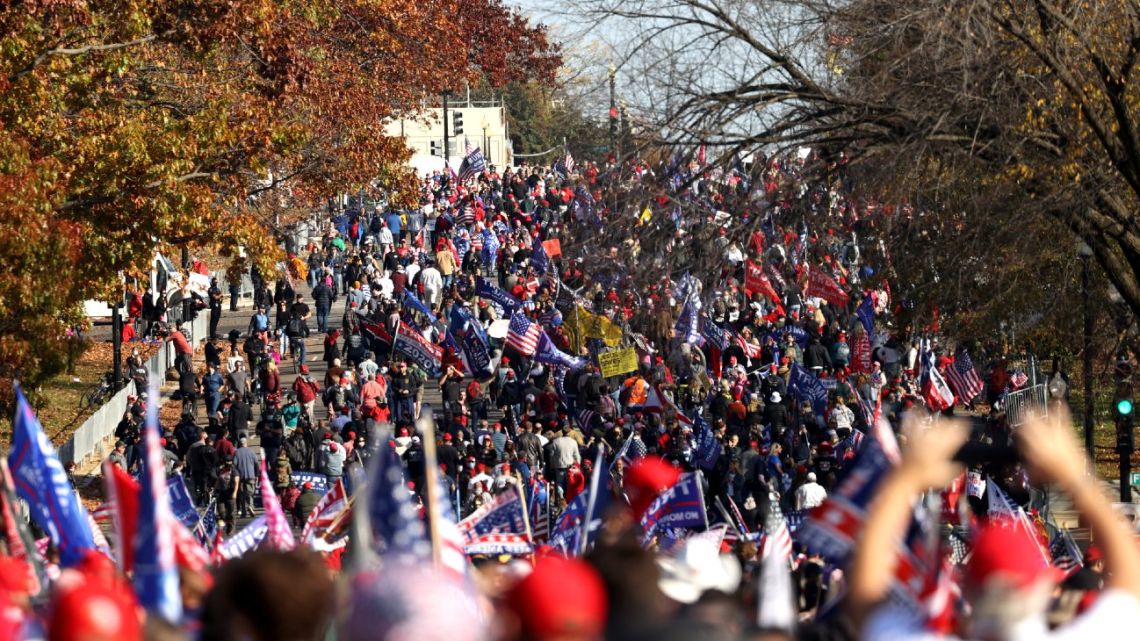 Lollapaloser
If your local Home Depot or Ford dealership seemed somewhat vacant Saturday, here's why: thousands of C U Last Tuesday (i.e. C.U.L.T. 45) denizens showed up in our nation's capital to protest the results of the November 3rd election.
If you hadn't heard, Joe Biden won with 306 electoral votes to Donald Trump's 232. When Trump won by the same number of electoral votes in 2016, he referred to it as a "massive landslide." Of course, in both 2016 and 2020, Trump received far fewer actual (popular) votes.
With an era that has seen a surfeit of symbolic moments, Saturday provided another one. The march was interfered with by an elderly white man in the back of a limousine who wanted to cut through the protesters so that he could play golf. That man? Donald Trump.
Welcome to TrumpWorld.
True Detective foresaw this years ago.
Fail! Fail! To Michigan
Playing in Ann Arbor against a Wisconsin team that had not played in three weeks and had literally had its program shut down for 10 days in the interregnum due to COVID-19, Michigan got walloped on a rainy Saturday night on national television, 49-11.
Ouch.
Less than 13 months ago, on a rainier night in Ann Arbor against No. 8 Notre Dame, the Wolverines pasted the Irish 45-14. In the interim Notre Dame has gone 14-0 while Michigan is 4-5. The Wolverines are 1-6 in their past six games and are the only team in FBS not to have won as an underdog in the past five years. The only one.
As natural a fit as Jim Harbaugh seemed six years ago, his tenure has devolved into an unmitigated failure. The Wolverines have not beaten Ohio State, are 3-3 versus Michigan State and are 6-14 versus opponents in the Top 15. What's worse, the talent level appears to be dropping off and Michigan doesn't bully anyone on either side of the ball. They're not intellectual and they do not impose brutality.
Unless Harbaugh wins in Columbus on December 12, we don't see Harbaugh remaining in Ann Arbor. There's nothing about these Wolverines that suggest they are well-coached or enthusiastic. We did like the snippet of QB Cade McNamara we saw late in the second half, but how far can he take a squad this soft? And yes, the Victors were without defensive studs Qwity Paye and Aidan Hutchinson on Saturday night. Still…
…The Buckeyes have slapped 62 and 59 on the Wolverines the past two years, both 20-plus point wins, and we don't see it being any prettier this season. Count us among many who thought this was a perfect marriage when it began but have seen it disintegrate beyond repair.
Hoops Headliners
Above, that's 6'9″ Emoni Bates of Ypsilanti (Mich.) Prep. Bates, a junior, is considered the top recruit in the Class of '22. If he attends college.
Below, that's 7'1″ Chet Holmgren of Minnehaha (Minn.) High and also AAU team Sizzle. Holmgren is considered the top recruit of the Class of '21.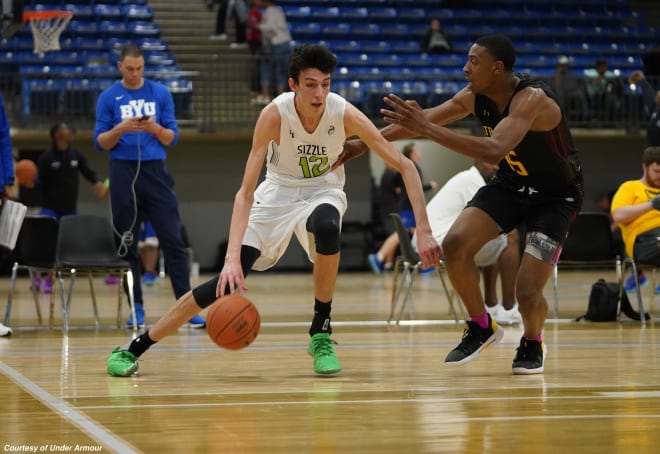 Last Thursday, in a televised ESPN exhibition game that received little fanfare, Holmgren's Team Sizzle out-dueled Bates' Ypsilanti squad, 78-71. Bates outscored Holmgren, 36 to 31, but Holmgren, who has trimmed his list of schools down to seven, also grabbed 12 boards and blocked six shots. Someone get him a protein shake.
Stay In Your Lane

Ole Miss' Lane Kiffin was once our least-favorite college football coach. Now he may be our most favorite. Look at this play from Saturday night. It's glorious.
That clipboard soaring to the heavens? That's Lane's as he realizes his Rebels are about to score on a 91-yard pass play (that USC forgot to cover). The player who made the grab, Elijah Moore, also knows something about redemption. He's the one who made the peeing gesture during the Egg Bowl last year that cost Ole Miss the footbaw game.
Vax Populi
Just one week after Pfizer says that it has a vaccine that is 90% effective (a solid "B"), Moderna announces that it has a vaccine that is 94% effective (probably a low "A"). Can't any of these pharmaceutical companies give 110%?
Might be worth noting that Pfizer's CEO sold nearly $6 million in PFE stock the day after the announcement lat week. And that Moderna's executives initiated their own huge sell-off on good news months earlier. But maybe we're just bitter because we bought a &%$-load of MRNA back in late February at $22 and sold it at the tiniest of profits.
That's showbiz.
Meanwhile, 2,321 Americans died from COVID-19 between Friday and Sunday. That's a lot of plane crashes, Mr. President. Though, one must agree with Dave Chappelle that the coronavirus has brought a virtual halt to mass shootings. So thank God for the small favors.
Hail Murray Pass
The Cardinals win, 32-26. Kyle Murray's commercial with Tim Tebow just got more airplay.
By the way, that negates a terrific comeback by the Buffalo Bills that included tremendous catches by both Cole Beasley and Stefon Diggs.