https://mediumhappy.com/?p=9004
by John Walters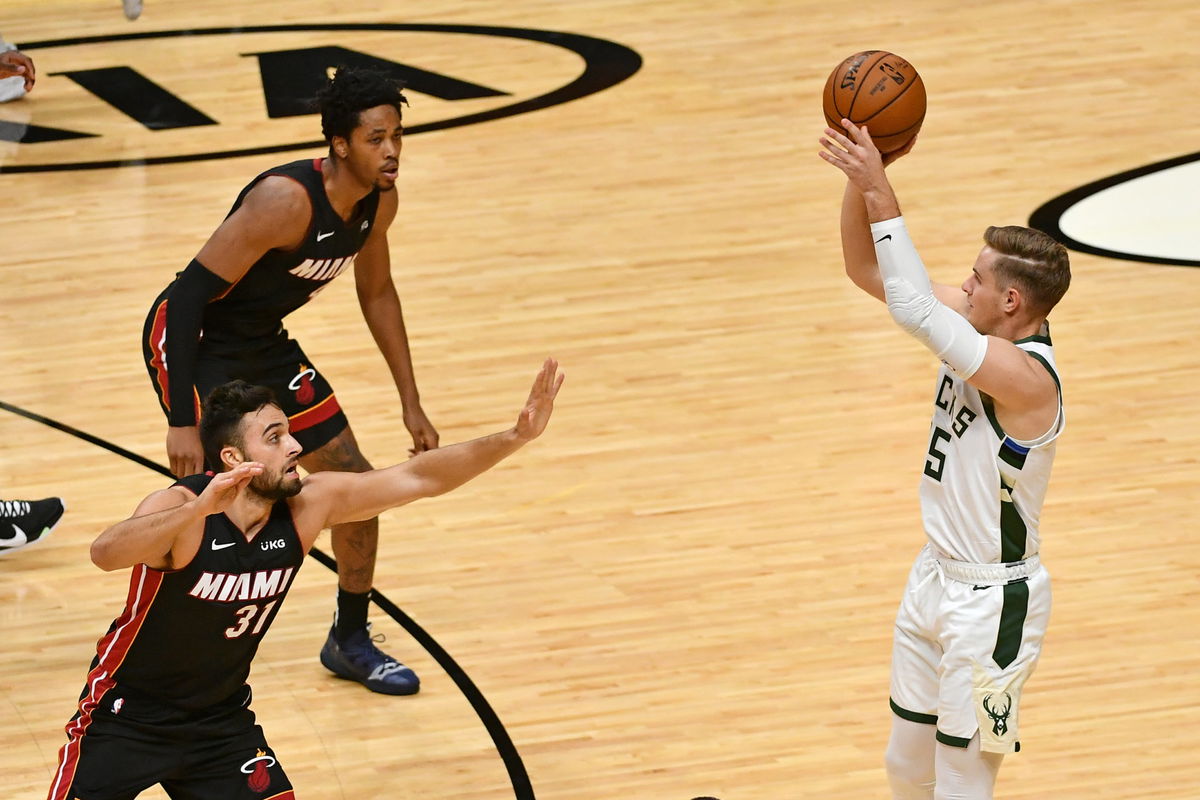 Live Three Or Die
The Milwaukee Bucks set an NBA record for three-pointers made in a game last night, with 29. Oh, and they beat the defending Eastern Conference champion Miami Heat by 47, 144-97.
Here's the historical chef's kiss on the evening: Every single Buck player drained at least one three-pointer (recent acquisition Jrue Holiday led the squad with six) with one exception: two-time NBA MVP Giannis Antetokounmpo, who was 0-2. Even Giannis' younger brother and teammate, Thanasis Antetokounmpo, drained one from beyond the arc.
Later, in Phoenix, the Suns led the Pelicans by as much as 40 points in the second half while draining 19 three-pointers. The Suns would win 111-86.
Worth noting: Milwaukee shot 57% from beyond the arc, Phoenix 41%.
Also worth noting: the Suns-Pelicans game had two recent No. 1 overall picks, Deandre Ayton and Zion Williamson, but neither were major factors. Why not? They're old-school NBA. Two-point shooters. Muscle-inside types.
Ayton will be a productive pro. He'll average double-digits in boards for as long as he wants and will clean up inside to the tune of anywhere from 10 to 18 points per game (he had 12 and 13 last night). But this is the new NBA, the NBA of Trae Young and James Harden and Steph Curry. Players with sick range are far more lethal, and valuable, than those who post up.
There was a play in the second half from Phoenix, with the Suns up about 35, where they isolated Ayton on the low block versus Jaxson Hayes. Ayton went up, had his shot blocked, grabbed it and then missed the follow-up. And I thought, Well, that's nice. They're trying to make Ayton feel loved.
But that's not how you win in the NBA any more. That's a wasted possession. Keep an eye on the Suns' top pick from the year after Ayton arrived, 6'8″ Cam Johnson (11th pick overall, above), who was 4 of 10 from long range last night and scored 18 off the bench. He's the Sun who is also a rising star, which is what a Sun is, after all.
Insane Vids
Just enjoy…
…and…
…Can we get a little love for whoever filmed this? And if the first tweet is the "greatest video I've ever seen," what's the latter?
You Just Knew This Article Was Coming
This piece only touches the tip of the LED battery, or whatever it is that Elon Musk powers his cars with: ordinary folk who purchased shares of Tesla (TSLA) seven years ago when the stock price was below $100 who are now millionaires (as the prices has soared to the equivalent of $3,300).
Shares of TSLA are up more than 700% in the past year alone. Tulip or tumult? Time will tell. But no one who invested a few years ago and held their shares feels stupid right now.
This story from Bloomberg is better (just found it). This is a profile of Brandon Smith, a five-figure wage earner who poured $10,000 into Tesla stock in June of '17. "I don't make six figures, and I don't know anything about puts and options," Smith, 32, said in a phone interview. "I've just bought and held the entire time. I've never sold a single share."
That doesn't exactly make Smith a millionaire, but his $10K investment from 2017 is now inching close to $100K. Not a bad windfall.
Letlow, Let Go
As bad as anyone might feel for Louisiana congressman-elect Luke Letlow, who was diagnosed with COVID-19 just two weeks ago and died yesterday—at the age of 41—it should not go unnoticed that he was just one of a record-breaking number of coronavirus-related deaths yesterday (apparently topping 3,700).
Letlow was a both-sides-of-the-fence Republican when it came to COVID. The married father of two advocated social distancing but also frequently campaigned mask-less. And he stumped for easing his state's pandemic restrictions in order to boost the economy.
On Dec. 18, Letlow announced that he had tested positive for the coronavirus. One day later, he was admitted to the hospital. Ten days after that, he was dead. When the chancellor of the hospital to which he was admitted was asked whether underlying conditions played a role in Letlow's death, the doctor, G.E. Ghali, said, "None. All covid-related."
One of more than 3,700 such deaths. Just yesterday. Just in the USA.
Hilaria, Hilarious
Generally speaking, any time you have the opportunity to marry a woman who can do this, you should take it. So who are we, or you, to fault Alec Baldwin for marrying yoga instructor Hilaria Hayward-Thomas in 2012?
But it turns out that Hilaria had been affecting her Spanish accent and origins for years (her pops has a degree in Spanish literature and her parents did move to Mallorca—in 2011—but Hilaria is about as Bostonian as you can get: mom was a doc at Mass General, dad was an attorney…they may both still be practicing, we don't know).
Anyway, here's Drew Magary to guide you through today's Twitter shamefest. As for us, we cannot fault Hilaria. She's new to our language and customs and how was she to know that faking being a European was considered uncouth? What surprises us most is that Portugal has become the IT Iberian country. That's where I'd tell people I was from; not Spain.