https://mediumhappy.com/?p=9050
by John Walters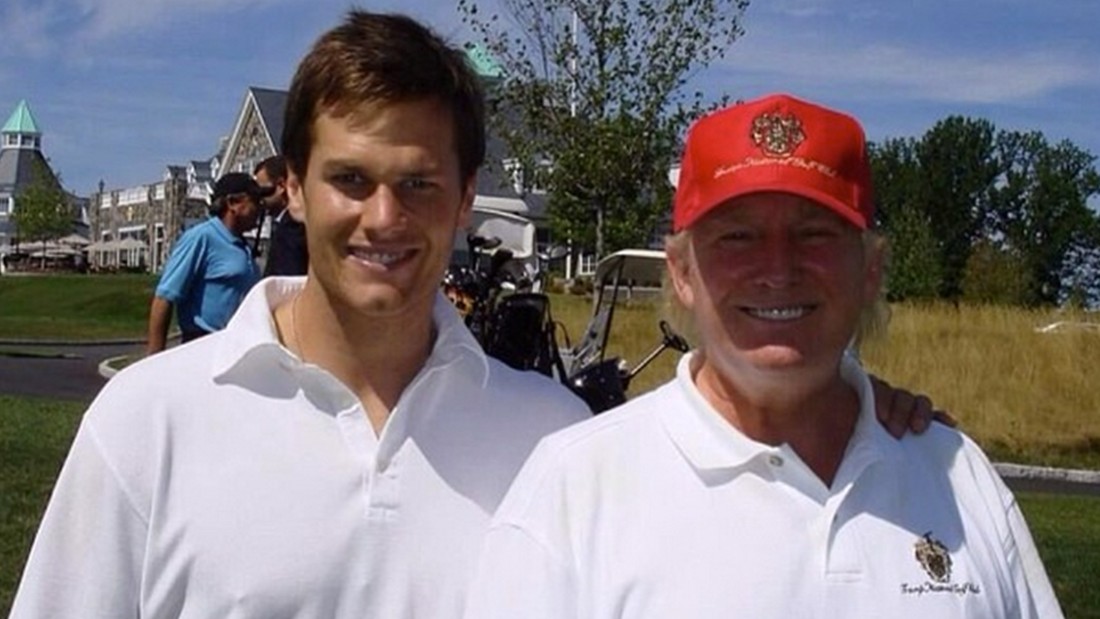 Tom Brady, Donald Trump, Racism and the NFL
Super Bowl LV (55), which is sadly not taking place in Las Vegas (seemed a no-brainer) will take place on February 7, from Tampa, between the defending champion Kansas City Chiefs and the Tampa Bay Buccaneers. CBS will air seven—count 'em, 7!—hours of pregame programming, four and a half specifically of live TV of The NFL Today, beginning at 2 p.m.
So we wonder, with all that time to fill, will CBS discuss: Tom Brady's Teflon approach to media scrutiny, which includes talking little and talking even less if the subject is not football; his support of Donald Trump; the fact that NFL owners staunchly refuse to hire a black head coach even though Mike Tomlin in Pittsburgh had demonstrated beyond a shadow of a doubt that men of color are more than up to the job; the fact that both of Kansas City's coordinators are black but can't seem to get an HC job? The fact that the last time Tom Brady met K.C. in the postseason, his team's owner began the day with a rub-and-tug from a massage parlor located in a strip mall located not far from where the 45th president of the U.S. now resides? Or even the continued blackballing of Colin Kaepernick, who is still 10 years younger than Brady?
Yeah, I don't think we'll hear about any of that. The Super Bowl is the most-watched television program in the world each year. They're not going there, at least not more than in passing.
With Utter Conviction
Now that Donald Trump has left the White House (words we were not sure we'd be able to type in 2021) and the Democrats control both the House and the Senate, the Republicans have shifted from "Law and Order" to "Unity" and "Let's Move On."
Yesterday, SCOTUS ruled that Trump's violation of the emoluments clause, which is, like most Trump crimes, clear and apparent to all, was MOOT. They dismissed the case on the grounds that… well, having read two stories about it, I'm still not sure. The plaintiffs seem to feel vindicated that their cases were heard (there were two cases filed against Trump) and that they proved beyond any doubt that Trump profited as president by doing business with foreign governments, wielding his office as a tool of influence, and SCOTUS seems to be saying, Yeah, but, now what?
And no one involved seems to be bothered by it? We'll never understand why people keep issuing Donald Trump a free pass. The next episode on this neverending exoneration tour appears to be the Senate impeachment trial, where once again Republicans will play the "What good will punishing him do?" card while carefully omitting the fact that Donald Trump's White House executed more federal criminals than the past 60 years of White House administrations combined.
Interesting.
Senate Democrats must pursue Trump's impeachment with utter conviction. They must make clear, to use a metaphor, the following:
There was, in fact, a shooting on 5th Avenue.
We have footage of said shooting.
We know the name of the shooter: Donal Trump.
None of the first three items are debatable.
Those who vote against impeachment are voting in favor of more shootings.
Two more items worth noting: 1) When you don't need to call any witnesses because every Senator involved is a witness, that's telling, and 2) When you're a president whose sequel is not a second term but rather a second impeachment, that's also telling.
JFKKK
If you've seen Christian Bale as Patrick Bateman in American Psycho, then you've already met Missouri senator Josh Hawley. Young, smart, well-educated, handsome, well-dressed and, oh yeah, amoral. Hawley, to borrow a line from Bill Maher, is the son of a banker with degrees from Stanford and Yale who wins votes by professing his loathing of elites.
Find any Senate vote that is opposed to impeachment or the condemnation of Timothy Mcveigh or even the ratification of Janet Yellen as the first female head of the Dept. of Treasury, and you'll see Hawley has signed on. He fashions himself as a younger, more cunning version of Donald Trump just hoping to inherit his base.
Here's the problem, Senator Hawley: for better (but so much more for worse), there's really only one Donald Trump.
Matt Gaetz and Madison Cawthorn are also auditioning for this role. They, too, fall short. Trump is sui generis. You cannot replicate it. You can harness the racism, sure, but you'll never whip up THE BASE the way Trump has.
But Can She Do 'The Jackal?'
We're already smitten with the new White House press secretary, Jen Psaki. It's as if someone created a real-life C.J. Cregg. You wonder how many times she watched C.J.'s greatest hits.
In case you're blanking on The Jackal reference, and even if you're not but would like to see it again, here it is. A classic TV moment that evolved from a bit Alison Janney would do in her trailer to kill time between scenes on The West Wing.
SI Institutes Paywall
Last year my former employer, Sports Illustrated, made news when one of its most handsomely paid ($350K…are you freaking kidding me?!?) writers, Grant Wahl, got upset. Seems Wahl suggested that his bosses were using the pandemic as an excuse to cut salaries (maybe he was right, I dunno) and he went public and was soon out of a job.
Today, Axios is writing that SI will, beginning next month, put its premium content behind a paywall. Which, to those of us who grew up subscribing to SI, makes sense. You should have to pay to read fantastic journalism. The question is, Besides Steve Rushin, whose byline regularly appears in SI these days that is so much more insightful and entertaining that you'd be willing to pay for it? SI and the rest of us are about to discover if this maneuver will work.
SI 2020: Pay Wahl.
SI 2021: Paywall.