https://mediumhappy.com/?p=9084
by John Walters
Look, Pa, It's A Metaphor!
Ah, the sweet smell of karma…
James And The Giant Peach Basket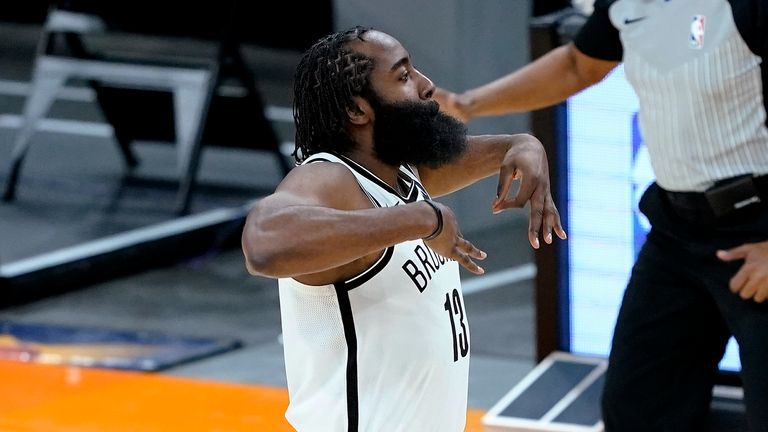 The Phoenix Suns were 6-0 on a 7-game home stand and led the Brooklyn Nets, playing without Kevin Durant or James Harden, by 20-plus in the third quarter. They'd already put up 75 first-half points.
You know what comes next.
James Harden got involved. The three-time NBA scoring leader finished with 38 points, leading the Nets to an epic 128-124 comeback win in the Valley. The Nets scored the game's final 10 points and outscored Phoenix 74-49 in the latter half. Even though Sun guard Chris Paul was incredible in the fourth quarter, burying three after three (and finishing with 29), it felt inevitable most of the way that BROOKLYN would overcome.
Nets at Lakers, Thursday. This is the Finals that ESPN is dreaming of.
Texas Two-Face
So Texas wanted energy independence. It got it. Now in the face of the worst winter cold snap in decades, millions of Texans are freezing (many to death) because of massive power outage. The state's Republican pols, from the governor on down are blaming false scapegoats such as the "Green New Deal" (it has never been voted on) or frozen wind turbines (which, on the best of days, would supply less than 12% of the state's power).
This is 21st-century Republicanism at its finest: be the cause of your own demise while blaming a Democrat-preferred option that isn't even part of the situation.
and this…
and this…
Sorry, I'm Not Home Right Now, I'm Walking Into Spider Webs, But Leave A Message And I'll Call You Baaaaack
and then there's advanced arts…
Don't Think Of It As Another Deluge Of Snow; Think Of It As Another Heaping Of White Supremacy
If MTV's "Real World" Confessional had a political filter, here's a fine template.
Here's Lindsey Graham appearing on Hannity and saying OUT LOUD what most of us have known for years: without the racists and the zombie-like evangelicals (that's a Venn diagram that largely overlaps, granted), the Republican party as currently constituted would never have enough votes to overtake the Dems.
Translation: They may be Deplorables, but they're ours. So we must continue to court them.
Apparently it never occurs to Graham or Mitch or others that if the GOP could simply embrace conservatively fiscal ideals while also being inclusive to all colors, sexual orientations and creeds that they might actually have something. Nah. Let's just continue to play the "good people on both sides" card.
..and this from Lindsey Graham:
Coffee Cake (or Lasagna) Where I Live, But Same