https://mediumhappy.com/?p=9233
by John Walters
Phil, Fifty, Fit, Filthy
At age 50, Phil Mickelson becomes the oldest man ever to win a major: the PGA Championship at the scenic and sublime Ocean Course in Kiawah, S.C. It's his sixth major championship and his first in nearly eight years, when he won the British Open in 2013.
Jack Nicklaus won the Masters in 1986 at age 46. And while age 46 in '86 is older than age 50 in '21 as far as we are concerned—everyone's Sally O'Malley these days—you could also contend that there's a lot more young talent on the PGA Tour today than there was in '86. For the record, Nicklaus was not the previous oldest winner of a major. That distinction belonged to Julius Boros, who was 48 in 1968 when he won the PGA Championship. Surely, you remember.
Extreme Race, Extreme Conditions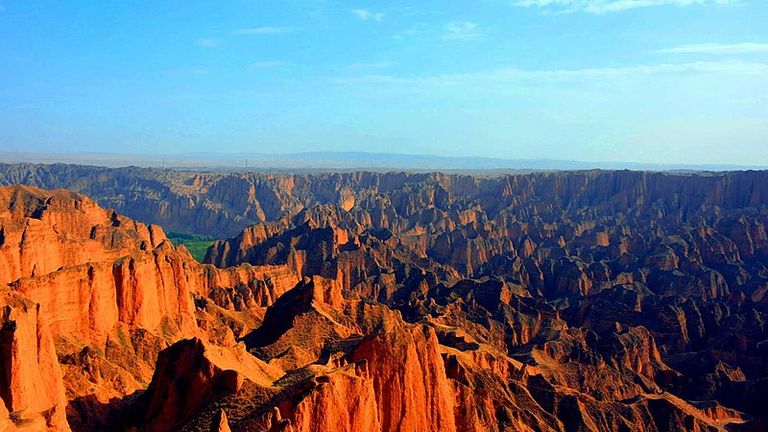 This one has Jon Krakauer's name written all over it.
Twenty-one runners perished when wind, freezing rain and hail swept into a 62-mile ultra-marathon in China over the weekend. The extreme conditions in the Yellow River Stone Forest struck at high altitudes (6,500 feet and runners, clad in light running gear, had little protection against the extreme weather. Another 151 runners survived the race in Gansu Province.
A fatality total of 21 may be the largest for any single road- or trail-running event we know of.
Joke Swap
Cecily Strong's send-up of Jeanine Pirro was, well, strong. However, this was our favorite moment from the finale "Weekend Update" of Saturday Night Live's 46th season. When Colin Jost and Michael Che write racially charged jokes that the other must read, without having previously seen them (and we hope that set-up is legit), it leads for some funny stuff. Laughter is a palliative against racism.
Speaking of which, how prescient was this old Chappelle Show sketch?
Women Jocks Rock
Here's Simone Biles, who people in the know are calling the greatest female gymnast ever, doing something on a vault that no one has ever done before. And, at a lower level, but no less impressive, a memorable catch at a high school state championship softball game in Utah.
The common thread among both feats? Focus.
Star, 80
An 80th birthday today? It ain't me, babe. It's Bob Dylan. The troubadour from Hibbing who started out playing West Village coffee houses and became the voice of a generation (while, some say, appropriating Woody Guthrie's style). Three favorite Dylan tunes?
Visions Of Johanna, Girl From The North Country, Mr. Tambourine Man.
Here's another opinion.
We own Bob Dylan Live 1966 (The Judas concert) and can listen to it over and over and over again. Like it's a rolling stone.
Star 80? No, Stars Over 80
For no particular reason (okay, maybe from the above item), we've compiled a list of the greatest living movie stars over the age of 80 yeas old. Feel free to quibble with our rankings. A bold-type name means he or she is an Oscar winner. An asterisk means an Oscar nominee. We also include the ages of each.
Jack Nicholson, 84
Clint Eastwood, 90
Sidney Poitier, 94
Sophia Loren, 86
Eva Marie Saint, 96
Gene Hackman, 91
Joanne Woodward, 91
Mel Brooks, 94
Angela Lansbury, 95*
Dick Van Dyke, 95
Also worth noting: Eva Marie Saint is hardly the only Hitchcock blonde still with us. Tippi Hedren (91), Vera Miles (91) and Kim Novak (88) are all still breathing, too. Darth Vader (James Earl Jones, 90) and Harry Belafonte (94) are also still kicking.
UPDATE: A big name, an Oscar-winner, I forgot: Woody Allen, 85.
The Kid
An equalizer in the 87th minute prevented The Kid from a victory on Friday. That's what you get for scrounging around in the English League One.
He's moving back to frozen pond today:
VEGAS minus $180 to win $100 over Minnesota
The Kid's record is not 6-3 and the bank is at $1,220.