https://mediumhappy.com/?p=9236
by John Walters
Law A' Biden Texans
The Texas legislature passes a law that says citizens may own handguns without having to undergo a background check, obtain a license or have training. It's been less than two years since 23 people were gunned down in El Paso at a Wal-Mart. Of course, those in favor of this bill will note that the killer did not use a handgun and that if everyone in the store were armed, he might have been stopped earlier. On the other hand, if everyone in Texas is carrying a handgun devoid of background checks or a license, fender-benders are about to become that much more dramatic. And traumatic.
Texas just passed a "heartbeat bill" that in essence outlaws all abortions, even for rape. It's putting draconian restrictions on a woman's uterus while relaxing all restrictions on the 2nd Amendment.
Eurobash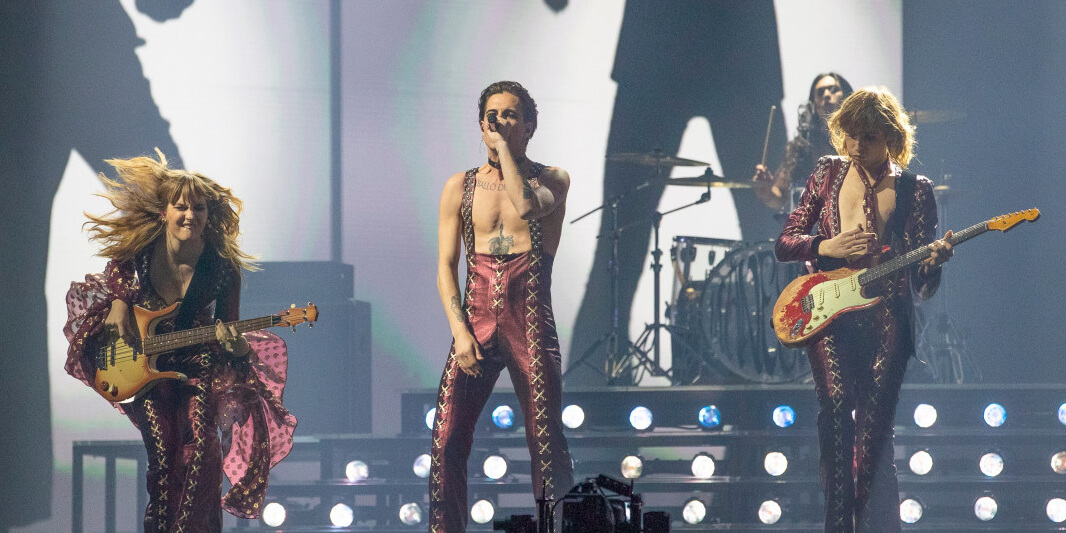 The Eurovision Song Contest has been held annually since 1956 (with the exception of last year) but we Yanks seemed mostly oblivious to it until Will Ferrell made a film about it. The contest, which draws nearly 200 million viewers worldwide, was held this past weekend in Rotterdam. Thirty-nine nations participated. It's like the EuroCup for songs.
The winner? Maneskin, from Italy, with "Zitti e buoni" (Either "good ziti" or "Quiet and Behave"). Here's the tune:
Acceptable Nickname: Blackjack
That's former Notre Dame possession receiver Robby Toma, the Chris Finke of his time.
Gamma Rays
On May 12 the Tampa Bay Rays, defending American League champs, were shut out 1-0 at home by Gerrit Cole and the Yankees. Their record fell to .500, 19-19.
Since? The Rays have won 11 in a row, sweeping 3-game series with the Mets and the Orioles and a 4-game series against the Blue Jays (it began with a defeat of the Yankees to avoid being swept in that series). They're now 30-19 and have the best record in the American League. A lot can change in a fortnight.
Oddly enough, the Rays and Red Sox have the A.L.'s two top records but their combined home records are 24-24.
Scoring Cramps
The Golden State Warriors had the NBA's scoring champ in Steph Curry (32.0 ppg) this season. The Dubs lost both of their play-in games in the postseason and were bounced.
The Edmonton Oilers had the NHL's scoring champ in Connor McDavid (105 points on 33 goals and 72 assists). The Oilers were swept 4-0 in the first round of the Stanley Cup playoffs by Winnipeg.
Two scoring leaders, Curry and McDavid, finish a combined 0-6 in the 2021 postseason.
Omission Impossible
We noticed one glaring omission from our "Stars Over 80" item yesterday. And this one is bad, since the movie star just won an Oscar for Best Actor last month: Anthony Hopkins is 83. He's a two-time Oscar winner who won his first after his 50th birthday. Hope for us all.
Anyone else? Yeah, the Corleone brothers, James Caan* and Al Pacino, both 81.
Sports By Brooks
Someone at the Golf Channel leaked this never-ran interview of Brooks Koepka being addled and rattled as Bryson DeChambeau sauntered past and upstaged him. I don't think Brooks is at all annoyed that it was leaked.
Remember The Mayne!
Last night was Kenny Mayne's final night hosting SportsCenter on ESPN. This was memorable.
The Kid
…is on Tilt. It all began when he took Gerrit Cole and the Yankees to beat a Rangers squad that had lost six in a row. Cole, arguably the top pitcher in the AL, lost and then the Yanks won their next six. But they lost the night he took them.
Last night Vegas, whom he took, outshot Minnesota 40-14 but still lost.
So tonight, even though Jacob deGrom is on the mound at Citi Field against a Rockies team that is 3-17 on the road, The Kid is so spooked that he won't take the Mets. Or the Rockies.
Instead, he likes CAROLINA minus-200 against Nashville. That's $200 down to win $100 (or lose $200).
For the record, he's 6-4 and at $1,040. A net of $40 after 10 wagers, or $4 per wager.