https://mediumhappy.com/?p=9268
by John Walters
The Paul Guy
Suns point guard Chris Paul's line in Phoenix's Game 2 win versus Denver last night: 17 points, 15 assists, 0 turnovers. It's Paul's third career playoff game of at least 15 assists and zero turnovers, each of which has taken place in a different decade. Since 1984, every other player in the NBA combined has a total of two such games in the postseason.
Think about that. That's encompassing the careers of Magic Johnson, John Stockton, Isaiah Thomas, Steve Nash, Mark Jackson, Jason Kidd and LeBron James. The rest of them all? Two. Paul? Three.
Much of that has to do with the zero, not the 15. And that's what stands out about Paul, from watching him all season. He makes fantastic decisions. He only passes when he's found someone open and he only takes shots that he knows he can make. I cannot remember anyone who was so deadly from mid-range.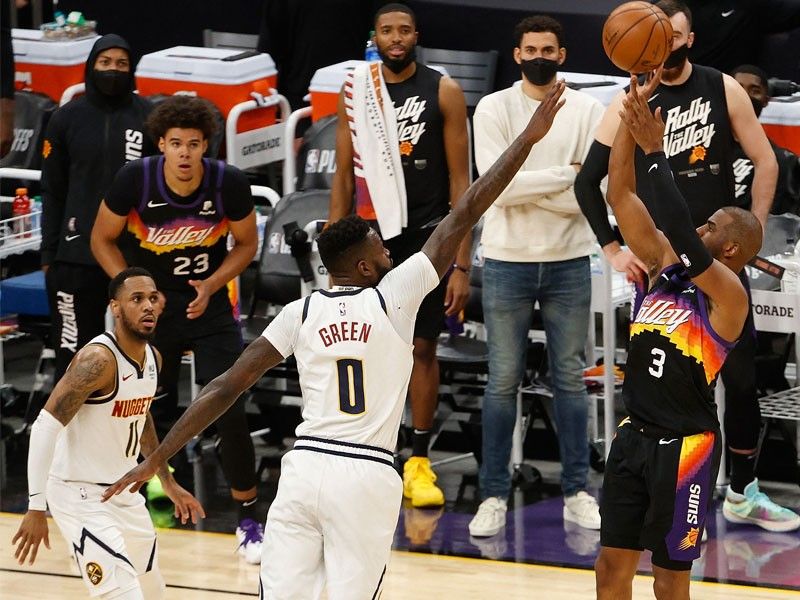 TNT showed a graphic last night that said the Suns have won more playoff games (138…now 139) than any franchise that has never won the NBA Finals. Similarly, Paul has the most assists of any NBA player who has never advanced to the NBA Finals… with one exception: Steve Nash. The irony there being, of course, that Nash won a pair of MVPs as a Sun and looks as if he'll be coaching this year's NBA Eastern conference champs, the Brooklyn Nets.
I was not in favor of the Kelly Oubre for Chris Paul trade last summer. Paul, after all, is 36. I was dead wrong. Chris Paul has brought stability and toughness and confidence to a young Suns team that, since losing Game 3 in LA, has won five in a row, the last four by at least 13 points.
Coveni, Covidi, Covici
Yesterday India registered the most deaths of any one country in a single day since the pandemic began more than 15 months earlier: 6,148. Now, sure, 6,000-plus deaths in the world's second-most populated country ain't all that much relative to the entire population, but that's still still almost 3 people dying per minute all day. Dropping like flies. The pandemic curtain call has not yet begun.
Stupid Human Tricks
That dude directly over her left shoulder in the white top is all of us… who are sane. It's the curious thing about full-blown Trump cult members: there's that mixture of sinister intentions with abject stupidity. Their minds are simply fried.
And here's a woman who probably wouldn't be this outspoken in her hatred and racism before Donald Trump became president. Just flying that ignorance and bigotry flag with pride.
"It's Okay"
Meet Jane. She's from Zanesville, Ohio. She has cancer in her lungs, spine and liver and says that the doctors are giving her a 2% chance of survival. It's not stopping her from bringing a little beauty into this world. She said two things that really stuck with us: 1) "It's important for people to know that I'm more than just the bad things that have happened to me," and 2) "You can't wait until life isn't hard any more before you decide to be happy."
Contrast that with the two women ("ladies?" Ha!) above who are stoked by fear and insecurity and anger and hatred. We have a choice about how we react to the world. We can react with love and hope or we can react with anger and hate.
The Kid
… won again as the Islanders prevailed in Hempstead and knocked out the Bruins.
So he's now at 15-7 and up to $1,235. Cooking with gas.
Tonight he's sticking with the NHL and he likes VEGAS minus-135 over Colorado. $100 if he wins, down $135 if he loses.