https://mediumhappy.com/?p=9271
by John Walters
Ned's Dead, Baby. Ned's Dead.
Ned Beatty enters the ultimate transfer portal at age 83. An incredible character actor with an outstanding body of work, but let's focus on two scenes that will live as long as people love movies. What makes them so powerful is that Beatty (no relation to Warren, who was born the same year) is playing two characters who could not be more opposite. The first, from Deliverance, is weak and literally gets raped—probably the most uncomfortable moment on screen in a major motion picture to that point in time (1970).
The latter is an all-mighty potentate, explaining to a charismatic TV host how the world actually works. From Network, 1975.
Two lines that will live forever: "Squeal like a pig!" and "And you will atone!" (only the latter was actually uttered by Beatty himself). So iconic is the latter cinema moment (both, actually) that Jimmy McGill reprises it in the premiere episode of Better Call Saul.
Djoker's Wild
Down 1-0 to the greatest clay court player ever on Friday, Novak Djokovic rallied to win the final three sets at the French Open semis (the key moment was winning the third set tiebreak after squandering a 5-3 games lead). Then on Sunday, down 2-0, he rallied against 5th-seeded Stefanos Tsitsipas and again won three straight sets.
The all-time men's Grand Slams championships titles list now looks like this: Roger Federer, 20 (age 40); Rafael Nadal, 20 (age 35); Novak Djokovic, 19 (age 34). For us, this was the Djoker's springboard triumph, the one that will allow him to finish atop this list.
Also, we should mention that UNSEEDED Barbora Krejcikova won the women's title at the French. So Naomi or Serena basically gave one away.
Speaking of Serbian swingers, Nikola Jokic's weekend in Denver began with pregame MVP presentation and ended with the above frustration swipe, drawing an immediate ejection.
So it was quite a Sunday for Serbian swingers.
Leave, Eriksen
On the second day of Euro Cup 2021, in a match between Scandinavian sides Denmark and Finland, Danish midfielder Christian Eriksen suddenly collapsed on the pitch. According to the team doctor, Eriksen "was gone" before being resuscitated with a defibrillator. At the time, in the match's 43rd minute, neither side's players know if Eriksen had expired for good or no when they were asked whether or not they wished to continue the match. No one should have put them in that position.
Eriksen has recovered and is in stable condition. Denmark lost, 1-0.
Graze Autonomy
Finally, a good idea: one that will promote both tourism and wild animal welfare.
The Interstate 80 bridge that connects Illinois and Iowa across the Mississippi River is in poor shape (related: it's always infrastructure week) and needs to be replaced. It'll cost $20 million to tear it down. So Chad Pregracke has a better idea: you've got to build a new bridge anyway, so why not keep the existing bridge intact and allow it to be used as a bridge for bison to cross so that they may graze in either state (would a buffalo toll be one bill?).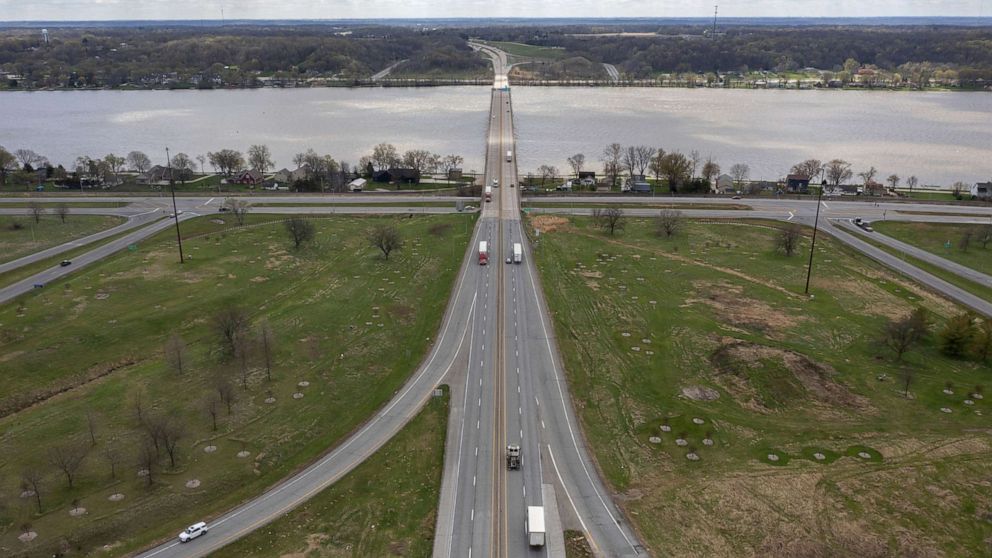 Pregracke agrees that his idea is crazy, but so crazy that it might just work. A bison bridge would draw tourists to the area and it would also save the cost of having to tear down a bridge that would have a practical purpose.
Welcome To The Internet
We'd been hearing some of the tweeps push the "High Praise" button on Bo Burnham's new comedy special, Inside, which he basically wrote, produced and performed from wherever he was safe-spacing. So we thought, Okay, we'll give it a short listen and… WOW. The lyrics here are brilliant, as is the entire performance.
It's as if there's an American-born Tim Minchin out there. You'll want to listen to these lyrics more than once.
Check, Please
Three years later, we're still a little mystified as to why Anthony Bourdain killed himself (June 8, 2018). Few humans appeared to have a better life and few seemed to have more of a passion for it. Bourdain, the 6'4″ chef-author-adventurist, was living the dream with his shows No Reservations (The Travel Channel) and Parts Unknown (CNN). He seemed like the guy you'd want to sit down and have a beer, or better yet, a meal with. I always thought of him as the Lou Reed of chefs: totally New York, totally a rock star, totally feral, and with a dark side just under the surface.
Next month a documentary about Bourdain's life and death, The Roadrunner, will be released. July 16th. Can't wait.
The Kid
…. keeps rolling. He won with the Pirates on Friday to move to 17-7 with a bank roll of $1,435. What will he do next?
Tonight, he wants to keep the win streak alive with VEGAS minus-250 versus Montreal in the Stanley Cup playoffs. That's $100 if Vegas wins and a loss of $250 if Montreal wins.