https://mediumhappy.com/?p=9291
by John Walters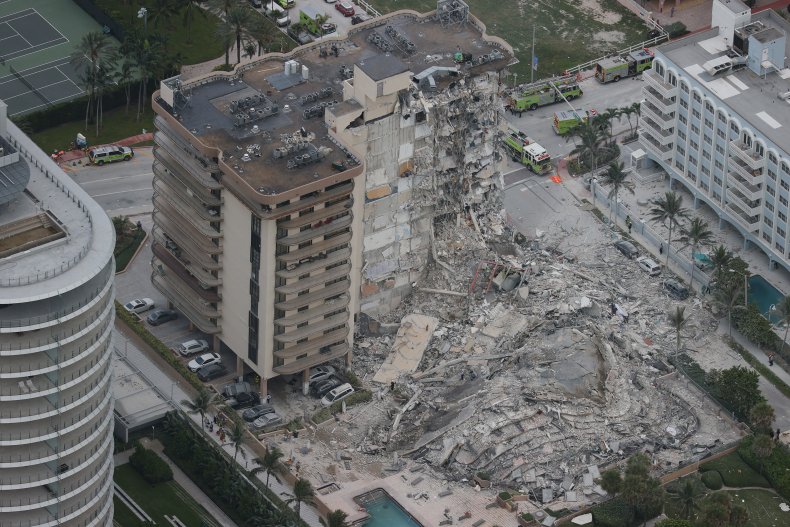 Three Days Of The Condo*
*The judges concede that this headline makes no sense
Beirut? Gaza? No, Surfside, Florida, a community on the peninsula between the Atlantic Ocean and Biscayne Bay. Authorities report four dead and 159 missing. As the bodies begin to get recovered, the lawsuits will begin flooding in as will the investigative journalistic pieces uncovering graft, shoddy contractors and payoffs to city officials to make all the regulations disappear. And then the Pulitzers.
How does this happen? And who rubber-stamping building inspections, etc., to allow such a tragedy. The earth did not move. A missile did not strike. Timothy McVeigh is in jail. This was most likely greed and dereliction of duty.
Falland Fall And Falland Fall And…
The top three finishers in the women's 3,000-meter steeplechase in Eugene last night, the final event on last night's card of the U.S Track and Field Trials, advance to Tokyo next month. With two laps to go, Leah Falland (above), appeared to be a shoo-in. She trailed American record-holder Courtney Frerichs and 2016 Olympic bronze medalist Emma Coburn, but no one else was near those three.
Then, jumping a hurdle, Falland landed awkwardly and fell—it appeared that both feet had cleared the hurdle without nicking it. She was on the ground. Falland, a two-time NCAA champion out of Michigan State, initially recovered well and maintained a fierce battle for third, but fell off in the final 200 meters. By the time she crossed the finish line, her last step or two was walking.
Coburn won. Frerichs finished second. Falland, who'd finished 14th in the 2016 Oly Trials and seemed in terrific position to book a ticket to Tokyo, faded to ninth. The Trials are where dreams come true, but so do nightmares.
Is Orange County Dull?
Yesterday my old SI colleague Jeff Pearlman tweeted out the following:
And then I tweeted out some words about how the Angels, who full name notwithstanding are located in Anaheim, which is in Orange County, are just a microcosm of Orange County. People were not happy with me. Once again.
Newport Beach, Laguna Beach, Dana Point, Laguna Niguel, San Clemente, Mission Viejo. The Pacific Ocean.
I get it: Orange County is beautiful. But isn't it just a little bit… dull? I've been there many times, but it's dull. Irvine is a safe and lovely community in which to raise a family. Dull. Balboa Island is nice. But it feels contrived. As does much of The O.C. If you feel differently, please let me know I'm wrong.
I get it: ideally, Orange County is a wonderful place to live. Ideally, I used to tune in when a lovely actress or supermodel was going to appear on Letterman. But those guest spots—the exception being Julia Roberts—never lived up to the expectations.
Pence and Recompense
Six months after surviving an attempted lynching at the U.S. Capitol, former vice president Mike Pence commits career suicide.
Don't get us wrong: we admire him for what he said yesterday. It's just that in the aftermath he is now a man without a party.
What did Pence say? Speaking at the Ronald Reagan Presidential Library in Simi Valley, Calif., yesterday, Pence said, "I will always be proud that we did our part on that tragic day to reconvene the Congress and fulfilled our duties under the Constitution and the laws of the United States. The truth is, there is almost no idea more un-American than the notion that any one person can choose the President."
First, Brett Kavanaugh. Now this. Quite a week of candor and insight from former Trump bootlickers. Of course he's correct and cheers to him for standing up or the Constitution publicly. Why didn't he have the courage to do this six months ago, though?
The Kid
We begin by noting that The Kid texted us this a.m. to note that since 2010 three teams have advanced to the Stanley Cup final that had the worst record among playoff teams that season while only two that had the best record had advanced. This is what The Kid excels at: He's a human search engine and collector of minutiae.
This week, however, he's not a very good picker. His pick, Las Vegas, lost last night. He's at 20-11 and down to $230 in the bank. He says he's going to consult an octopus at his local aquarium to make his next pick for him. So we wait.
Tonight The Kid likes TAMPA BAY minus-160 versus the Long Islanders in Game 7….