https://mediumhappy.com/?p=9299
by John Walters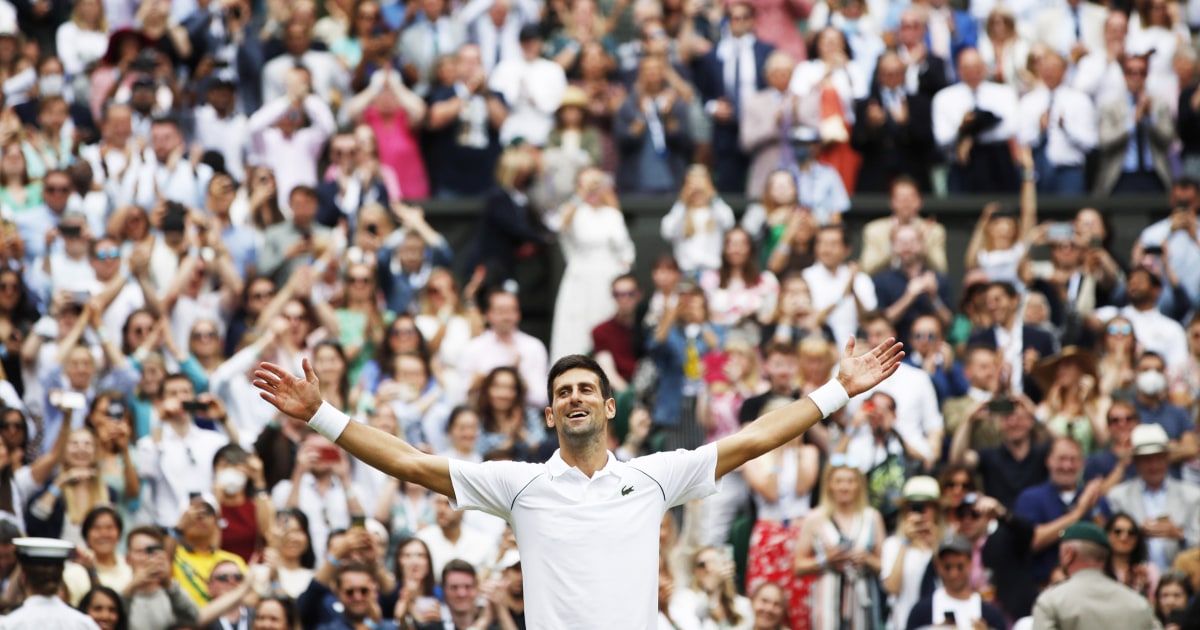 Has There Ever Been A Bigger July Sports Weekend?
The final of the Euro Cup at Wembley. Italy wins 1-1, 3-2 in PKs.
The final of Copa America in Rio. Argentina and Lionel Messi defeat Brazil, 1-0.
The Wimbledon singles finals. Novak Djokovic wins his 20th Grand Slam in four sets, bringing him equal with Rafael Nadal and Roger Federer. The 20-20-20 Triumvirate, and that might have been our lead story. Ashley Barty won her first women's singles title.
The Bucks defeat the Suns in Game 3 of the NBA Finals, 120-100. Milwaukee outplayed Phoenix and Devin Booker may have had his worst game of the postseason, but it's worth noting that Giannis alone took more foul shots (17) than the Suns (16). And that Chris Paul has now lost the last 12 games in which Scott Foster was the referee.
The Yankees blow a 6-run 9th inning lead to the Astros and lose, their second such defeat in the past two weeks after not having done so in more than 20 years. The perfect cap to an underachieving first half of the season.
Conor McGregor breaks his leg and loses to Daniel Poirier in a UFC match.
MLB held its draft, finally noticing what the NBA has been doing for more than 35 years. Of course holding it last night during Game 3 of the NBA Finals wasn't the brightest idea. Henry Davis, a catcher out of Louisville, was selected first by the Pirates. Jack Leiter, Vanderbilt pitcher and ace, was taken second by the Texas Rangers.
Oh, and Game 7 of the Stanley Cup woulda happened if the Canadiens had shown up.
God Save The Queen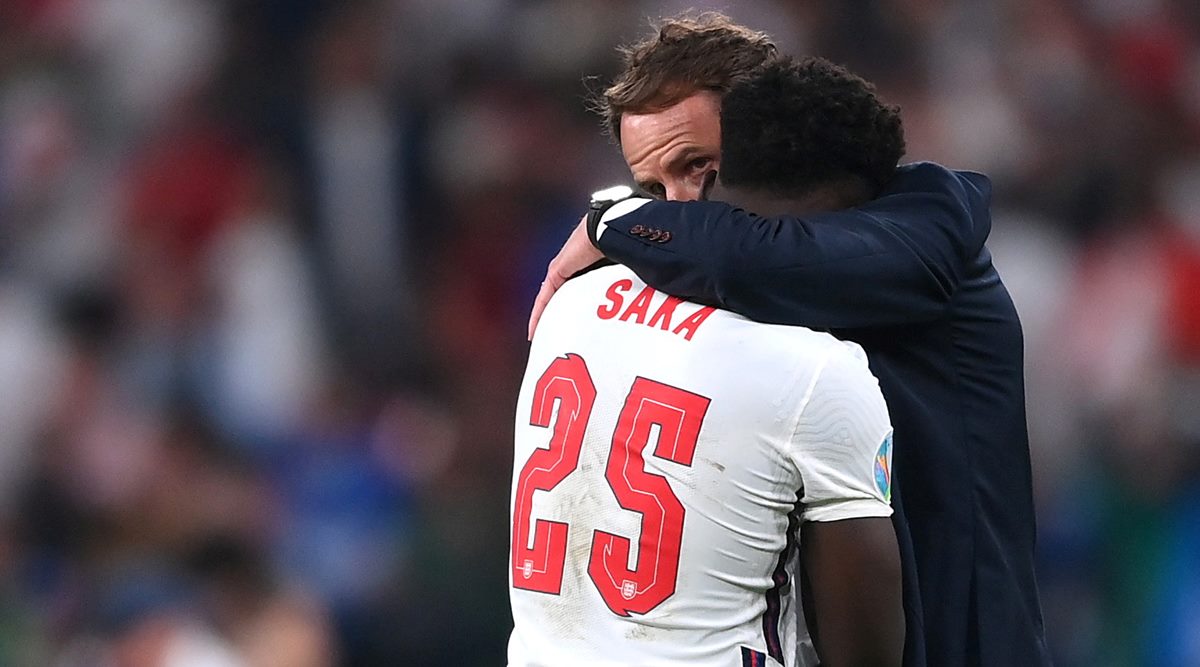 Let's revisit the Euro 2020 final, shall we? After a full match, plus stoppage time plus extra time, plus stoppage time in extra time, it's knotted up 1-1.
During the second half England's manager Gareth Southgate—a name straight out of The Office, BBC-version— substituted in 19 year-old forward Bukayo Saka. Then, with about two minutes left in extra time, or about 120-plus actual minutes into the match, he subbed in Marcus Rashford and Jordan Sancho for the express purpose of having both take shots in the PK round. Never mind that neither man actually even touched the ball in those final minutes of play (one of them might've; I'm not sure).
Anyway, we come to the PKs and all three men fail to convert. Maybe that's a coincidence, but maybe putting in two players at the very, very end of a long match and asking them to into the moment was too much to ask. And maybe, since he took the fifth kick with the entire championship on the line, it might not have been the smartest ask to put the ball at the foot of the teenager Saka, the youngest player on the pitch.
All three players happen to be black, and the keyboard cowards have been vilifying them with racist abuse (I guess not everyone in the UK had access to the CPAC in Dallas?). But what really united them was all being subbed in after halftime and a manager who could've made better decisions. Too, Italy was the better team all afternoon and basically controlled the pitch after England scored just two minutes into the match. But that's not a good Hot Take talking point, now is it?
Galaxy Quest
Virgin Airlines CEO and founder Richard Branson joins the Bored Billionaires Club by jet-setting 52 miles above Earth on Sunday. It's telling that when he landed there was a giant screen behind him airing England vs. Italy. Maybe he realized too late that he'd be sacrificing watching the Three Lions chase their first international title since 1966.
Anyway, he didn't actually travel to "space." Space is commonly accepted as beginning about 62 miles above terra firma, known as the Karman Line. I dunno. Look it up. But he did beat fellow billionaire Jeff Bezos to this 52-milestone.
Regardless, the next billionaire must-do will be actually landing on either the moon or Mars. All these escapades are, really, is just flying a little higher than the average citizen has ever been able to fly. Branson achieved a few moments of weightlessness and a full news cycle of cluelessness.
Now, if you visit the Twitters or other social media (we don't do Facebook…ever), you'll see folks excoriating Branson for using all that money to fluff up his ego when the same amount of dollars, according to them, could end world hunger. Our thoughts? 1) For how long? and 2) Is it Richard Branson's duty to end world hunger? I don't think so.
Yes, there are far more useful ways to throw away an extra billion dollars here or there. Let's begin by actually paying your taxes. Or paying your workers a higher wage. I'd settle for that. The main reason we supposedly need so much philanthropy is because men such as Branson get to have their planes and fly them to space, too. Pay your taxes. Pay your workers. And then maybe just take a ride on Space Mountain. It's about the same feeling, we imagine.
Glory Daze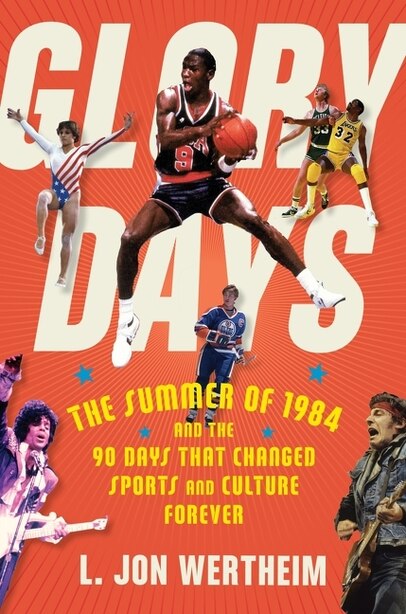 Having finished the best book I expect I'll read all year (Frank Capra: The Name Above The Title), I moved on to the book above. For several reasons: I worked with the author at SI, and not only have a high regard for him professionally but also an affinity for him personally. Jon is one of the good guys. Finally, I was 17 years old in the summer of '84, having just graduated high school. I still remember it so well and even went to the Olympics in Los Angeles as a fan.
The book, 2/3 through, is somewhat of a disappointment. It reads like a freshman survey course and while there's plenty of good info and reporting, it rarely provides the reader the feel of what it was like to be in the midst of the summer of '84, where the most delicious riff was the opening to Prince's "When Doves Cry," or when every time you'd turn on the radio you expected to hear Madonna. Prince, 227 pages in, is wholly absent from the tome.
Too, the book is too lawyerly (I've read "white-shoe law firm" at least four times) and focuses a little too much on the tennis. Jon has a law degree and tennis is his favorite sport (certainly to cover). The Summer of '84 was a few things that Jon covers extensively in his book (the Olympic basketball team, and there, too, he has a personal connection, having been a tween in Bloomington, Ind., where the team practiced; the brilliance of Johnny Mac and Martina; The Karate Kid) but it was also hearing "Sister Christian" all over the radio, it was Prince's film, Purple Rain, it was Madonna, it was Bruce Springsteen becoming a sex symbol, it was Revenge Of The Nerds, it was the inaugural women's marathon at the Olympics, it was the overwhelming talent, and hubris, of Carl Lewis. Barely mentioned thus far.
Jon devotes entirely too much time to asides about where and when people or things would wind up five to 10 to 25 years later. And I guess that's part of the point of his book. A stone tossed into the pond in 1984 (e.g., Donald Trump's entry into the USFL) becomes a cataclysmic wave in a new century. But spending all this time on where Trump's entry into the USFL becomes the USFL vs. NFL lawsuit, which did not actually take place until 1986, strays from what, to us, should have been the beauty of this pursuit: taking the reader intimately into that magical summer.
One of the best chapters of the book I've read thus far was all about The Karate Kid. It takes you into the moment when the writer and director knew they had a hit on their hands (when Wall Street types exited a private screening practicing their crane kicks as they held their attache cases) and goes in-depth into the making of the film (none of the cast thought the film would be a hit). More chapters like this would've been welcome.
I know that I never do myself any favors giving honest appraisals of work that my former (more successful) colleagues do. We're all supposed to raise the pom-pons to one another. And who am I to go full-Mitchum Huntzberger on someone else's earnest effort?
Dig, I always applaud the effort. But, reading this, and knowing that Jon has a big job at SI and is now a correspondent at 60 Minutes, it read a little like a guy who was trying to shoehorn in his precious few free hours each week (he's also a husband and dad) to finish this book. It doesn't read like someone who completely re-immersed himself in that glorious summer and provided the apt feel for what it was like to live through.
I'll never forget the summer of '84. But this book did not go a long way in terms of helping me remember it. Sorry.
Fascist Times At Ridgemont High
We could've sworn they held a CPAC just last winter, but apparently the GOP has realized it needs to grift its biggest whales twice a year. So they held another one in Dallas (Florida and now Texas; of course) this past weekend. We made this analogy on Twitter over the weekend: the GOP is Herb Tarlek and the Democrats are all the other staffers at WKRP.
Anyway, here's footage of Donald, Jr., attempting to be a comic but instead bombing on stage. And here's his dad admitting to all that lying is exactly who he is and has always been.