https://mediumhappy.com/?p=9406
by John Walters
Vin, Fin*
*The judges will also accept "Vin de Siecle" and "Dodgers, Blue Today"
After 94 glorious years, the voice of the Los Angeles Dodgers and truly, the voice of baseball, Vin Scully, is headed to the showers. Scully's was a baseball life, but also his life epitomized the 20th century while bleeding into the 21st. Born in the Bronx and raised in Washington Heights just a month or so after the '27 Yankees' Murderers' Row won the World Series, Scully grew up during the city's halcyon baseball era: the Giants and Yankees both played within blocks of his stoop while the da bums from Brooklyn were just a long subway ride south and east.
Like most of America, Scully survived World War II—he did serve two years in the Navy just after it— and eventually migrated westward. To Los Angeles, with the Dodgers (though the Giants were his boyhood team; he was able to attend games at the Polo Grounds for free as a member of the PAL and CYO, sitting in the way distant center field bleachers), in 1958.
What made Scully such a legendary broadcaster? First, that rich voice. He was made to intone before a microphone. Next, his warmth. You could feel it in every syllable uttered. Then, his genuine and earnest appreciation for the game and those who played it. Vin never made it about Vin and he always understood that the diamond was an escape, a haven. And he was our tour guide, honored to have the role. He did his homework, of course, and he understood the pace of baseball, so that he was able to sprinkle in a colorful vignette here and there.
A cursory glance of Dodgers whose endeavors were narrated by Scully over his seven decades with the franchise: Duke Snider, Jackie Robinson, Roy Campanella, Sandy Koufax, Don Drysdale, Steve Garvey, Davey Lopes, Fernando Valenzuela, Kirk Gibson, Orel Hershiser, Mike Piazza, Clayton Kershaw and, of course, James Outman.
Upon Scully's passing, Bob Costas, another New York native who now mostly resides in SoCal and knows a thing or two about calling a baseball game, remarked that a long-time nugget of wisdom was that God would never allow a line-drive, inning ending double play when Vin Scully was in the middle of a story. This piece of tape illustrates that.
It almost goes without saying—and we nearly did—that when doing Dodger games, as opposed to national broadcasts, Vin worked solo. No partner in the booth. And it never, ever, seemed like a handicap. A total pro's pro, and a gentleman. Another legend exits.
Enter Sand Ban
So this is a fun little story: Speaker of the House (not to be confused with master of the house, not to be confused with Sacha Baron Cohen) Nancy Pelosi decides to visit Taiwan, literally an island of democracy surrounded by monolithic communist governments in Asia. And they make semiconductor chips in Taiwan, which are a big deals in terms of national (U.S.) security. But China does not like that Taiwan is a democracy, and they certainly don't like that such a prominent American legislator (and a chick, no less) is making such a symbolic visit (no one that important in the U.S. government has visited Taiwan in two decades).
So what does China do in response? Well, it turns out that you need sand to make semiconductor chips, and it turns out that China supplies sand to Taiwan (you have heard of China Beach, after all). And thus China has reacted by telling Taiwan, not in so many words, to "go pound sand." Yes, they're cutting off the sand supply.
So does this mean we patriotic Americans are going to have to sacrifice Waikiki and Laguna Beach and Montauk just so our smartphones will work? It sounds like the beginning of a Kurt Vonnegut novel.
Where Beagles Dare
The MH editorial staff had been reading these headlines about "4,000 Beagles Rescued" in Virginia but we never quite dove in to the story. Perhaps you have. What we did know is that "beagle" is a word that welcomes word play and just hearing "4,000 beagles" makes us grin. Almost as much as "4,000 labradoodles" would. So we looked into it. Apparently 4,000 beagles in Virginia (random number, random breed, random state) were designated for animal testing, mainly because they're so docile (libtard dogs). But the testing facility was behaving inhumanely (ya think?), so enter the aptly named Rebecca Goodhart of Homeward Trails, an animal rescue operation.
And so now there are orphaned Snoopy types, given a new leash on life, being dispatched all over the country to safety and new homes.
The perfect story for the dog days of summer.
Bill, Boards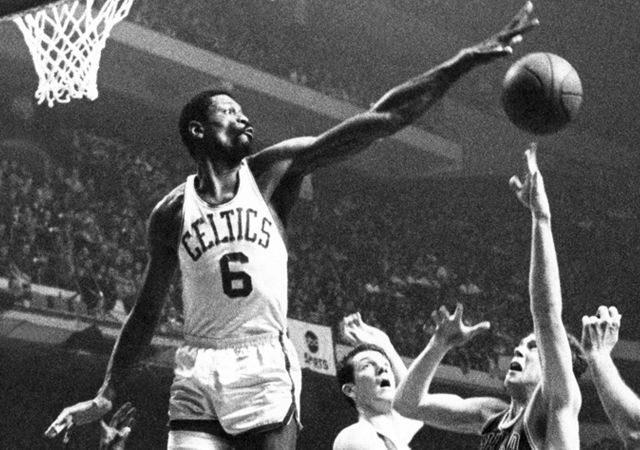 We would be remiss if we failed to mention the passing, Sunday, of NBA legend Bill Russell (and, since we've already eulogized a white sports legend, we'd likely be pilloried by a woke mob, perhaps made up of grad students, for not being racially sensitive), at the age of 88. You've probably read plenty about ol' No. 6 in the last few days, and while his playing days were a few years before we began following the NBA, here are the nuggets not to be forgotten:
• In 21 win-or-go-home games that Russell's team participated in from the NCAAs to the Olympics to the NBA postseason, Russell's teams went 21-0. Stop. Read that again. Then read it one more time.
• Russell played in 11 NBA Finals, and he won 11 NBA Finals.
• Russell was the first African-American head coach in any of the three major team sports in North America.
• Russell averaged 22.5 rebounds per game over the course of his career. Only Will Chamberlain, his on-court nemesis, averaged more (22.9) thoughout NBA history.
• Where does Russell stack up? We're all allowed our subjective thoughts. I will always, until otherwise, consider Michael Jordan the greatest all-around NBA player facing the basket, Wilt Chamberlain easily the most dominant player, and Russell the greatest teammate, greatest defensive player and greatest winner. Russell regularly went up against Wilt and though Wilt won statistically, Russell's Boston Celtics (the only team he ever suited up for) always won. Russell's also known as the Picasso of the blocked shot, a statistic they did not even keep when he was active so we cannot objectively measure him agains the current era of players. If anyone is most like Russell, though they played different positions and excelled at different stats, it's Magic Johnson. He did whatever it took, he led in the selfless stats, and his teams (almost) always won the big series.