https://mediumhappy.com/?p=9428
by John Walters
It's not that the B.S. entered the transfer portal; it's more like our institution chose not to renew our scholarship. So we're taking it here. This is hardly a compendium of all the weekend's games, as we only sat down to watch a few. It's merely a smattering. And while this is free, you are welcome to submit a PayPal donation (trumansparks88@gmail.com) if you wish (my total revenue won't be much different, considering what I was being paid) and, as always, to sound off in the comments and remind me that I wrote "Hawkeyes" when I meant to write "Cyclones," or any other gaffes you notice.
Klatt Klapback
Pardon us as we deconstruct Fox's Joel Klatt's argument here from his show that aired in the middle of last week. From the top…
0:37 "This (conference realignment) was inevitable." Okay, Joel, care to tell us why? Joel goes on to explain that "BRANDS" like Oklahoma and Texas and USC and UCLA needed to look out for themselves because they were carrying their respective conferences (Big 12, Pac-12) and if they wanted to compete with SEC or B1G TV money, they had to align with one of the two. Fair enough, but what are these schools sacrificing by making these moves? I'd argue a lot (see: Nebraska football). But Joel never address the potential downside (hope you like that cross-country trip to play Maryland and Rutgers, USC men's tennis).
Moreover, Joel never mentions that these maneuvers are not only greatly beneficial to his employer, Fox Sports, but may even have been influenced by it.
1:48 "Like you'd have to be buried under a rock to not understand that" i.e. If you disagree with my central point, you're an idiot. Way to win over the contrarian side. It's a moment such as this that explains the vast gulf between Klatt and Kirk (and let's face it, Fox hired Klatt to be its own blond Herbie doll). Instead of attempting to at least meet a potentially opposing view halfway, Klatt simply says that anyone who disagrees with his premise is buried under a rock.
1:57 "So, this was somewhat inevitable." Actually, it wasn't. Joel's basically saying that a school such as USC needs to have greater overall revenue in order to compete against the Michigans and Alabamas of the world. Except that it doesn't. Ask Clemson. The Tigers don't have an SEC deal but they've carved up their own niche in their own conference and they'r doing quite well, thank you. I'd argue, and last I looked I'm not buried under a rock, that a USC has the No. 1 metropolitan area in the USA (New York City has more people but fewer football players), with outstanding weather and near the fastest growing population centers in the USA (Las Vegas, Phoenix, Denver, etc.) and that USC would be better off planting its flag in Hollywood and claiming to be King of the West. The Trojans might not get as sweet of a TV deal, per se, but there are a number of intangible factors that would ultimately be to its advantage and, at the end of the day, winning national championships or at least coming close behooves a school—sorry, a brand— more than a conference TV deal in a conference your school has no geographic or traditional connection to. Again, see Nebraska. Joel also fails to mention that USC and UCLA are going to have four road trips to the Midwest or East coast each season (closest possible foe: Nebraska, which is still nearly half a continent away) and in odd-numbered years, USC will have five. FIVE major road trips. Of course Lincoln Riley and Chip Kelly will downplay this and will probably note how Oregon went back to Columbus and beat Ohio State last fall, but there's quite a difference between one major road trip per season and more than one per month. Not to mention them SoCal boys playing in that November weather. It's going to add up to more losses, which is going to add up to less of a chance to factor into a playoff, which is going to lead to fan apathy, not to mention that USC fans may get stoked for that Ann Arbor trip but who's traveling back to Illinois or Purdue?
2:10 to 3:10 "The evolution of college football" treatise. Joel's lecture on how conferences have evolved is accurate, but again, he fails to note that not all evolution has been for the best. There's a lot of us who miss the Southwest Conference. There's a lot that's been lost by not having an annual Nebraska-Oklahoma game (Big 8) or an annual Texas-Texas A&M game (SWC). So, just because it has "evolved<" dues not mean all changes were beneficial. Not to mention that USC and UCLA joining the B1G is an entirely different beast since there's not even a passing nod to geographic sanity. Look at it this way: Boston College and Miami both play in the ACC, and we can take note of what a distant road trip game that is when they play. Do you realize that Miami to Boston is CLOSER than ANY B1G road trip USC/UCLA will be playing once it jumps conferences? Look at a map, Joel.
3:55 "I think this wringing of hands like, 'Oh, this is destroying the sport!', that's not really the case." Once again, if you disagree with Joel, you're an idiot. And once again, Joel fails to present what contrarian arguments might exist. We could go on for hours discussing why conference realignment is not fan-friendly. Is Texas A&M better for college football fans (esp. those in Texas) or is better for A&M (in the short term)? Was UConn jumping out of the Big East for football beneficial to the school's true marquee teams, its men's and women's hoops squads? Hell no. Would college football be far better off if schools remained in their regions so that West Virginia was playing Pitt and Penn State annually as opposed to Baylor and TCU? I certainly think so. But again, Joel chooses not to address any opposing view and while he does say that these moves are made for "financial security and stability, which are related," there's no shortage of arguments I can make that demonstrate that selling your football soul for a TV deal may not in the long run be beneficial. Yet another example: Penn State, which was more of a powerhouse before it joined the B1G.
4:10 "I understand that it's not easy for some, I understand that it's not palatable" Pardon my take here, but as Joel was saying this I was picturing President DeSantis, in his first State of the Union speech, GOP-splaining why the end of democracy was "inevitable" and that while he understands that fascism "is not easy for some" that this is the way forward.
4:45 "Right now I would argue, and most would argue that are involved in the sport, that it's never been better" Translation: a bunch of us who have a dedicated financial interest in college football's success want you to know that college football has never been better. Right off the bat, this is like having the CEO of Fortune 500 company on as a guest on CNBC and asking him how his company's doing. Do you really expect Joel to mention that attendance at games is down, that the length of games is creeping up toward four hours, that fans, while most understand that players have earned more rights and money, aren't exactly crazy about how the transfer portal is like watching your single mom rotate through boyfriends ("Hey, who's that strange guy coming out of mom's room?")?
4:58 Joel goes off on how great college football is and how it's never been better, sounding not unlike Beck Bennett's impersonation Vin Diesel waxing poetic about "the mooo-vies."
6:18 "You've got two clear leaders now, in the SEC and the Big Ten, and they're going to be able to fix some of these issues" Are they? When Joel says the SEC and the B1G, what you as the fan should hear are "ESPN and Fox." Basically, because no one was ever in charge of college football, they stepped in and took over. And this is the point that someone with seven minutes of air should've been making in the first place. ESPN and Fox look at the tremendous numbers the NFL garners and their wonks and consultants decide, We're gonna model college football after the NFL: the SEC and B1G will be the NFC and AFC and everyone else drops out; we'll expand the playoff to 12 teams, because look at the crazy numbers NFL playoff games do; by siphoning off the Oregon States and Virginia Techs of college football, that's more money for the big dogs. Will all of these changes ultimately be palatable to the college football fan? Remains to be seen. For this particular college football fan, who always embraced the idiosyncratic nature of the sport, the weirdness, it will not be. But for someone such as Joel, who stands to personally earn a lot more as Fox and ESPN work to transform college football into Saturday NFL, it will be.
*****
The "old dudes who run everything" sign his paycheck. Yes, we need more Backyard Brawl (maybe some time after Sept. 1, too). Appreciate Ryan going public with this, but I hope he appreciates that the Mouse being around and taking charge the past 25 years is why games like this have vanished.
Direct From Donald Trump's Playbook*
*Who cares if it's illegal? Let's see if it works…
It's just about unprecedented to attempt a punt after you cross the line of scrimmage, so how can we be sure it's a penalty if we've never seen a flag? If you're the S.C. State coaches, you appeal to the refs to appoint a Special Master to decide if the play should stand.
Irish Redux
Similarities between Marcus Freeman's first two games as Notre Dame coach:
–both opponents had initial OSU
–both games played in a state that begins and ends with same vowel
–Irish led at halftime and in fact for more than half the contest
–Irish shut down in second half, scoring 7 points in the Fiesta Bowl and 0 last Saturday
–Irish fail to rush for 100 yards as a team
–Irish lost
Things will improve this Saturday versus Marshall. By the way, had you forgotten (I had) that Jack Coan threw for 509 yards and five TDs in that Fiesta Bowl defeat to Oklahoma State? Coan, waived by the Indy Colts last week, is currently a free agent.
The Fansville Postman Always Rings Twice
Did you also notice that Hot Mom from Fansville was seated on the couch next to not her husband, but rather FacePaint Dude, when she admonishes him for "fansplaining?" They sure seemed like a couple, no? But that's not the guy she was with the first few seasons. As one tweep suggested, perhaps she too has entered the transfer portal.
Ye Olde Testament
Jim Harbaugh's "biblical" quip from earlier in the week was unavoidable, so props to College GameDay's Rece Davis for dropping in "exegesis" ("a critical explanation of scripture") on the discussion and even more props to Lee Corso, who bluntly explained that the Good Book had nothing to do with Harbaugh's quarterback conundrum, but rather the transfer portal did. If he wants to keep Mc-Squared in Ann Arborh, he needs to find playing time for both Cade McNamara and J.J. McCarthy. This strategy (alternating starters) works for the CSU's and Hawaii's on the schedule; the real test comes when Michigan State arrives and when the MGoBlues visit Columbus…
Mark Jones-ing
"An indecorous, ignominious start" to describe how Colorado State began at Michigan. Indecorous or ignominious, but why provide a surfeit of sesquipedalian terms?
*****
"Starting classes, to learn the system… maybe not in that order"
–ESPN's Sean McDonough, dropping a truth bomb while discussing why so many incoming frosh at Georgia start at the beginning of spring semester last January. By the way, the pioneer of this practice of entering college right after Christmas was none other than former Georgia QB Eric Zeier.
The B.S. Wonders…
… Why didn't Katie George ask Florida State's Mike Norvell, moments after his fourth-and-goal gambit failed just before halftime, what led him to eschew an easy field goal and go for the points?… A TCM Wonders moment: Why do they call the film Across The Pacific if almost the entire 1942 movie starring Humphrey Bogart, Mary Astor and Sydney Greenstreet (yes, the same crew from 1941's The Maltese Falcon) takes place on a freighter sailing from Halifax to the Panama Canal?… Would early September games in California draw better if kickoff happened at dusk? Glances at the Rose Bowl, Coliseum, San Diego State's and Stanford's crowds showed plenty more vacant seats than people? Then again, when Arizona is the best visitor of the four, what should you expect?… Anyone got a bead 6'7″ on how tall 6'7″ FSU wide receiver 6'7″ Johnny Wilson 6'7″ is?… If you heard ESPN's Dustin Fox refer to Ohio State's offense as "our offense" during the waning moments of the TCU-Colorado game? Fox was a four-year starter for the Buckeyes, so we'll let it slide—this time… Have you ever seen a school score 40 points in the fourth quarter and lose, as App. State did against North Carolina on Saturday? That game was 2014 Bahamas Bowl-crazy… How many years until we get a televised national high school football championship? Four teams, each representing a distinct region, as opposed to an overall Top 4. If you can do it with the Little League World Series, it's bizarre that no one has thought to do it with high school football yet. Or maybe they have, but have yet to execute it for reasons unbeknownst to us…. Hear us out: a Bon Jovi tribute band that plays bluegrass instruments: Banjovi…. If you heard that Bo Nix's wife is named Izzy Smoke? The best new name in college football belongs to a WAG! And yes, to think that when he was back at Auburn he was a teammate of Smoke Monday while dating Izzy Smoke. So that if she'd chosen another Tiger, she could be Izzy Smoke-Monday, which would have been glorious…. If like me, you're old enough to remember when the last thing you wanted to be in sports was "the goat?"…
Tennis Detour (If Chris Fowler Can Take One, Why Can't We?)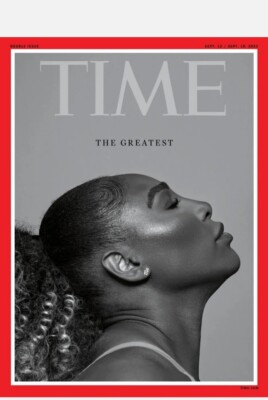 Chris Fowler took few moments to post a Serena Williams tribute in which he said, "Let's focus for a few minutes on the legacy she leaves, which will never be equaled, the towering achievements that will never be equaled…" Okay, let's focus on that and let's wonder how and why this narrative overtook tennis and sports in the past fortnight. If Serena is your all-time favorite tennis player, or even just all-time favorite women's tennis player (or athlete), that's cool. If you consider her to be the greatest women's tennis player ever, that's also cool. But here's the thing: it's HIGHLY debatable.
–Let's look at grand slams, which seem for most to be the gold-standard of tennis summit metrics. Serena won 23, which is one fewer than Margaret Court and one more than Steffi Graf. Now, if you want to dismiss Court's court accomplishments because she played mostly before the Open era, fine. Then can I not dismiss Serena's accomplishment because she played in TWENTY-SIX more Grand Slams than Steffi and yet only won one more? Or can I note that Steffi's contemporaries included Martina Navratilova and Monica Seles, among others, while Serena dealt mostly with her sister and Maria Sharapova?
–You wanna go by singles titles in general? Serena (73) is in SEVENTH place behind Court (192), Martina (167), Chris Evert, Billie Jean King, Steffi Graf, Yvonne Goolagong and Suzanne Lenglen.
— Best single-season win % . She's one of seven who went undefeated in a year, but Graf won more games in her perfect year, as did Court and Mo Connolly.
–Consecutive matches won streak? She's not in the top ten for the longest unbeaten streak.
— Career win %? She's in seventh place (85.15%), behind Lenglen (98%), Helen Wills, Court, Evert, Graf and Navratilova.
Is she the most successful hard-court player? Yes, she has the most titles on hard courts. Is she the most successful non-white player? Absolutely. Did she come from the furthest point away to begin to where she rose to? Well, if you saw King Richard you'd say yes, but Martina came from an East Bloc country in the midst of the Cold War, and she'd probably have a few points to make on that front.
Do you want to argue that Serena could beat any of these women in their primes? Go ahead, but having seen Martina and Steffi at their best, I'm not so sure that's true.
Point being, it's cool to celebrate Serena's career without dismissing all of those who preceded her. Particularly when the empirical evidence shows that these narratives that no one else will ever equal what she has done is patently false. Recency bias has a tendency to cloud judgments.
Timing Is Everything
Just as ESPN's Dave Flemming was saying "They don't have any classic pass rushers on this Arkansas team" in the fourth quarter off their game versus Cincinnati, a Hog rusher strip-sacked the Bearcat QB and Arkansas recovered. Flemming may be correct, but still, that was funny.
More On Fowler
Fowler endured a forgettable first half in Columbus, as he called, "TOUCHDOWN!" on an Ohio State end zone pass that fell incomplete and then later wondered, "Is that an interception?" on what would turn out to be the most balletic catch of the game (by former Notre Dame walk-on Matt Salerno). He's probably hyper-aware of both errors and likely a little salty that anyone would be calling it out. But it comes with the territory.
Granted, Fowler was probably watching this live as opposed to on the monitor (which is one reason execs argue that broadcasters could call just as good a game from their basements and save the networks tens of thousands of dollars in travel expenses), and his view was probably obstructed by the OSU bench. Still, this is why you wait until you know. Fowler called this game on Saturday and then then Medvedev-Krygios match from the U.S. Open on Sunday, but that's something he does by choice. No one is compelling him to do this. So, at least here, pulling double-duty is no excuse to be less than terrific at either. This has always been an ego thing for Fowler, and he has the friends in high places at Bristol to pull it off. He's a solid announcer and a very astute individual when it comes to storing info. But there's almost no one outside of Bristol who thinks that he's the top broadcaster at ESPN in football and I'm sure some diehard tennis fans have preferred announcers (we don't know enough to say). But mistakes such as Saturday's in Columbus give rise to the notion that it's not really about serving the best interests of the viewer. Sean McDonough is flat-out better calling a game, for starters.
ABC had an overall bad game to open its prime-time season. Not once but twice did they cut to a shot of a Notre Dame assistant when Fowler/Herbie were discussing them, and both times the camera zeroed in on the wrong coach. That's obviously not the booth's fault. You have to be better than that.
FSU-LSU
Now this was a wonderfully flawed game, which is to say a paragon of a college football game. You had a bizarre injury (Maason Smith tore his ACL celebrating a tackle early in the first quarter; you'll never convince me that FieldTurf does not cause more ACL injuries; the body thinks it's cutting/landing on grass, which has a little more give, and fails to brace properly. It's like when you think you've got one more step and you're actually at the bottom of the landing and you land differently), you had a PERFECTLY executed flea flicker, you had two muffed punts, you had the snake-pit escape for LSU when the Seminoles die the only possible thing wrong you could do to let the Tigers off the mat, you had the heroic 99-yard touchdown drive, and then then you had the blocked PAT. Honestly, if LSU special teams coach Brian Polian was not told to clean out his office after Sunday night, he never will be.
Anyway, all of it was magnificent. It felt like a bowl game. Now, we don't know why they felt the need to hand out a trophy for a non-conference game with no history, but hey, it's college football. One man's old oaken bucket is another's Louisiana Classic trophy.
Also, in case you think that all we do is criticize, let's throw some props to the producer who put together the Jared Verse package, including his plays when he was at Albany. It's incredible that in this day of constant scouting, of team sites, of data, that it took an FSU assistant tuning into a Syracuse-Albany game to unearth a gem (wait, isn't that tampering?) who morphed into the top playmaker on FSU's defense.
Finally…
Things are hunky and dory right now at Clemson in terms of the quarterback situation, but if you witnessed Cade Klubnick's inaugural college series, there may be a QB controversy in the offing. Remember, the Kelly Bryant/Trevor Lawrence problem reared its ugly head when the Tigers made an early non-conference visit to College Station. Clemson doesn't have a game like that this season, really has no challenging road contest until it visits South Bend in November. But if the offense stalls under D.J. Uiagalelei, Klubnick's gonna get his shot, and you have to wonder whether both will be there next season. Has D.J. really looked impressive enough to this point in his career to go pro? He either keeps the starting job all year and jumps to the NFL or he loses his spot and transfers, is our prediction.
Finally, finally…
The Bad Beat on the Hawaii over was one for the time capsule. As SVP and Stanford Steve pointed out, you really did not have to put money on the day's last game and stay up until 4 a.m. just to watch the Rainbow Warriors (we know; we don't care) fail on four rushing attempts from inside the 3 and thus fail to get the over (and if they'd even just kicked a field goal… they trailed by, like, 25 points, who cares how they scored?). Just a brutal defeat if you took the 67.5 over on a game that ended with 66 points.