https://mediumhappy.com/?p=9432
by John Walters
We only watched Tide-Texas this weekend (and parts of Notre Dame's failed Marshall Plan), so we'll keep it relatively brief. Thanks to all of you who accepted the invitation to contribute via PayPal (trumansparks88@gmail.com) last week. Very kind of you.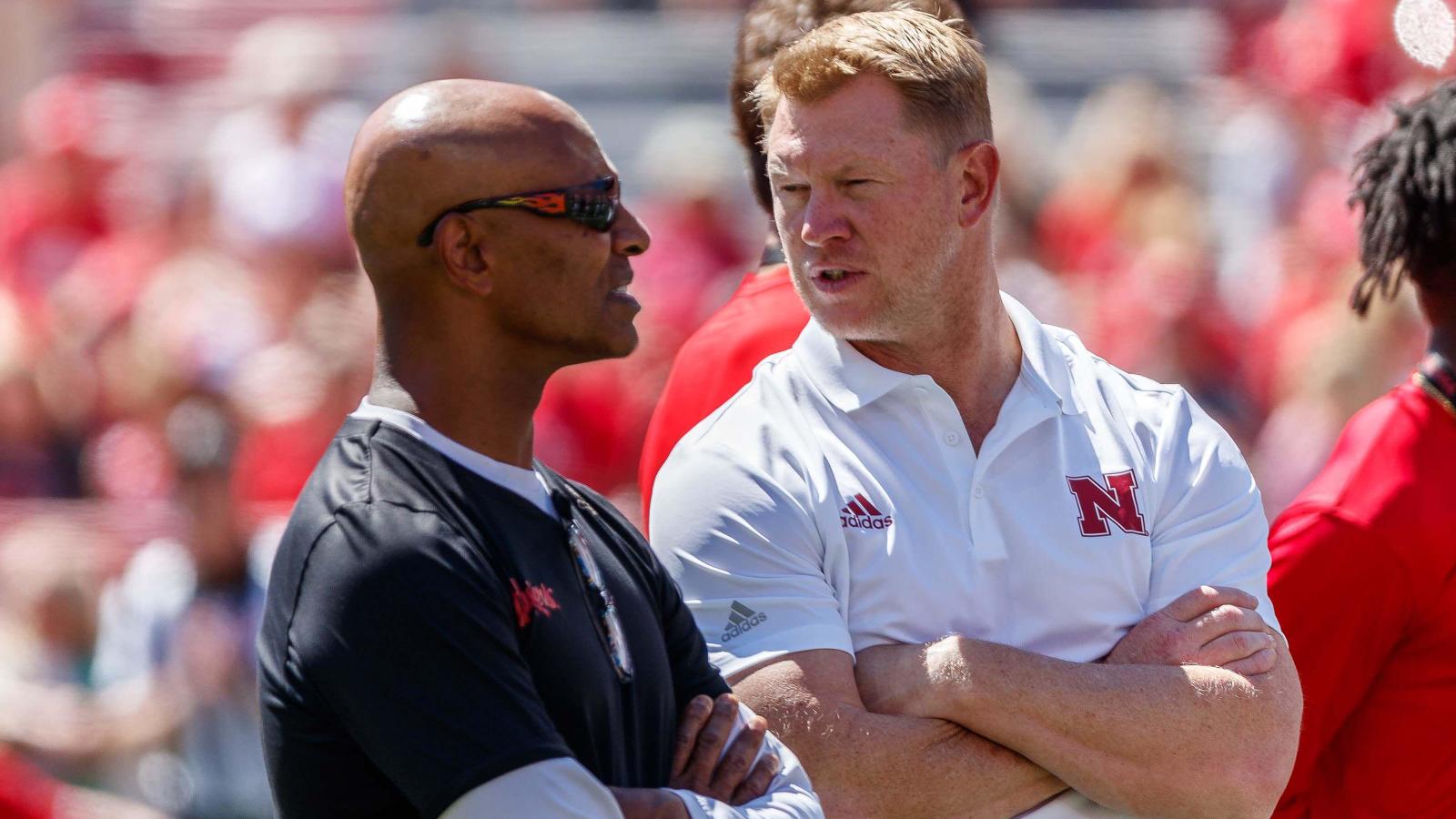 An Early Frost
Scott Frost, wow. If anyone seemed a better fit to return to his alma mater than Frost once did, that's only because you went to school in Ann Arbor. Frost was Nebraska's golden boy, a Wood River native who returned home after one season at Stanford and then played quarterback on the Huskers' national championship team. In 2016 he led UCF to a 13-0 record (and, if you live in Orlando, a national championship). It seemed destiny that Frost would restore NU to greatness.
It was not to be. Frost departs Lincoln and his alma mater with a 16-31 record (.340), the worst mark since Bill Jennings went 15-34-1 (.310) between 1957-61. After that came Bob Devaney and Tom Osborne, a 36-year reign of dominance that included five national championships and ZERO losing seasons. None. That's an almost impossible standard to live up to.
We can talk about all the reasons it went wrong (one is below) or about $7.5 million Nebraska is costing itself by not waiting until Oct. 1 to can Frost, but we'll just focus on the fact that Frost took UCF to a 13-0 season in 2016, that he was smack dab in the midst of the most fertile recruiting ground in the country (Orlando) and that his school's student body was among the top three largest in the country. Not to mention that Miami, FSU and UF were all down. If there were ever bright neon signs telling you to stay, well, I don't know what else Frost needed to see. He was the king of Orlando's other Magic Kingdom and he lacked the foresight to see it. We understand the gravitational pull of "grand old ivy," but in this instance Frost would have been better off heeding the lyrics of Steely Dan: "And I'm never going back to my old school."
One more thing: As kooky as Jim Harbaugh can occasionally seem, he does seem to connect with his players. The kooky actually works for him. I never sensed that Frost jibed with his players. Maybe he did, but from afar it did not seem as if he did. And it's odd, because Harbaugh actually had the better NFL career. If anyone would seem to be entitled to have the bigger ego, to be more aloof, it would be Coach Khaki.
Austin Powers
I'm not telling you anything you do not already know or believe: college football yeans for more games such as Alabama at Texas. We fans desire 1) big boy matchups 2) between intersectional schools that 3) take place on campus.
I'm sure Nick wasn't thrilled with playing this game, but everyone else was. And the contest lived up to the hype, as Texas nearly pulled it off, 20-19. If Sark had a chance to do it over, you'd hope he'd have taken a few more chances after that beauty pass route tree put the Longhorns deep in Bama territory late. The Horns settled for a field goal, gaining zero yards on three plays. It's series such as that where you've got to establish your identity as a team. Channel your inner Chris Petersen, if you have one.
One thing to take note of: this was a body clock game for Bama. Playing in unfamiliar territory, as a true road team, with an 11 a.m. body clock (and local) kickoff. And Bama commits more penalties than it ever has under Saban while receivers drop multiple catchable balls from Bryce Young, who looked every bit the worthy defending Heisman winner. What we're trying to say is, Look upon your future, USC and UCLA, and remember, you're going to be venturing much farther but without as much talent.
Finally, about that terrible call in the end zone: it for sure was never targeting. It was never even roughing the passer. Technically, Young was still not down. If anything, to us, it was intentional grounding, which should have resulted in a safety. Texas got burned.
Quarterback-pedaling
Texas and Notre Dame, two of the biggest names in college football, both lose their starting QBs to similar injuries. The Longhorns lose Quinn Ewers for at least September while the Irish lost Tyler Buchner for the entire season. How to evaluate? Well, if you're Texas, you now have TWO losses to Alabama in which you lost your starter in the first half (the only two losses in school history to Bama of the 10 games played). We'll never know if the Burnt Orange could have beaten the Crimson Tide with Ewers on Saturday, but they still only lost by a point. That's as much a reflection of how much Bama has backslid the past couple of seasons as it is Texas' resurgence. But give UT credit: they held their own on both lines. Not sure if Texas is back, but they're no longer soft.
The Irish loss is more devastating. Buchner was really Notre Dame's most potent weapon as a runner and, even though he didn't have a great passing game (two picks, one a pick-six), he is a weapon. Drew Pyne is a 5'11" gamer type from New Canaan (that's where NBC Sports executives live; not where NBC Sports featured athletes are supposed to hail from), Conn. Pyne looked okay in limited duty versus Wisconsin last September, but now he must run an ND offense whose line has looked inept thus far (the season's biggest mystery as the Irish are supposed to have both the beef and the perfect O-line coach) and whose running backs are not about to make anyone forget Karen Williams. Tight end Michael Mayer and sophomore wideout Lorenzo Styles: those are your two weapons.
By the way, Styles' 54-yard reception on the first play of the season is still more than twice the distance of any other Notre Dame offensive play this season.
To think that the Irish were beating Oklahoma State 28-7 in the first half of the Fiesta Bowl, Freeman's coaching debut, on New Year's Day.
When Did Terry Bowden Become Jiminy Glick?
When The Shift Hits The Fan
Why are we mentioning baseball's decision to ban the shift beginning next season in a college football column? Because the two are related. For the record, we're not fans of the shift, but we are even less fans of outlawing it. Sports competition is about more than simply physical talent. It's also about strategy and cunning and using your brain (as is war, by the way; ask Mr. Zelensky or the army who won the American Revolution).
Between 1973-1988, 13 of the 16 Heisman Trophy winners were running backs. The other three were Doug Flutie (unicorn), Vinny Testaverde (legit NFL QB) and Tim Brown (great player but also a symbol of Not Dame's resurgence). Heisman winners were talented running backs who played for great teams that had superior beef on the O-line, too. Then about 1989 this fella named John Jenkins at Houston develops a wide-open offense where five-wide is in vogue (he may have taken it from Mouse Davis when he was the USFL Houston Gamblers; not sure).
Anyway, no one had ever played big-time football going four wide, much less five wide. Suddenly, running backs were not winning Heisman Trophies very much. Suddenly, scores and records at Houston were just plain silly, as Ander Ware won a Heisman and David Klingler probably should have. People didn't take these scores or QB passing records seriously; just as people refused to accept the Tampa Bay Rays' shifts when they started employing them.
But you know what? Now everyone in college football, including Nick Saban, uses three-, four- and five-wide sets. Most teams pass more than they run, or at least just as much. No one cares who the nation's leading rusher is anymore, as it has little to do with how successful a team is. Spreading the field wide was the antidote for teams with less talent to offset the superior interior beef that the best schools had. And it was so successful that it forced everyone to adapt.
Now, you may prefer the days of the "heavy-legged backs," as Frank Broyles described them. You may long for Bo Jackson and Marcus Dupree, and we get it. But Jenkins was not breaking any existing rules; neither was Joe Maddon. Both men were innovators (as was Gen. George Washington) who realized that, by fighting the traditional way, they stood little chance of success. However, by operating within the rules but outside traditional means, they all found success. So why would you want to punish anyone for that? It's downright un-American. If Washington had fought that way, we'd all be speaking English now. Wait. Well, you know what I mean.
The idea that baseball needs to protect a certain type of player (the pull-hitting slugger) is another way of saying it must penalize a hitter who can beat the shift. In other words, baseball is creating a new rule to protect the status uo. That, to us, is not only just wrong. It's un-American.
union
Get Back, Nebraska (and you too, OU and A&M)
Perhaps there's zero connection to Saturday's failures in College Station and Lincoln, where schools that already departed to a pair of the two real power conferences of the future (B1G, SEC) lost at home to Group of 5 schools: A&M to App. State and Nebraska to Georgia Southern. But then again, maybe there is connection.
Our advice, and no one will take it, because short-term $$$ always trumps long-term vision with college presidents: the Big 12 desperately needs to get the band back together. Consider, if you will, a conference consisting of these dozen schools: Baylor, Iowa State, Kansas, Kansas State, Missouri, Nebraska, Oklahoma, Oklahoma State, Texas, Texas Christian, Texas Tech, Texas A&M. Would you be intrigued by that conference? I sure as heck would.
Plus, this conference meets my No. 1 standard: geographic integrity. The farthest two campuses from one another are probably Ames and College Station, which is still less than 1,000 miles. Not a weekend road trip, but almost every other game is. You've got no fewer than four blue-blood schools on this list and then at least three to five others who'll give anyone a scare on any given Saturday.
Now, as we all know, the Huskers started this avalanche in 2011 when they fled to the Big Ten. The following year they advanced to the B1G Championship Game, where Wisconsin waxed them, 70-31. Nebraska has not come close since and in fact the school's record since the day before that game is 63-63. Their new mascot should be a two-headed coin.
The Aggies followed suit a year later, going the SEC in 2012. Since then Aggie alums DudePerfect have been much sharper. The school whose helmet spells out "ATM" has been exactly that for its coaching staff, but the Aggies have only advanced to the SEC Championship Game… we're adding up the figures… zero times. Six different schools have advanced to the SEC championship game in the past decade, including fellow Big 12 refugee Mizzou, but A&M has not.
School presidents, ADs and Twitter stans can talk all day about how the decision to take a larger TV payout by joining a more mega conference has benefited their school, but I'm a fan. I don't care about your balance sheet. I care about your W-L record. And none of these schools—sorry, Joel, "brands"—have improved themselves by abandoning the Big 12. Not to mention that it has hurt college football. Now Oklahoma and Texas are going to join the SEC. That's great for Greg Sankey. It's not great for OU or Texas fans, especially since we're still only allowing two schools to compete in the SEC championship game.
The Big 12, much like David S. Pumpkins, was "it's own thing." And that was just fine. They should have left well enough alone. I don't know how many years or even decades of mediocrity it's going to take before they finally have that epiphany. But you heard it here first (and I've been preaching it on Twitter for a decade now).
This Is Why College GameDay Is Headed To Boone, N.C., Next Saturday
The B.S. Wonders…
What good is a sideline reporter if they are unable to provide any meaningful update on an injured quarterback's status on the biggest game of the day? We know it isn't easy, but this is Job 1 if you are Jenny Taft (and yes, we love Jenny, too). You've got to be plugged in with the medical staffs at both schools and maybe you need a producer who tells you not to leave the locker room door, or even to follow along if a player as important as the starting quarterback is taken to a hospital…If you knew that Joe Flacco threw 59 passes for the New York Jets on Sunday and Joe Namath threw 59 passes for the New York Jets in 1971… Is Dan Mullen doing it for you over on ESPN? He's not doing it for me thus far… Why did GameDay wait until after Week 1 to announce the Pat MacAfee reunion? And why must Lee Corso spend all season looking over his shoulder?…