https://mediumhappy.com/?p=9448
by John Walters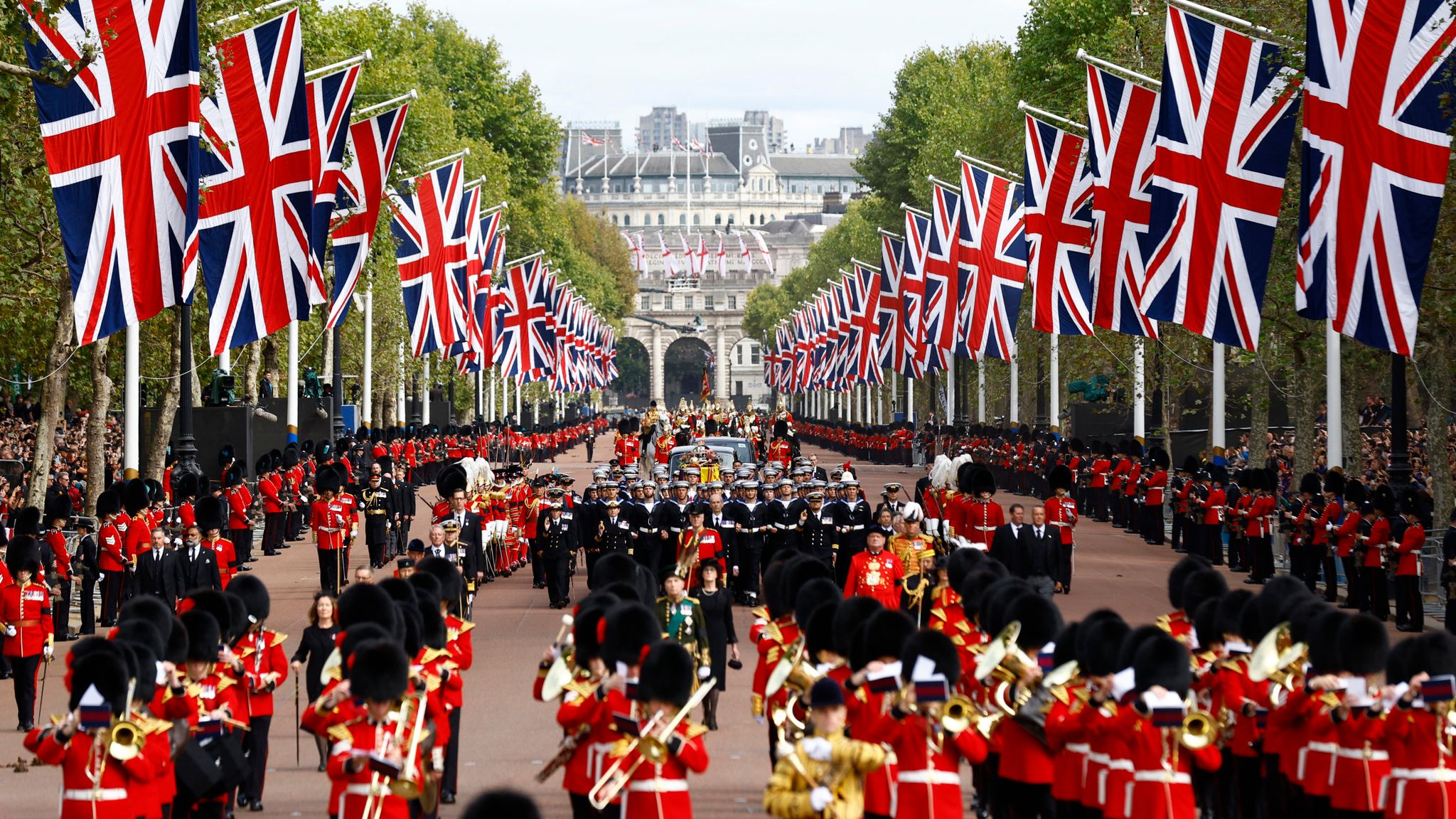 If I Were King For Just One Day…* *
*Name that band
** The judges acknowledge that "Charles In Charge" is simply too obvious
It was a mighty majestic run, Queen Elizabeth II, beginning with Winston Churchill as your prime minister and pretty much ending with Boris Johnson (although Liz Truss got in just under he wire, the 16th different person to hold that role in Her Majesty's 70-year reign). Elizabeth II passes from this mortal coil with the longest reign in the history of the British monarchy (which extends nearly a millennium itself), surpassing the 63-year reign of her great-great grandmother, Queen Victoria (63 years), about whom they referred to an entire half-plus century as the "Victorian Era."
One solid thing about the queen: she knew how to behave in public. Thus far, less than one week on the job, her son, King Charles, has faltered at that badly.
Then there's this edifying moment from last Friday. Actor Michael Sheen (Frost/Nixon), who is Welsh, provides this articulate history lesson on September 16, it's meaning to the Welsh people, the title "Prince of Wales," and Charles' curious decision to visit Cardiff just one day into his reign. It takes a few minutes, but Sheen is a gifted raconteur. It's worth your time.
And for those of you who, like me, wondered how on earth you spell that name Sheen keeps repeating, it is Owain Glyndwr Day, commemorating the date in 1400 when he claimed the title.
Max Effort*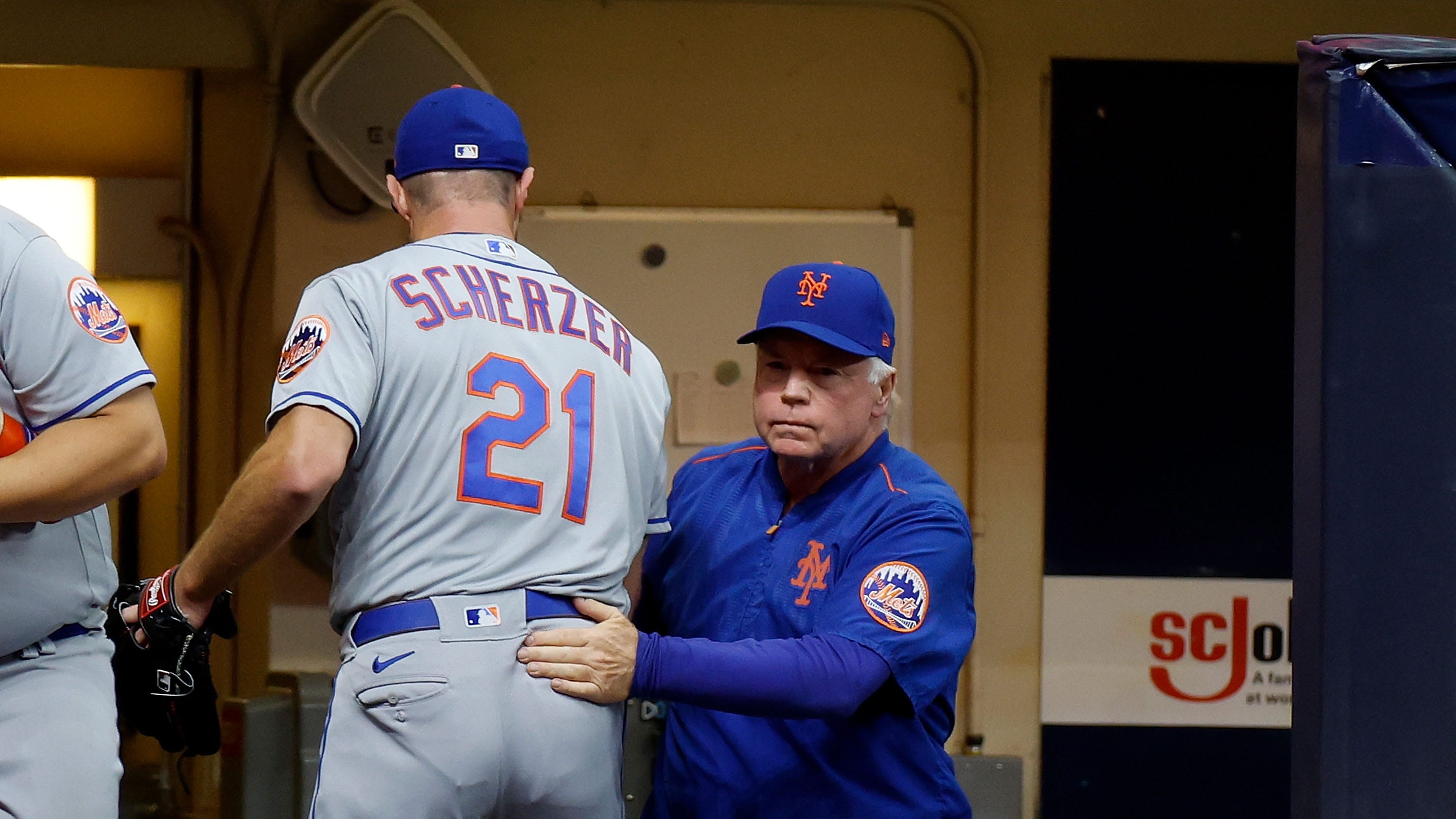 *The judges will also accept, "Buck Stopped Here"
Last night in Milwaukee, New York Mets pitcher Max Scherzer took the hill for the first time since Sept. 3. Scherzer, a future first-ballot Hall of Famer, pitched a perfect game through six innings. Nine strikeouts and only 68 pitches. Then manager Buck Showalter, the thinking man's manager, lifted him.
Now, we get it. You want Max's arm to be at full strength in October, something it was not when the Dodgers rented him last season. Also, Scherzer is 38. Finally, as Mets fans know, after Johan Santana pitched the franchise's first no-hitter in 2012 (134 pitches) he was never the same pitcher again. To wit, from USA Today in 2016:

"To many, Santana stands as a cautionary tale against allowing pitchers to blow past their typical workloads in pursuit of no-hitters. On June 1, 2012, Mets manager Terry Collins allowed Santana to throw 134 pitches in an eight-strikeout, five-walk no-hit effort against the St. Louis Cardinals, the first no-hitter of Santana's career and the first in Mets' franchise history. That gem lowered Santana's season ERA to 2.38, but he posted an 8.27 mark over his final ten starts of the season. He has not pitched in a Major League game since."
And never did.
But here's the other side of the coin. There have been, what, about 120 different World Series champions since the first World Series was played in 1903. But there have only been 23 perfect games. And Scherzer, who has two no-hitters and three Cy Youngs on his resume, would surely have liked to add that notch to his mitt. Or so we think. If the Mets go on to win their first World Series since 1986, that may overshadow anything Scherzer would have done on the mound last night. No, we'll go so far as to say it would have.
68 pitches. That's just one more than half of what Santana threw over nine innings. And Max was 2/3 home. At least, in our opinion, let him go out and pitch the seventh. If he allows a base hit or a walk or even an error, pull him. If not, then you make up your mind then. We could even live with the yanking. But let's allow the plot to thicken, no?
However, if the Mets fail to win the World Series (only Mets fans still discuss 2015), then a Scherzer perfect game would have put him in that rare company of Cy Young, Sandy Koufax and Randy Johnson, All fo Famers already with an added perfecto to mention on their plaques. So in that sense Buck Showalter short-changed fans, and Max, last night.
Wheel of 4-Chan*
*The judges salute Twitter follower @WoodburnDuck for this genius hed
Apparently this photo was snapped during a dinner in August. Sajak lives in Maryland and owns a publishing house that has published the "works" of Ann Coulter and Rush Limbaugh. Hey, it's fine to be a Republican (or at least it used to be), but posing with a whackadoodle such as MTG makes us wonder if, going forward, the Wheel of Fortune wheel will feature a "Morally Bankrupt" wedge.
The Bash Brothers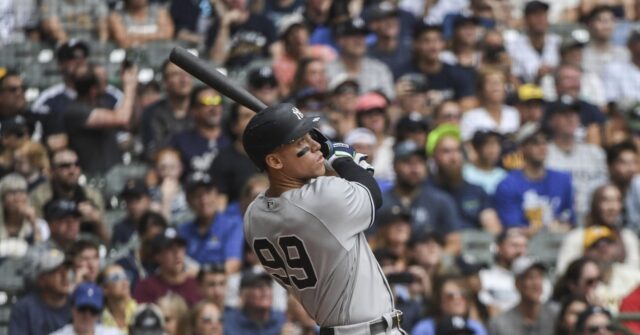 No sport courts history quite the way baseball does (see above item), and for this, the regular season's penultimate week, we have a doozy for history mavens. In the Bronx, Aaron Judge of the Yankees will chase the American League (and franchise) home run record. El Juez has 59 home runs and needs only three to break Roger Maris' record. The Yankees have six consecutive home games versus Pittsburgh and Boston, each in last place in their respective divisions. So they may as well pitch to him, no?
You gotta wonder how much HR No. 62 is going to be worth on the collectors' market. If you catch it, do NOT give it to Aaron Judge. He may be your favorite Yankee, but that's generational wealth you're holding in your hand. It's the type of home run that could inspire Don DeLillo to pen a sequel to Underworld (if you know, you know).
Meanwhile, out west, St. Louis Cardinal slugger Albert Pujols will be chasing career home run No. 700 (which would put him in the same company as immortals Bonds, Aaron and Ruth). A month or two ago, the prospect of Pujols reaching 700 seemed the opposite of near-fetched, but he's been on a tear since the Home Run Derby (which he took part in) and should have his first 20-home run season since 2019 (he has 19 now). The Cardinals begin a three-game series in San Diego tonight followed by a weekend series at Dodger Stadium. You can imagine the Fox (Saturday) and ESPN (Sunday) execs hoping Albert's at 699 when their day arrives.
Either way, it's fantastic baseball theater. Two lucky (and wealthier) baseball fans could be among us this time next week.
Carey, Get Out Your Cane
We've boon poring over Joni Mitchell's classic 1971 album, Blue, which is not only the ultimate breakup album but also has been named by both NPR and Rolling Stone as the greatest album ever by a female artist (and No. 2 all-time). One of the song's singles, the 4th song on Side 1, is "Carey," which is actually a misspelling. Mitchell, who was vacationing on the island of Crete with a female friend, sort of running out on her relationship with Graham Nash (whose "Our House" was a devotional to their romance), when she met up with the perfect rebound guy bad boy: a redheaded chef at The Mermaid Cafe named Cary Raditz (above). It was a brief Grecian fling that must have torn Nash's heart out to hear (she formally broke up with him by telegram while she was abroad). She first performed this song for Raditz for his 24th birthday and then it became a timeless classic, one of many she wrote during this era. Listen to the lyrics. Joni doesn't leave much out ("Oh, you're a mean old daddy/but I like you, I like you…").
Postscript: Raditz is still alive and finally acknowledged that he was the "Carey" in the song about six years ago. Mitchell's next big romance would be a musician who played on this album: James Taylor. But then JT would explode soon after and she couldn't handle his fame, or at least that's how the story goes. Also, there was Carly Simon.