https://mediumhappy.com/?p=9456
by John Walters
A note, nay, a confession: we don't watch anywhere near as much college football this offseason. It's… refreshing. So these reports are in no way intended to be comprehensive. Our completion percentage hovers around 50%, making us the Braxton Burmeister of college football re-cappers. Of course, this column remains pro bono (but also, as you'll see, pro Bobo). If you care to donate, though, you may do so via PayPal and hit up trumansparks88@gmail.com.
Own The Portal, Be Immortal
College football has morphed into the sports version of that classic SNL sketch, "Meet Your Second Wife."
Watching a pair of college football games from Los Angeles this weekend instilled in us the primacy of owning the college football portal in this brave new world of CFB. On Friday night undefeated Washington and UCLA clashed (and not just fashion-wise) in the Rose Bowl. The Huskies were led by quarterback Michael Penix, Jr., an Indiana transfer who just happened to be leading the nation in passing (and still is, despite the 40-32 defeat). Two-thirds of the Bruins' offensive skill-position triad are also transfers: matchup nightmare Mike Bobo (6'5″), late of Duke, who runs like a deer but looks like a tight end; and running back Zach Charbonnet, who returned home to Los Angeles after a season at Michigan. All three players shined in a game that kicked off at 10:30 p.m. on the East coast.
On Saturday night, same kickoff time (maybe this is a Pac-12 After Dark item disguised as a transfer item?), USC defeated team-without-hap Arizona State, 42-25. USC's top three offensive weapons are all transfers, as you probably know: quarterback Caleb Williams (Oklahoma), wide receiver and reigning Biletnikoff winner Jordan Addison (Pitt) and running back Travis Dye (Oregon). Dye, like Charbonnet, played his high school football in the Los Angeles area. Also worth noting that the Sun Devils had lost to the portal two key offensive weapons: quarterback Jaylen Daniels is slinging for LSU, who—don't look now—is 4-1 with an only loss being a product of a blocked PAT at the end of regulation in the season opener versus Florida State; and 6'7″ wideout Johnny Wilson, now a Seminole, whom the ESPN guys splooge over every time his name is mentioned. Wilson, who's actually on his third school, had hands of stone in Tempe. He has markedly improved.
There are so many more: quarterback Adrian Martinez (Nebraska to Kansas State) has the Wildcats ranked 20th (an inexplicable home loss to Tulane preventing K-State from being 5-0); Alabama, of all schools, is relying on a running back from Georgia Tech, Jahmyr Gibbs, to be its RB1. Not coincidentally, the coaches at Nebraska and Georgia Tech were fired before the calendar struck October.
Sure, plenty of 2022 studs are still with the girl they brought to the prom (Bryce Young, Spencer Sanders, Bijan Robinson, to name just a few), but it's more and more apparent that, as a coaching staff, your transfer portal "recruiters" need to be even more skilled and comprehensive than your high school recruiters. First, for a coach whose bath temperature is rapidly rising, transfers represent a much quicker fix. Second, they're already established and you don't have to shepherd them through the freshmen transition. And not only must schools begin to better appreciate the importance of the transfer portal. So must broadcasters. The portal, and not recruiting classes, has now become the largest indicator of a program's offseason development—or depletion. And that's also what makes it different. The portal, unlike recruiting prep stars, is a zero sum game. Look at Ga. Tech and Alabama. The Tide's gain of Gibbs is just as much a story as the Yellow Jackets' loss of him. Unlike pro sports, Ga Tech received no compensation.
Meanwhile, the portal will probably only widen the chasm between haves and have-nots. The only reason that you're transferring, say, to a Purdue is because you're stuck on the second or third team or you grew up in the area. But if you're someone who's established himself at a perennial sub-.500 or thereabouts school, such as Bobo or Gibbs, you transfer to a Bucket List School.
Final thought: the transfer portal being fluid as it is, the ultimate power move would be for Nick Saban to announce that he's retiring, then persuade his top 40 players to join him as he returns to his alma mater, Kent State. Watch the Golden Flashes go 12-0 and earn a berth in the expanded 12-team playoff. Okay, maybe not Kent State, but what if Nick did this at Hawaii (maholo, bitches!) or even SEC doormat Vandebilt? We'd be rooting for them.
Jenny, Jenny*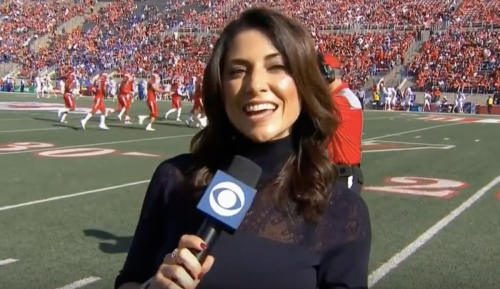 *If you are a certain age, the words "Ooh, can I call you" just popped into your head
That, above, is Jenny Dell, CBS's new sideline reporter for its marquee SEC game each Saturday. So it occurred to us that now both CBS and Fox (Jenny Taft) are leading with women named Jenny who have a four-letter surname that goes consonant-vowel-consonant-consonant. But the similarities only begin there. Both ladies attended college in Massachusetts (Dell attended UMass-Amherst; Taft, Boston University… SEC sororities should be mildly ashamed that a pair of Massachusetts schools-without-Division-I-football grads are taking these gigs) and both married professional athletes. Dell wed former Boston Red Sox infielder Will Middlebrooks (she covered the Red Sox for NESN), while Taft married Matt Gilroy, a former NHL skater and winner of the hockey Heisman, the Hobey Baker Award. Further, Dell's cameraman is named Taft and Taft's cameraman is named Dell (okay, that's not true, but if Steve Rushin is reading this—and why would he be?—he'll appreciate the line).
The Picture Of Dorian's Play
We remember seeing this in real time and thinking, that's just filthy by Dorian Thompson-Robinson. The ESPN announcers didn't see to notice the U-Dub tacklers pulling a Florida offensive linemen-in-Musgrave-era Keystone Cops move in real time or even on the replay. Not until ESPN returned from commercial did they point it out. Someone on Twitter wondered aloud, "Can a play win the Heisman?" Outstanding point, sir. By the way, we believe this was at the end of the same drive in which DTR hurdled a Husky tackler (and on that play as well, two Husky defenders collided). This is a here's-my-reel drive for the veteran Bruin QB.
Aaron Judge Not, Lest You Be Aaron Judged
How meta is it to be interrupting your own college football recap column with an item on the Aaron Judge nontroversy? Full disclosure, I'm a lifelong Yankee fan and so in terms of my interest in Judge's home run chase, it would be foolhardy for me to claim I'm 100% objective. However, I am sincere in this task so allow me to pontificate for a moment or two. To me, it's all a matter of maintaining perspective. Like, sure, if you're watching Houston play Tulane on TV on a Friday evening (and did not attend either school), you may have bigger problems. And yes, I can understand how a live look-in to an Aaron Judge at-bat might seem annoying (it's a split-screen; it's not as if they dropped the football game entirely).
But isn't this where it's time to be an adult and say to yourself, "Personally, I don't love it, but I can at least understand why the suits at ESPN are doing it?" I don't know where the majority falls on this, because in the world of social media, it's always the unhappy noisy few whose voices are the loudest (cutaway thought: almost no one goes on RateMyProfessor.com to say, "I thought the prof was at the very least above average"). We live, sadly, in a post-Yelp! world where the loudest whiners can make it seem as if they are in the majority. I imagine most people are like myself: we just don't have the energy to say that we like something or, if we're not a huge fan, can roll with it. Again, perspective. How big of a deal is this really?
Fox's Tim Brando, whom we adore in most situations, tweeted out about this radical injustice and used the word "terrorizing" to describe what ESPN is doing here. And then he called out "media critics" for giving ESPN a free pass here. I'm no longer a paid media critic, but I am currently reading Max Hastings "Inferno: The World at War, 1939-1945." Now as you read about the countless millions who died the most horrible of death due to the true terror perpetrated by the Nazis, and Josef Stalin, and the Japanese, it's hard to get too riled up about a split-screen viewing of Aaron Judge's home run chase.
And yes, I realize I just went full Sinead O'Connor on a sports argument and that's not really fair. Everyone, I would hope, would appreciate that when we are arguing sports that we still appreciate sports' true role in relation to the actual important issues in the world. Then again, as a lifelong human being in these United States, I wonder if we Americans are so often so out of touch with reality (i.e., the "first-world problems' issue) that we actually have lost perspective. I'd argue that using the word "terrorizing" in relation to a live look-in to an Aaron Judge at bat gives me sufficient reason to muse on that.
Can A Play Win The Heisman, Part 2
Notable That He Tosses Helmet With Non-Throwing Arm
The B.S. Wonders…
… If you realize that both Alabama and now Georgia found themselves trailing in the fourth quarter to an unranked team on the road this season. Clemson found itself trailing in the fourth quarter at Wake Forest, which was ranked 21st at the time. Playing in your opponent's on-campus venue ain't so easy, is it? Ohio State, 5-0, has yet to venture beyond the Horseshoe… WE INTERRUPT THIS BLOG POST TO TAKE YOU TO YANKEE STADIUM, WHERE AARON JUDGE IS WALKING TO HOME PLATE… How genius and aware of your fan base for the University of Wisconsin to announce the dismissal of head coach Paul Chryst during the fourth quarter of a tight Packers home game versus the Patriots? Chryst's offense was criminally obsolete, but he is a Badger alum who led them to a Rose Bowl. Still, this may be what I remember most about his tenure. How on-the-nose Wisconsin his firing was… Should't MacKenzie Scott be the next Bachelorette (if you need help, that's Jeff Bezos' ex who then married a high school chemistry teacher and has pledged to give away most of her wealth during her lifetime)?… Isn't it too bad that UCLA quarterback Steve Bono preceded current UCLA wideout Jake Bobo (probably by about 40 years)? A "Bono to Bobo" connection would have been fun for broadcasters…Wouldn't you laugh if, just once, you saw a rosary beads-clutching priest anxiously rushing into the medical tent? Or a Native American medicine man waving sage? I know I would… Did you also notice that Bryce Young addresses the not-his-equal college kids "C.J." in that Fansville ad? Nice touch… After that shot to the head, if Oklahoma quarterback Dillon Gabriel is cleared to play this weekend versus Texas, should Miami fire its team doctor all over again?… If we'd all be discussing that astounding TD catch by Kentucky, the game-winner in Oxford, if they hadn't flagged the Wildcats for holding?… By the way, Ole Miss QB Jaxson Dart is now officially a misnomer, as he has the worst completion percentage in the SEC…How many of us had, for the Texas A&M at Alabama Saturday, what with all the off-season sniping between Nick and Jimbo, College GameDay setting up camp in Lawrence, Kansas, on October 8th?
Mizzou-ry
If for no other reason than that this college kicker moment needed to be validated, we found ourselves rooting for Missouri on Saturday evening.
Alas, two untimely errors from the right side of Mizzou's O-line undid the Tigers' upset bid of No. 1 Georgia. First, a right guard flinched on first-and-inches on the goal line and Mizzou would ultimately settle for a field goal. Later, Mizzou converted a key third-and-nine on a dynamite pitch-and-catch late, but it was nullified by a hands to the face flag (a good call, too). Alas, after that moment Mizzou still led but you could see the heart go out of them. It's as if they knew what was preordained needed to come true. Kind of like the Mets in Atlanta.
Finally, think about how much more this game would have meant in the BCS era. The No. 1 team likely knocked out of its title quest with loss at unranked Mizzou. Now, it's almost meaningless. In two years, it'll be even less so. They'll tell you that the expanded playoff gives more schools a chance but what it actually does is act as a safety net against blue bloods being undone by an upset loss.
Dye Job
This photo does not begin to do justice to ESPN's "glamor shot" photo of USC running back Travis Dye, but at least it shows the mustache. Props to ESPN's Dave Flemming for going there, noting that it "may be my favorite glamor shot" he's seen this season. No doubt. If you've seen it, Dye seems to be going either for an Oates of Hall and Oates look, or '70s TV cop sidekick look, or supplanting Billy Dee Williams for his own Colt .45 malt liquor ad campaign. Any way you choose to see it, Travis needs himself a guest spot in Fansville and pronto.
When You Realize The Manning Cast Is Just An Update On Statler & Waldorf
Kudos to SNL's writers for being this self-aware for the cold open of the show's 48th season. And also props to host Miles Teller for, as everyone has noted, nailing the Peyton Manning impression. This reminded us of September 1993, we believe, when Conan O'Brien cold-opened the maiden broadcast of his late-night show in similar self-deprecating fashion. Conan, as you know, had previously been an SNL writer.
While we're at it, rookie Michael Longfellow was solid in this sketch and in his "Weekend Update" appearance, basically transferring some of his stand-up material to the desk. We invite you to check out his stand up material on YouTube, especially the routine about him having three dads. Longfellow, like alums David Spade and Aidy Bryant, is from the Phoenix area. Both of his parents are attorneys out here.
The Perfect Metaphor
We know. It's baseball. But a more apt metaphor you will not find.