https://mediumhappy.com/?p=9466
by John Walters
From Truss To Russ
Yesterday's big news: the resignation, after six weeks in office, of British prime minister Liz Truss. Today we focus on Russ, as in Los Angeles Laker Russell Westbrook, who shot 0-for-11 in his 2022 Staples Center debut last night, a 103-97 loss to the co-tenant L.A. Clippers.
Two nights earlier, at halftime of the Lakers' season-opening defeat at Golden State, TNT's Charles Barkley had put it bluntly. First, he called the Lakers "a bad team." Again, halftime of the season opener. Then Chuck said, "You know how I feel about Russell Westbrook. I love the guy. The Lakers need to move him."
Westbrook, a former league MVP, two-time scoring champ and nine-time All-Star and at one time the most dynamic player in the NBA, no longer starts. No idea where you move a guard who cannot shoot threes (or anything much from beyond 10 feet), who'll turn 34 next month, but his L.A. homecoming has been a dismal exercise. He would tear up the G-League, though. Is there still a G-League?
What Is Wrong With The New York YanKKKKKKKKKKKKKKKKKKKKKKKKKKKKKKees?
The New York Yankees exit Minute Maid Park down 0-2 in the A.L. Championship Series. The Pinstriper pitching has been better than average, their defense superb. So what's wrong? Well, for a team whose three most probable outcomes are strikeout, walk, home run, they've struck out 30 times, walked four times and hit one home run. That is not a recipe for success.
Last night, in a 4-2 defeat, the Yanks failed to hit a home run for the first time in 24 postseason games, snapping their record streak. If you're a Houston fan, the good news is that you're up 2-0 without Jose Altuve having gotten a hit yet in either series (they're 5-0 this postseason and he's 0-23) and Yordan Alvarez has also been fairly quiet. Those bats will wake up—especially after that fan ran onto the field before the top of the 9th last night to give Altuve batting advice.
Meanwhile, the Yankees, who now have three games in the Bronx, have lost six in a row at Minute Maid Park dating back to 2021.
A teachable moment for the Yanks occurred in the top of the fifth inning. With runners on 2nd and 3rd with one out, both Anthony Rizzo and Gleyber Torres, in successive at-bats, hit run-scoring ground balls. In other words, both batters made contact. Torres is normally one of the worst Yankee offenders in terms of swinging out of his shoes and failing to make contact. The announcers noted this fact and emphasized that Torres had been "rewarded" with an infield single for his more circumspect swing with two strikes. Both grounders resulted in an RBI, the Yankees' only two runs of the night.
The Yankees led the majors in home runs (254) this season and led the AL in overall runs (807), but in the postseason they're averaging 12 strikeouts per game. No other team is averaging more than nine. Just about anything is preferable to a strikeout. The Yankees' best hit last night was a one-hopper back to the mound by Giancarlo Stanton that Astro starter Flamber Valdez misplayed for a two-base error.
Put the ball in play. Give your team a shot. It's just that simple.
Like A Scene Out Of Signs
From last night's NFL game. This is the first of consecutive pick-sixes the Arizona Cardinals scored off Andy Dalton just before halftime.
Manchester Divided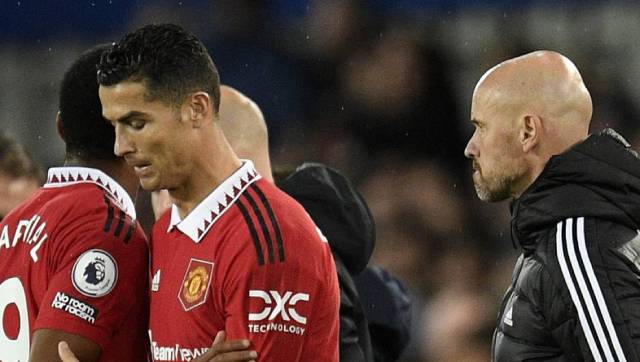 If you thought sports diva-dom was limited to NFL wideouts and some NBA All-Stars, let us reintroduce you to Cristiano Ronaldo. Arguably the greatest striker of this (or any) generation of footballers (Messi fans will understandably disagree), Ronaldo is now a dyspeptic thirtysomething playing for the Premier League where his career began, Manchester United. On Wednesday the five-time Ballon d'Or winner refused to enter the game as a sub in a match versus Tottenham Hotspur, then walked off the pitch before the final whistle in Man U's 2-0 win.
Ronaldo is 37. Manchester United, which is not involved in Champions League play this season, is not where he wants to be. He will play for Portugal in next month's World Cup, but beyond that he seems an unhappy camper. Wealth, looks and a supermodel wife are not the only keys to happiness. Ask Tom Brady.
Man U. opened the season 0-2 under new manager Ten Hag (yes, that's his name), with losses to second-tier clubs, but have since gone 6-1-1 with wins versus premier Premier League squads such as Arsenal (first place), Liverpool and Tottenham (3rd place). It may be time for a little attitude adjustment from the petulant performer from Portugal.