https://mediumhappy.com/?p=9469
by John Walters
Shell Game
This, reported earlier today in The New York Times: "
"London-based Shell reported adjusted earnings of $9.45 billion for the third quarter, its second-highest profit on record. On the same day, Paris-based TotalEnergies reported a profit of $9.9 billion.
For both companies, the profits were more than double what they earned in the same period a year ago."
A few things to remember:
• One, we are talking profits, not revenue. This doubling of an already uber-wealthy corporation's quarterly profit from one year to the next has nothing to do with how much more it may cost to do business, or the pandemic. This is straight-up profit. It's all about price gouging.
• Shell would never disclose this information if it was not compelled, as a publicly traded company to do so.
• A certain portion of the population, roughly half, will blame this on the current administration. These same people also advocate all the time about how the government needs to stay out of the affairs of private enterprise. So that's an example of hypocrisy. But this same portion of the population is immune to being troubled by its hypocrisy. To reiterate, the government or its policies has no impact on a company's profits. Perhaps it might on its operating costs, but even here that's not the case.
• The people who need to hear the truth likely do not have the patience to read the explanation or, perhaps even more likely, would never read this blog (though, who would?). The oil companies, whose product is made out of dinosaurs, realized that they have become dinosaurs themselves. At least in a world that cherishes a livable climate. In 1997, five of the world's largest 19 companies were oil companies—and three others were traditional auto makers. Times have changed and oil companies see that the current administration (as well as many other western governments) are moving to phase out fossil-fuel burning autos in favor of electric types.
So, the oil companies have a few moves they might be making: 1) A final "F You" to all of us consumers off whom they've profited so greatly over the decades or, more likely 2) a narrative that the higher gas prices, which concomitantly translate to higher prices on all goods that need to be moved by trucks (or, almost all goods), is not their fault but rather the fault of Let'sGoBrandon. So then Americans will blame him and vote him out. And guess who is voted in? A president and Congress who have been lapping up oil money for campaign contributions and will be oil-friendly as soon as they regain control of the White House. Crafty SOBs, those oil companies. And too much of America is just dumb enough to fall for it.
While we're at it, watch Syriana some day. Great film.
• Also today, Shell announced that it will buy back more than half a billion shares of its stock by Feb. 2, 2023. Thus creating a scarcity of stock that will cause prices of its shares to go higher (now where did an oil company ever get the idea to create a scarcity out of thin air to cause the price of something to go higher?). That's good news if you own Shell; bad news for most Americans who don't own any stock outside of their 401-K.
This, Justin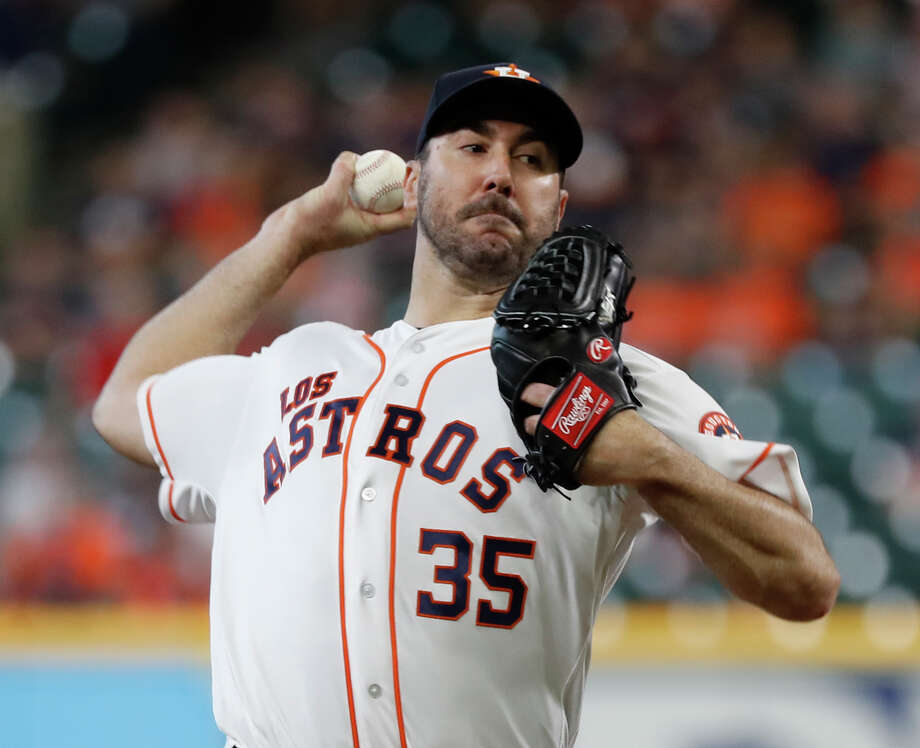 The Houston Astros should be overwhelming favorites in the World Series that starts tomorrow at Minute Maid Park, no? Houston finished with the best record in the American League. The Philadelphia Phillies were the last of six National League teams to advance to the playoffs, are only in because of the new format, and finished in third place in their own division. Houston won the World Series in 2017 (
"They cheated!" "SHADDUP!") and this will be their fourth appearance in the Fall Classic in the past six years. Philly has not appeared in a World Series since 2009, and last won in 2008.
Something to keep in mind, though: Houston's Game 1 starter and ace, the presumptive A.L. Cy Young Award winner this season at age 38 and a surefire first-ballot Hall of Famer (ta dah!), Justin Verlander, has a very uncharacteristic World Series resume. In seven starts, with Detroit and Houston, Verlander is 0-6 with a 5.68 ERA. Verlander looked vulnerable versus the Mariners in the ALDS though he looked light out versus the Yankees (what pitcher not name Civale didn't?).
Just something to keep in mind.
Foxy Lady
Caught the second half of Foxy Brown, which we had never seen before, on America's greatest network (TCM) last night. The year is 1974 and Pam Grier (above) plays the girlfriend of an undercover narc while her own brother, played by Antonio Vargas, is working with a gang of drug dealers who are white and whose front business is a modeling agency.
Too much to go into here, but if you've never seen it, Holy Chocolate Sex Bomb, Batman. I mean, I don't recall this movie coming out in my neighborhood when I was eight years old, but if it had and if I'd seen it, we could have skipped ahead at least a decade. There is nothing in six seasons of Breaking Bad that's as cold and ruthless (not to mention sexy) as this. Spoiler Alerts: Foxy poses undercover as a model/prostitute, but is then found out and sent off as a sex slave to drug rednecks who control her by keeping her hooked on heroin. Later, Foxy exacts revenge by cutting off the private parts of the boyfriend of the female modeling agency owner/drug lord and delivering the contents to her in a pickle jar. Also, the N-word is used at least ten times. All the while Grier is outfitted in about seventeen dozen costumes designed to highlight a figure that has more curves than the plot of The Big Sleep.
Foxy Brown feels like one of those films most of us have heard of but few of us have seen. If you haven't seen it, MH recommends. And after you do see it, ask yourself what studio would greenlight this film today.
Champaign Supernova
MH's sleeper college football team of 2022, at least until they play someone good, is the University of Illinois. The Illini are 6-1 but more than that, they lead the nation in both Total Defense (221.1 ypg) and in Scoring Defense (8.9 ppg). Those two stats used to be the best indicators of who would play for the national championship, at least until Air Raid offenses and dual threat quarterbacks were invented (now it's Total Offense and Scoring Offense).
Also, Illinois boasts the nation's No. 2 overall rusher (Chase Brown, 151.3 ypg) and number one among Power 5 schools. Brown, who is Canadian, has a twin brother, Sydney, who starts at defensive back for the Illini ("Paging Tom Rinaldi: We have a feature for you!").
Okay, Bret Bielema's downstate squad has yet to face a murderer's row in terms of it schedule, but here's why the rest of the autumn sets up nice: as temps in the Midwest dip below the 40s and weather impacts games more (cold, rain, wind, maybe even sleet or snow), what better to have than a bone-rattling defense and a money running back (from the Great White North, no less)? This is how you win games around the Great Lakes after Halloween.
The schedule is doable. After a visit to 3-4 Nebraska this Saturday, Illinois hosts Michigan State (3-4) and then Purdue (5-3). Win all three and the Champaign Supernova squad heads to likely unbeaten Michigan on Nov. 19 with a 9-1 record. The best record Illinois has ever finished with in more than 100 years of football is 10-2. They've never won 11 games in a season. After UM, they still play Northwestern and then likely a bowl. It's all possible for the school that gave us Red Grange, Dick Butkus and Roger Ebert.