https://mediumhappy.com/?p=9470
by John Walters
Not A Paula Abdul Documentary
What happens when your soul mate holds no sexual attraction for you (a question Susie B. has wrestled with, obv)? This 2019 film from James Sweeney (right; he wrote, directed and stars in it) is currently playing on Netflix and has a whipsmart dialogue.
Sweeney must be a fan of the "meet cute" and of old movies and he makes two separate references to Gilmore Girls, so you know what you're in for here. If you cannot name at least two of Rory Gilmore's three boyfriends, this film may not be for you. If you can, dive in.*
*Film recommended by Katie McCollow, of course.
The Happy Hooker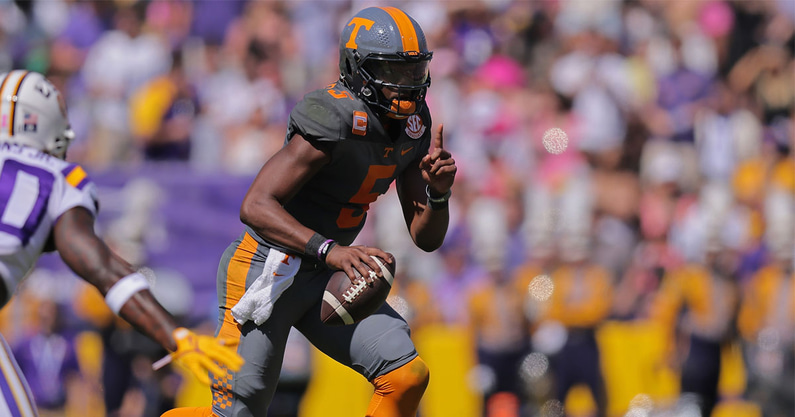 Why is Tennessee quarterback Hendon Hooker currently atop MH's Heisman favorites list? Three reasons: 1) He's one of only two quarterbacks with at least 20 touchdown passes and only one interception (the other is USC's Caleb Williams), 2) He's one of only two quarterbacks averaging a nation's-best 10.7 yards per attempt (the other is Ohio State's C.J. Stroud) and, 3) he engineered the nation's most impressive win of the season, over Alabama, in what was thus far the season's most exciting game, a 52-49 win. The Tide hadn't lost to an SEC East team in the regular season since, like, 2010.
Now Hooker and the No. 2 Vols visit No. 1 Georgia this week. The last time a 1 vs. 2 matchup in the regular season happened without Alabama being one of the two schools was in 2006, Michigan at Ohio State. On the eve of that game, Michigan's legendary coach, Bo Schembechler, died. Weirdly, and exactly one week too soon, Georgia's legendary coach, Vince Dooley, passed away last Friday night. The Wolverines lost that Saturday, if you wanna keep tabs.
Hooker has already moved into the oddsmakers' slim favorite to win the Heisman (something former Vol QB Peyton Manning never did). If he leads the Vols to a Rocky Top moment in Athens on Saturday—and this just in, Dawgs' All-American LB Nolan Smith is out for the season with a torn pec—he'll be way out in front, and the Vols will be ranked No. 1.
Hooker, like most Heisman candidates these past few years, did not start out at the school he now attends. He enrolled early at Virginia Tech in January of 2017…and spent three seasons there. That's right, he's now in his sixth year of autumn college football. Hooker will turn 25 just a few days after the college football national championship game. Hooker would be the second-oldest starting quarterback in the AFC East right now.
Verified
So, as you know, Elon Musk's $44 billion purchase of Twitter finally happened, we assume, because the world's wealthiest man considered that a smaller price to pay than enduring discovery in a Delaware court, and then ultimately losing his case, anyway.
The question for some is whether to remain on the platform. Many find it humorous and ironic that Musk has insisted that he does not want to prevent Twitter from becoming a "hellscape" and also that he wants to charge people who are verified $20 a month for that blue check because "it's the only way to keep out the bots and trolls (but he's on the side of the bots and trolls, no?)."
Quick question: So if a millionaire celeb chooses not to pay, is Elon going to kick him/her off the site? Or simply retract the blue check mark? I mean, all that person's followers already know who they are.
We read a good thread this morning (while still in bed, before coffee, and forgot to save) from a prof who noted that Musk seems to think he bought a tech site when in fact he purchased a community platform. And for it to succeed, he must strike a delicate balance. On one hand, you want to preserve the 1st Amendment. On the other, if you make it 4Chan or TruthSocial 2.0, then you'll drive away all the "libs." And what fun will it be for the trolls and bots to "own the libs" if they've taken their balls and gond home? That's exactly why the far-right is on Twitter as opposed to Truth Social: it's more fun to fight than to exist in an echo chamber.
So we'll see how this all falls out. What will always befuddle us is that of all the tech and social media companies whose stock grew exponentially in the past decade or two (Facebook, Google, Apple, even Musk's own Tesla), Twitter's never has. One more function of it being inordinately popular with journalists (guilty) who erroneously thought it resonated more with everyone else.