https://mediumhappy.com/?p=9473
by John Walters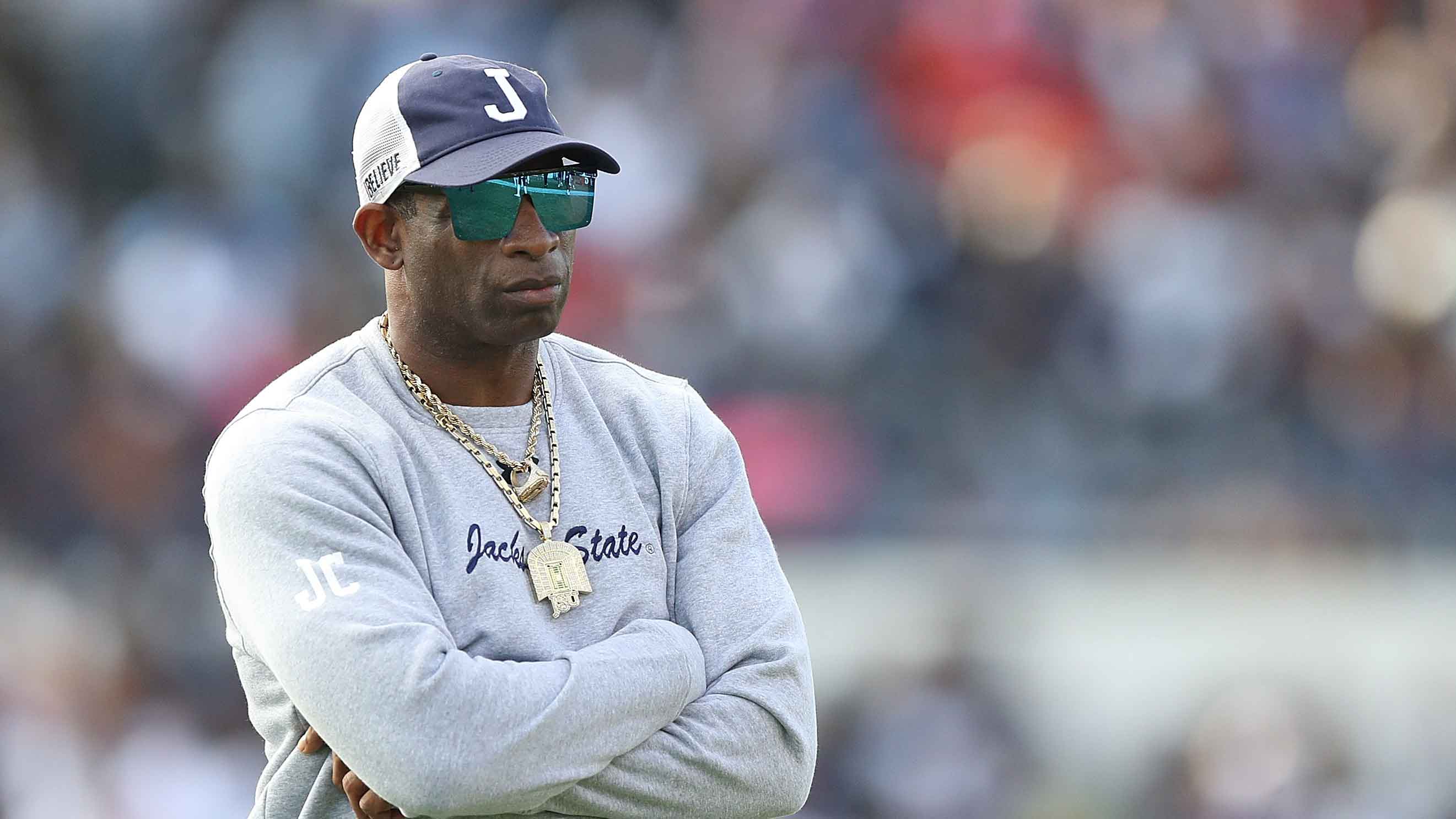 MOUNTAIN TIME IS NOW PRIME TIME
He's comin'.
Deion Sanders is not the first black football coach at the FBS level, he's not the first black football coach at Colorado, he's not even the first black football coach at Colorado this year. But in some ways, Coach Prime is the first black football coach in major college football. Why? Because he arrives as someone far bigger than his job title; a man with leverage, who has the potential to be a major disruptor. And that's a good thing.
I'll never forget: it was 1991 or '92 and I was fact-checking a story for SI on Florida State volleyball player/budding model Gabriella Reece (she'd later marry surfing icon Laird Hamilton). In the piece Gabby noted how she'd had a heart-to-heart with fellow FSU athlete Deion Sanders, whom the mainstream media at the time saw as an attention whore who was as much flash as he was talent, and that Deion had told her how she needed to maximize her earning potential and to exploit her gifts. Coach Prime was 30 years ahead of NIL.
I never forgot that anecdote because it informed me that Deion possessed more insight and intellect than many of us were giving him credit for. No doubt here that Coach Prime will be a magnet for talent to come to Boulder and that the Buffs are about to become a big problem for the rest of the Pac-12.
If you have not seen the above video yet, we give it the ol' HR (Highly Recommend).
A few numbers on Deion: finished 8th in Heisman voting (top defensive player) in 1988. Two-time first-team All-American who also played baseball and ran track at Florida State. He had 54 interceptions and 22 touchdown in the NFL (in Hall of Fame) and 186 stolen bases and a .263 batting average in the MLB. Played in two Super Bowls (won both) and one World Series, in which he batted .533 but his team (the Braves) lost. Has a 27-5 record as a head coach with Jackson State.
In short, kids best listen to what he has to say.
JUDGE RENDERS VERDICT
He's stayin'.
In a deal that could have been finalized on a beer napkin during Game 4 of the ALCS, Aaron Judge re-signed with the New York Yankees for the very round number of $360 million over nine years. That averages out to $40 million per season. The good: Judge, 31, just had arguably the most offensively potent regular season in MLB history, bashing an AL-record 62 home runs while also leading baseball in RBI, Runs, OBP, OPS, slugging percentage and walks. The bad: Judge has yet to lead the Yankees even to the World Series, much less win it, and this October he was actually a postseason liability, striking out three times as often (15) as he hit safely (5). His postseason average? .138
The Yankees had to keep him. He's a great player and you could not build a better model for the face of a franchise in a laboratory. All that's left for him to do is to get that chip, as they kids say.
By the way, Aaron's still not the best-paid Judge in New York City. Judge Judy earns $47 million per year.
BUCKEYE, BUT WHY?
Ohio State, the school with only one loss but not one of the TEN Power Five schools to have played in a conference championship game last weekend, landed the fourth and final berth in this season's college football playoff. And our question is, How come?
If conference championship games matter, then shouldn't it matter that the Buckeyes did not even advance to one (before you throw Notre Dame in my face, yes, you're right; but I've got zero problems with the Irish scheduling a 13th game, maybe even against an FCS school as the big boys do, in any year they're up for consideration… yes, the point is moot going forward)?
Let's stump for USC. Both the Trojans and Buckeyes beat Notre Dame and both lost one regular-season game, to their respective conference champions. USC showed out better in its last-minute loss at Utah than Ohio State did at home versus Michigan. OSU had an impressive road win at Penn State, but the Nittany Lions never beat a Top 10 team, either at the time or later in the season. USC won at Oregon State, who would later beat Oregon, a higher-ranked team.
USC's main flaw is that it played Utah a second time, in a game Ohio State was not obliged to play, and lost. But USC has the presumptive Heisman winner in Caleb Williams and the Pac-12 has not had playoff rep since the 2014 season; this will be Ohio State's fifth playoff. If for no other reason than variety, we'd put USC in. They also, in our opinion, have a superior resume.
Then there are the folks in Salt Lake City who'd point out, Hey, we beat USC twice AND we are our conference's champion. Yeah, but you Utes have three losses.
In the wake of USC's Friday night loss to Utah, the gabfest shows felt obliged to debate between Ohio State and Alabama for the fourth spot. We still think USC would be a better choice. They lost to the same team twice, which is not the same as losing to two different teams once. Besides, a first berth versus a fifth? Why?
The Big Ten, before its conference championship game existed, had a rule that if two schools tied for the B1G championship, the team that had most recently been to the Rose Bowl stayed home. We liked that rule. Common sense. The playoff should apply that same measure of insight.
VIVE LA FRANCE?
Heading into the World Cup quarterfinals, defending champion France has the best player (Kylian Mbappe) and the best-looking (Olivier Giroud, who at age 36 just became his country's all-time leadin scorer in international competitions…but Giroud is wise and humble enough to acknowledge that Mbappe will one day shatter his record).
France are the defending champions. Brazil has won the most World Cups (5), but their last title was in 2002. The two met in the 1998 final in Paris, with France winning. The quarters also boast 1966 champions England, as well as the two greatest players of this generation, Lionel Messi (Argentina) and Christiano Ronaldo (Portugal), who would only meet in the final (unlikely). The other hopefuls, the long shots, are Morocco, the Netherlands and Croatia.
We foresee a run back of the 1998 final, with the same result. Mbappe is already great, now he's about to become an icon.