https://mediumhappy.com/?p=9524
by John Walters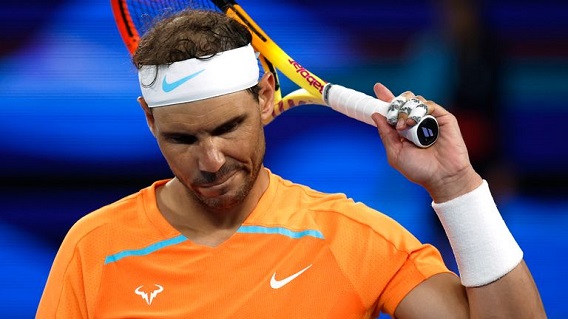 Down Underwhelming
Rafael Nadal, arguably the greatest men's tennis player in history (his number of Grand Slam singles titles backs this claim up… for now) falls in straight sets to unseeded Yank MacKenzie McDonald in the second round of the Australian Open. The Spaniard, hampered by a barking hip and his age, 36, was the defending champion (Novak Djokovic was vaxxed out of the tourney the past two years). "It's a tough moment. It's a tough day," the top-seeded Nadal said. "I can't say that I am not destroyed mentally at this moment, because I would be lying."
Nadal remains at 22 Grand Slam titles. Djokovic, the heavy favorite to win, has 21. Djokovic is 35.
Nadal is now 1-3 in matches in 2023.
MIMAL-OL
In last night's Final Jeopardy!, the writers hit the contestants with a question that was likely a gimme for most Americans living in flyover states. Curiously—or was it predictably— all three contestants answered incorrectly. The category was 'Geographical Mnemonics' and the clue is here:
Again, all three players missed. One was from Boston, the other from Canada (somewhat forgiveable) and I cannot recall where the returning champ was from. Two of the contestand guessed Louisiana and Alabama, while one guessed Louisiana and Mississippi. Then again, who am I to judge—I flamed out o Wordle this morning.
Now Tom Cruise Wants To Try It
We are old enough to remember when Used Cars was filming in Mesa, Arizona (our home address at the time) in 1979 and Phoenix was still such a small town that it was a big deal that Hollywood had come here to make a movie. But the names associated with this film: Director Robert Zemeckis and executive producer Steven Spielberg (really). Starrring Kurt Russell and Jack Warden, along with roles for Michael Mckean and David Lander (Lenny and Squiggy) and Al Lewis (Grampa from The Munsters).
Raising Arizona would not be released for another seven or eight years, but THIS movie actually captured the heart of pre-big time Arizona much more authentically. May its cult status only grow larger. With scenes like the above, how can it not?
Stocks and Bombs
As we understand it, there's one reason you invest or "trade" in stocks: to make money. So say what you will about the integrity of the CEOs or the products or the business itself, but if you can buy a stock one day and sell it at a later date for more than you paid, then you've done well. To that end, we note two stocks that were in the toilet less than a month ago and have rebounded nicely (note: We own less than 2 dozen shares of the former, simply to have a little skin in the game. Little more than $100 worth):
RIOT: a blockchain technology company whose business is linked to the shady netherworld of cryptocurrency.
Dec. 28, a 52-week low: $3.25
Today: $6.63
That's a 104% increase in just 14 trading days.
TSLA: Electric vehicle company whose product doubles as a niche accessory for the wealthy and/or progressive.
Jan. 6, a 52-week low: $101
Today: $133
That's an almost 33% increase in just 8 trading days.
Where each goes from here, I don't know. Just pointing out that in the market it's often darkest before the most brilliant sunrise.
Dollar Quiz
Which one of these songs is not on Pet Sounds: Good Vibrations, Wouldn't It Be Nice, God Only Knows?
Match the country with the number of land masses it has:
A) Malaysia 1. 1
B) Singapore 2. 2
C) Indonesia 3. >17,000
3. "The fault… is not in our stars, but in ourselves." From what Shakespearian play was this taken (Extra points if you know the sitcom that used this phrase as a mantra in one episode)?
4. Who is the NFL's all-time leader in touchdowns scored (and it isn't close)?
5. What was the meaning of the Montreal Expos logo?