https://mediumhappy.com/?p=9530
by John Walters
Answers from Friday's Dollar Quiz:
What were the first names of Lewis & Clark? Meriwether Lewis and William Clark
Air Supply had eight Top 5 hits. The Little River Band had nine Top 20 hits. Name one member of either Australian band (I can not, off the top of my head). Air Supply: Russell Hitchcock and Graham Russell (why didn't they call themselves Graham Russell Hitchcock?!? Massive Fail; LRB: Glenn Shorrock, lead vocals: Beeb Birtles, lead guitar. LRB have had 30 members since inception and we don't have the time)
The '85 Chicago Bears lost one regular season game. Who beat them and in what venue? Miami Dolphins, Orange Bowl, on Monday Night Football.
Who is the NBA's all-time scoring leader among left-handed players? James Harden
What actual historic event is the springboard for all of the shenanigans in the 1959 classic Some Like It Hot? St. Valentine's Day Massacre
Did We Watch/Listen To The Same Game?
In the wake of San Francisco's 19-12 victory over Dallas in the divisional playoffs, Twitter seemed overly obsesses with two items from that game:
A) the final play, and
B) Greg Olsen's work in the booth for Fox
Neither of which made any sense to me.
Olsen, in his rookie season as a color commentator, was roundly hailed as the greatest thing since Tony Romo (who was rightly crushed for his piss-poor job in the Bengals-Bills game…maybe he was suffering from stage-frost…but hey, Tony, you'll never have to return the money, will you?). Don Van Natta of ESPn fame even went out of his way to toss bouquets Olsen's way on the Tweet Deck. And he was far from the only one.
I like Olsen just fine. The former Pro Bowl tight end brings good energy and he genuinely seems to care. But, in the fourth quarter alone, here are some of the questionable plays/decisions he failed to comment on. Again, it's not that he had the wrong take, in my opinion. He had ZERO take. And that's his job: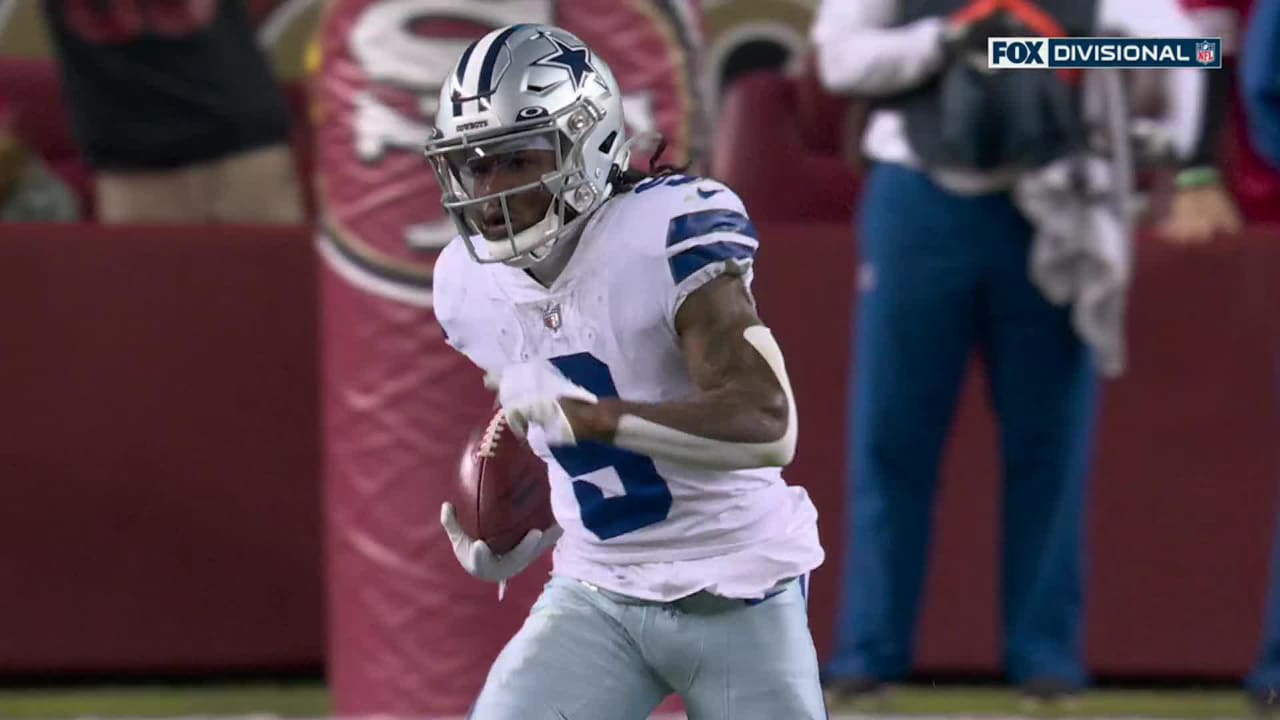 KaVontae Turpin's kickoff return: Dallas trailed 16-12, I believe, when Turpin fielded San Fran's kickoff to the left of the left hash mark. It looked as if the return was set up that way, but the speedster made a bold cut to his right and raced upfield untouched in the center of the field. Only two 49ers stood between he and paydirt (one of them the kicker) and the two tacklers were bunched near one another. If Turpin cuts right or sharply left he is gone. Touchdown. Instead—and sure, it's easy for me to say, this was a split-second thing—Turpin runs directly into them. They didn't tackle him as much as they did get in his way. The return was still very good, giving Dallas field position near their own 40-45, but it should have been six. Olsen and Burkhardt never opined on this; they simply noted that it was a fantastic return.
Mike McCarthy's decision to punt on 4th-and-10 or so with 2:34 left in the game. The Cowboys trail 19-12 and are backed up behind their own 20, so if the play fails, the season's pretty much over. But by kicking it away, you take the chance that you'll not get another offensive play the rest of the season. Yes, you have three timeouts plus the two-minute warning, but this is a decision that merits cost-benefit analysis. Olsen provided none. Props to he and Burkhardt for noting that Dallas dithered away at least 20-25 precious seconds deciding what to do, but the moment called for Olsen at least suggesting that Dallas does not HAVE to punt here. Maybe fortune favors the bold.
Dallas ultimately does receive one more chance as San Fran punts from midfield. Dallas' returner calls for a fair catch AT THE SIX-YARD LINE. What are you doing??? Let the ball bounce and maybe it heads to the end zone. If it does not, given the situation, is it really that much worse if San Fran downs it at your two. Either catch the ball and take off or let it go. As a punt returner you must know where you are standing on the field and, in that critical moment, the consequences of your actions. Why are you fair-catching a ball at the six-yard line when your team has no timeouts and a little more than 30 seconds to play??? Olsen never mentions it.
Dallas' final play. Yes, it looked silly in terms of its result, but here's the point that Olsen missed aas did everyone I saw on Twitter. There were still :06 on the clock. All you need to do to get a second play is to get out of bounds with :01. Two plays in six seconds if you can run the first in five (doable) and get out of bounds. Yes, Dalton Schultze had erred on the previous play and, yes, it was all a long shot at this point, but given all of that, the smarter thing to do here is to try and get 15-20 yards on a sideline route before attempting a final play. If you can advance the ball to the 45 or 50, Dak Prescott can uncork one to the goal line or damn near close. Understand that in the fog of war with no timeouts that Dallas panicked and failed to register all of this, but this is why coaches are paid so well. It's also why No. 1 analysts are paid so well. Olsen failed to suggest this. To suggest that with :06 Dallas still has time to call two plays and that they should not be resorting to this gadget play at this moment. Or at least that it's not their only option. He never mentioned it, insted keying on the bizarre formation. Noteworthy, but not the only point to be made in that moment.
I'd like to be the Czar of Sports Television now, please. Thank you.
Steve Hartman Just Feels Genuine
I've been quite taken with the pieces that Steve Hartman has been filing for CBS Sunday Morning lately. I don't know anything about Hartman, but just since Christmas he's delivered three bangers: about the white man in Colorado who bought a piano for a gifted African immigrant boy who displayed virtuouso skills before even taking a lesson; about the class in Minnesota that raised $300,000 so that its physically handicapped classmates could have playground equipment that fit their needs; and here, about Josiah Johnson, the Kentucky middle-schooler who made his basketball team despite having been born with no legs.
I have no way to prove it, and this may obviously be a product of my own bias, but when I watch Hartman's pieces, they feel genuinely wrought. Unlike when I watch any Tom Rinaldi piece on ESPN or, now, Fox. I've always felt that Rinaldi's pieces are about manipulating the audience's emotion and that deep down Rinaldi only cares about that. Whereas I feel that Hartman genuinely feels what he is saying when he speaks to these kids.
Can I prove this? No. Am I being unfair to Rinaldi and giving Hartman too much credit? Your call. But if I were at TV executive, I'd know whom to keep and whom to let go. Because that would matter to me more than audience share. Which is why I'm not a TV executive.
Load Management or Road Management
In this, the Year of Our Lord 2023, the NBA is experiencing an epidemic of players sitting out games who are not particularly injured or even ill (hung over, maybe; but not sick). It's called "load management" and it's the latest issue (the other being traveling) that's creating a chasm between Boomer NBA fans and Millennial NBA fans.
Steve Kerr, who's more of a boomer by age, recently apologized that his Hall of Fame backcourt of Steph and Klay sat out the team's only game in Cleveland this season (payback for the Cavs coming back from down 3-1 in 2016, maybe?) due to load management issues. Kerr actually suggested a 72-game regular season, which is comical. Would he like taking a 12% pay cut also with cutting out 12% of the regular season?

Yo, we get it. The NBA postseason is all that really matters and with the league expanding the number of teams that make it (20 of the NBA's 30 teams will qualify for at least one knockout game), it's understandable why you'd rest your stars in January. The Phoenix Suns, for example, are forging a much stronger squad by taking their L's now and giving their backups meaningful minutes. Now when the Suns have even three starters in the lineup they seem invincible (last week Phoenix was missing seven of its top eight players–only Mykal Bridges is indestructible—and it was not a pretty sight; none of those missing seven were seriously hurt; now Phoenix has THREE starters back and they've won four in a row, often putting up 25-point leads against the likes of Brooklyn and Memphis; they won by 31 last night versus Charlotte… minus two of their three All-Star quality starters).
On the other hand, NBA travel is cushier than ever. Private jets. Four Seasons suites. Teams back in the day of Larry and Magic still flew commercial and the level of physical therapy was nowhere near where it is today (then again, maybe that's why Bird did not last as long as LeBron will).
Well, instead of arguing both sides of this situation, we're proposing a situation. Occasional NBA Jamboree weekends: Four teams, five days, one venue. Each team plays three games over a four-day period, but they never leave the town or hotel. No travel. Kind of like the Bubble situation in Orlando during the summer of '20. An example:
Everyone meets in Phoenix.
Friday: Lakers-Suns, Clippers-Warriors
Saturday: Lakers-Warriors
Sunday: Clippers-Suns
Monday: Lakers-Clippers, Suns-Warriors
No one plays more than a back-to-back, but everyone gets three games in four days. No one boards a plane (If you do not know the rules, NBA teams must attempt to be in the city they play in on, say, a Monday, by leaving on Sunday night…so no matter how later your game ends, you cannot sleep in that city, wake up, and board a flight the next morning if you're playing back to backs; you've got to board that plane sometimes close to midnight and then maybe not arrive in your hotel room before 4 a.m. for a game that you'll play that same night).
I love this idea, even if it is mine. What say you? The four teams can either split the gage or rotate to all four venues since they all must play one another four times in the season. Not only do you knock out more games in less time with no travel, but that frees up more days the rest of the season for other travel games. Your thoughts?
Dollar Quiz
Who was the last U.S. president to not even attend college (hint: he'd later become a lawyer, as the standards were different then)?
What was the largest denomination U.S. bill that was ever actually in circulation (I'll throw you an extra dollar if you knew whose face was on it)?
What are the three rivers that are associated with Three Rivers Stadium (which no longer exists)?
What was unique about the Oakland Raiders' center during the team's 1970 hey day?
Put these three in order of when they became independent countries, as they remain today: Mexico, Poland, USA.