https://mediumhappy.com/?p=9569
by John Walters
Ecstasy And Agony at Emirates
Perhaps the most thrilling and incredible sporting event of 2023 thus far occurred in London on Saturday morning at Emirates Stadium. Arsenal, in first place in the Premier League, ahead of Manchester City by just two points at kickoff (three points for a win, one for a draw, zero for a loss), hosted AFC Bournemouth, which was in 19th place.
The clubs that are in 18th, 19th and 20th place at season's end are relegated down to the Championship League (not to be confused with the Champions League), the second level of English soccer.
So here's what happened:
° The lowly Cherries scored just 9.1 seconds into the match. It was the second-fastest goal in Premier League history.
°The Cherries added a second goal shortly after the half to take a 2-0 lead. No team had overcome a 2-0 second-half deficit to win in the EPL in four years.
° The Gunners erased the deficit with goals in the 62nd and 70th minute. The atmosphere at Emirates was electric. The Cherries were holding on for dear life.
°In the final moments, nay, the final play of stoppage time, in the 97th minute, the Gunners scored the game-winner off a corner kick. No matter what happened after Arsenal's Reiss Nelson touched the ball, the match was going to be over. He flared it into the low right corner of the net. Bedlam in London.
The Gunners, in search of their first Premier League championship since 2004, retained their 5-point lead over Man City (who'd won earlier in the day to trim the gap to two points). Bournemouth, looking to avoid relegation for the second time in the past four seasons, may have been dealt a death blow. It's almost impossible to take a 2-0 lead in the home pitch of the Premier League's top side. It's unforgivable to squander it.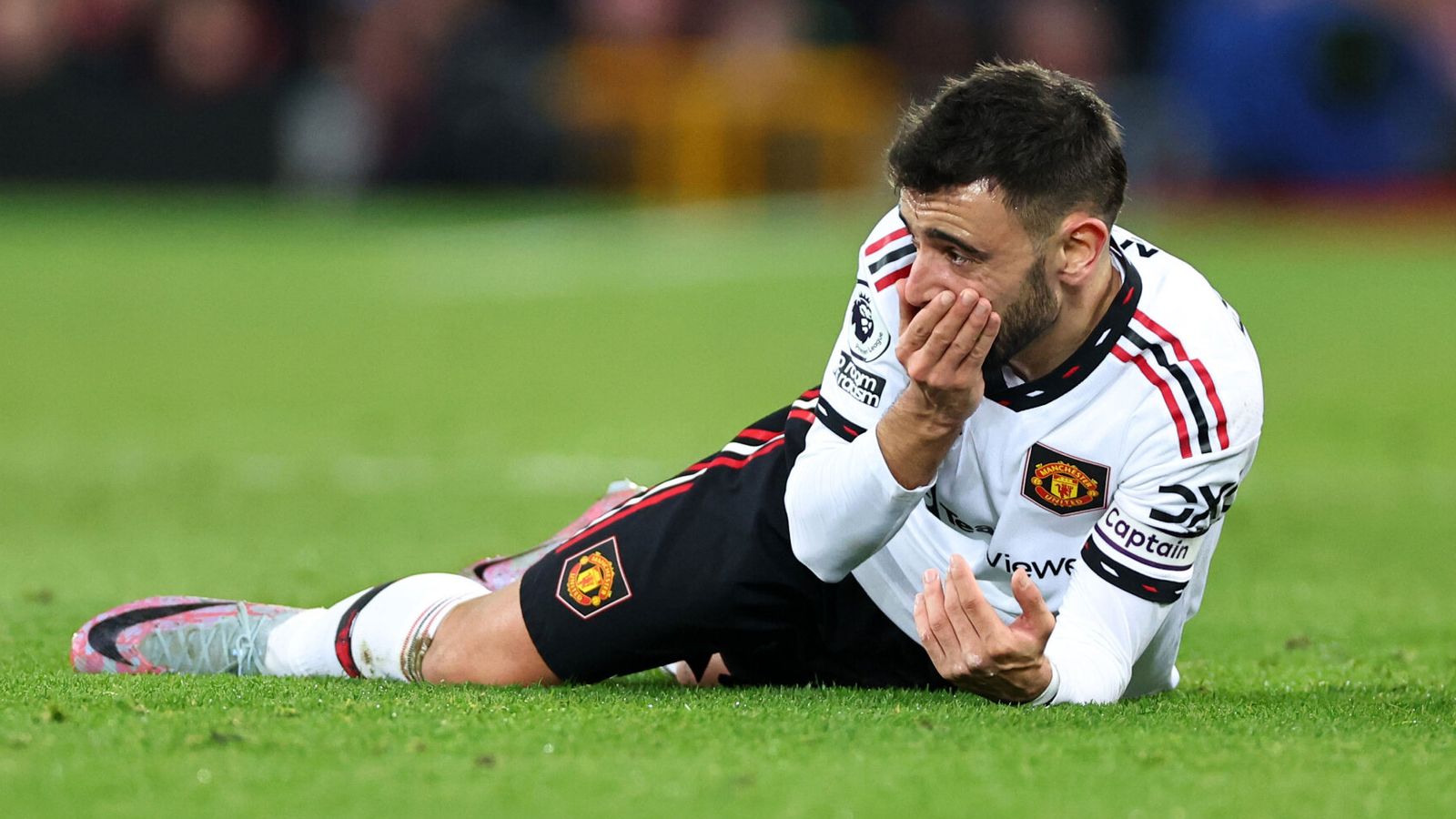 Meanwhile, on Sunday, the two most successful sides in Premier League history, Man United and Liverpool, met at Anfield. The Reds scorched Man U, 7-0, the most lopsided win in their long and storied rivalry. It's the most lopsided loss in Man United history, period. The club was founded in 1878.
This Jordan Also Rules*
*All of this info, and just my knowing about it in general, is credit to sports brain
I haven't watched a full episode of SportsCenter in years, so I've no idea if they even mentioned over the weekend what U.S. teenager Jordan Stolz accomplished. It was a landmark feat.
The 18 year-old speedskater from West Bend, Wisconsin, ventured into Europe and swept gold in the 500, 1,000 and 1,500 meters at the World Speedskating Championships in Holland. It is difficult to fathom the enormity of Stolz's weekend.
First, Stolz became the youngest world champion in this sport—ever.
Second, Stolz became the first person to ever sweep those three events at a world championships.
Third, Stolz is American. Not Dutch, not Danish, not Scandinavian, not even Russian.
Stolz's mom is a dental hygienist. His father, a police officer, is originally from Germany. He was inspired to try speed skating after watching the 2010 Winter Games with Apolo Ohno and Shani Davis. Since 5th grade he has been home-schooled. The family annually takes vacations to remote sections of Alaska to hunt moose and fish for halibut and salmon. The NBC Olympics feature writes itself. Yes, we're three winters out from the next Winter Games. But Stolz, not quite 6'1″, is positioned to be the greatest American speed skater since the GOAT himself, Eric Heiden.
Ow! My Cheeks!
If you've seen Mike Judge's 2006 film, Idiocracy, which with each year becomes less of a comedy and more of a prophecy, you remember that in the film, set 500 years in the future (way too optimistic), the most popular television show is called, "Ow! My Balls!" The program is nothing more than a reality show in which different contestants are punched, kicked or hit in their genitals. And America loves it.
So here comes Slap Fighting, a.k.a. the Power Slap League, promoted by Dana White, one of the principal architects of American Dystopia, and next comes the New York Times think piece on it. Our thoughts: We'd never watch Slap Fighting (okay, not more than once), but we see no reason to ban it.
Yes, it's—what's that word?—deplorable. And it's not a good omen as to where society is heading. But it's only a symptom; it's hardly the cause. Moreover, this is not cockfighting or dog-fighting. The participants have a choice. We do not espouse protecting people from themselves.
If you're going to ban this, then ban MMA and football, too. And if you're not, then give a cut of the proceeds to Barney Stinson, who originated the Slap Bet on How I Met Your Mother (which is likely where White obtained the idea).
A Horror Hidden Gem
I love movies (don't we all?). But I especially love older ones, and learning about the history of the film business…all of the off-screen drama that goes into the making a film. So the other night I was looking at a list of Greatest Films of The Seventies (a particularly rich decade what with The Godfather flicks, Network, Rocky, Annie Hall, All The President's Men, Star Wars, The Conversation, Animal House, Dog Day Afternoon, The Sting, Deliverance, Jaws, The French Connection, Mean Streets etc. and so on) and I came across a title I'd never seen: Don't Look Now.
Here's what the author of the list, Marc Chacksfield, had to say about it:
One of the scariest movies of all time. One of the most beautiful movies of all time. One of the most fractured movies of all time. One of the most heart-breaking movies of all time. One of the greatest movies of all time. Director Nicolas Roeg never bettered Don't Look Now – a stunning piece of cinema that keeps you guessing until the terrible end. Go Watch Now.
That's quite an endorsement for this 1973 British film starring Donald Sutherland (at the height of his cinematic powers) and Julie Christie (one of the five most beautiful woman to ever appear on film, who at the time was dating Warren Beatty). Here's what we can say: Sutherland and Christie play a comfortable English couple who lose their daughter in a bizarre drowning incident. They're soon off to Venice, where Sutherland, an architect of sorts, has been hired to restore a church. From there we delve into prophecies, people who have the power of "second sight," an unbelievably raw and unadorned love scene between the two leads (Beatty threw a fit and it's difficult to blame him), and a sense of foreboding that is always present.
The movie is a puzzle of sorts, fractured and fragmented, with recurring themes or images of water and the color red and broken glass. It doesn't make much sense, until it does. And you always have the sense of foreboding…this is not going to end well.
They knew how to make horror films in the Seventies: This, The Exorcist, The Omen. Even the TV miniseries The Dark Secret of Harvest Home (an older Bette Davis is in on the terror). This wasn't torture porn. The sense of what was coming was more palpable than the actual horror itself. And there's always a sense of isolation. And maybe someone with a British accent who is blind.
A couple more items: 1) How versatile was Donald Sutherland? He starred in this and Invasion of the Body Snatchers (a remake), both horror films, but also in M*A*S*H and Animal House. 2) The man who played the police inspector did not speak a word of English. He had no idea what he was actually saying, which may have helped in the scene. 3) The stuntman refused to do the scene in the church (you'll see), so Sutherland did it himself. He used a hidden wire as a safety precaution. But an experienced stuntman later told him that with all of the twisting he'd done as he hung 30 feet above a marble floor, he'd rendered the safety wire useless. Had Sutherland let go of the rope, he would have fallen to his death. Which would have been the ultimate irony of this film.
What finally struck us about Don't Look Now? Two things. First, Christie's most famous role is from Dr. Zhivago, and after you see this you'll have a sense of deja vu about one of its final scenes and one of this film's final scenes. Second, this film was released in Great Britain in October of 1973 as a double bill with The Wicker Man, of all films. It's impossible to find another picture that better parallels this one. No one planned it this way, but once you've seen both, you'll understand why I write that. If you've never seen this, or the original Wicker Man, get to it.
Dollar Quiz
Why was the original opening of Fenway Park delayed?
What is the largest body of water (contained) in South America?
What was the title of the first film to win the Oscar for Best Picture?
What is the landmark decision involved in Plessy vs. Ferguson (a phrase or clause will do)?
Who had the longest hitting streak in baseball last year or how many games long was it?