https://mediumhappy.com/?p=9612
by John Walters
Icon Tina Turner
One life, two acts. There was Tina Turner before Thunderdome, and then there was Tina Turner after it.
When those of my generation were introduced to Tina Turner via the variety show circuit in the late 1960s/early 1970s, she was a phenomenon that family-viewing America was not yet ready for. Yes, there were black female singers/front "men," such as Diana Ross, Dionne Warwick, Aretha Franklin and Ella Fitzgerald.
But none of them, not even Ms. Ross, possessed the unabashed and in-your-face sexual energy of Tina Turner. I imagine as a husband watching Tina Turner on TV with your whole family was tantamount to going to a strip club with them. She was not hiding it. At all.
Some people made fun of her and the Ike and Tina Turner Revue. Others got it. When Dick Cavett asked Janis Joplin who was the one performer she'd pay to see, she replied, "Tina Turner." And when Cavett asked if she'd be surprised if he said he did not know who that was, Joplin demurely hid any contempt she might have (after all, wasn't he the host of America's second-most popular talk show? Shouldn't he be up on this stuff?). You have to love Joplin's reply. "She sings with the Ike and Tina Turner Revue. Ike is her husband, and… the bandleader. She's the show."
She's the show. Indeed.
And then Turner seemed to disappear for most of the Seventies (I have not watched the documentary; imagine they explain where she was) and the early Eighties. Then Ms. Turner, a proto-cougar now in her early 40s, resurrected her career with a massive one-two punch: the album Private Dancer, which spawned three top-10 hits (including a No. 1) and earned four Grammy awards; and the film Mad Max: Beyond Thunderdome, where she played the sexy and sadistic Aunty Entity, ruler of Bartertown ("Two men enter, one man leaves").
Turner is a pioneer. I don't wanna go so far as to say there wouldn't be a Beyonce or even a Lizzo without her, but I don't know of any women (this side of Ann Margret, who could get away with it because she looked like apple pie and Independence Day) who were doing what Turner did before she did.
My favorite Turner moments: 1) her performing on the Ed Sullivan Show, working up a sweat while making America feel a little hot under the collar and 2) that climactic moment in "Better Be Good To Me," where she just goes for it. You know it.
Jim Brown
Of course, Jim Brown, also in his '80s, and also an absolute icon, passed in the past week.
Arguably the greatest NFL player AND greatest American lacrosse player EVER. E-V-E-R.
NFL: Three-time MVP and led the league in rushing eight of his nine seasons. Never missed a game. This stat will wow you: there's one running back in NFL history to average more than 100 yards per game and more than 5 yards per carry. Jim Brown.
When your name outshines the name of the franchise for which you played, and it's the same word, that's saying something.
Brown played before my time, and before the Super Bowl era, so perhaps he's not quite as appreciated as he might be. Also, he only played nine seasons. But he was the first BEAST black running back in the helmet-and-facemask era of pro football. He was big and powerful, like Earl Campbell. He ran angry, like Marshawn Lynch, and he leveraged his NFL fame into a film career, like O.J. Simpson. Unlike O.J., he also was an activist for social justice (and he never murdered his wife, so there's that).
There were black performers and thinkers before the 1960s, but that decade put them in bold relief. And maybe it produced some all-time greats: Turner, Brown, Bill Russell, Cassius Clay, Lew Alcindor, Diana Ross, Jimi Hendrix, Wilt Chamberlain, Sly and the Family Stone, Willie Mays, Sidney Poitier, Bob Gibson, etc. No wonder white people got so scared. These people were better at the sports and the performing than anyone they'd ever seen. Throw in a few brilliant thinkers such as James Baldwin, MLK and Malcolm X, and now we're talkin 'bout a revolution.
In every class I taught at ASU-Cronkite, I showed the video directly above. It pits Brown, freshly retired from pro football, against Georgia governor Lester Maddox. One played a savage sport, the other governed a state. Notice which one keeps his cool throughout (I think the picking at his pant leg was a stress reducer), while the other throws a hissy fit. It tells you so much.
The Premier League May No Longer Be Luton-Free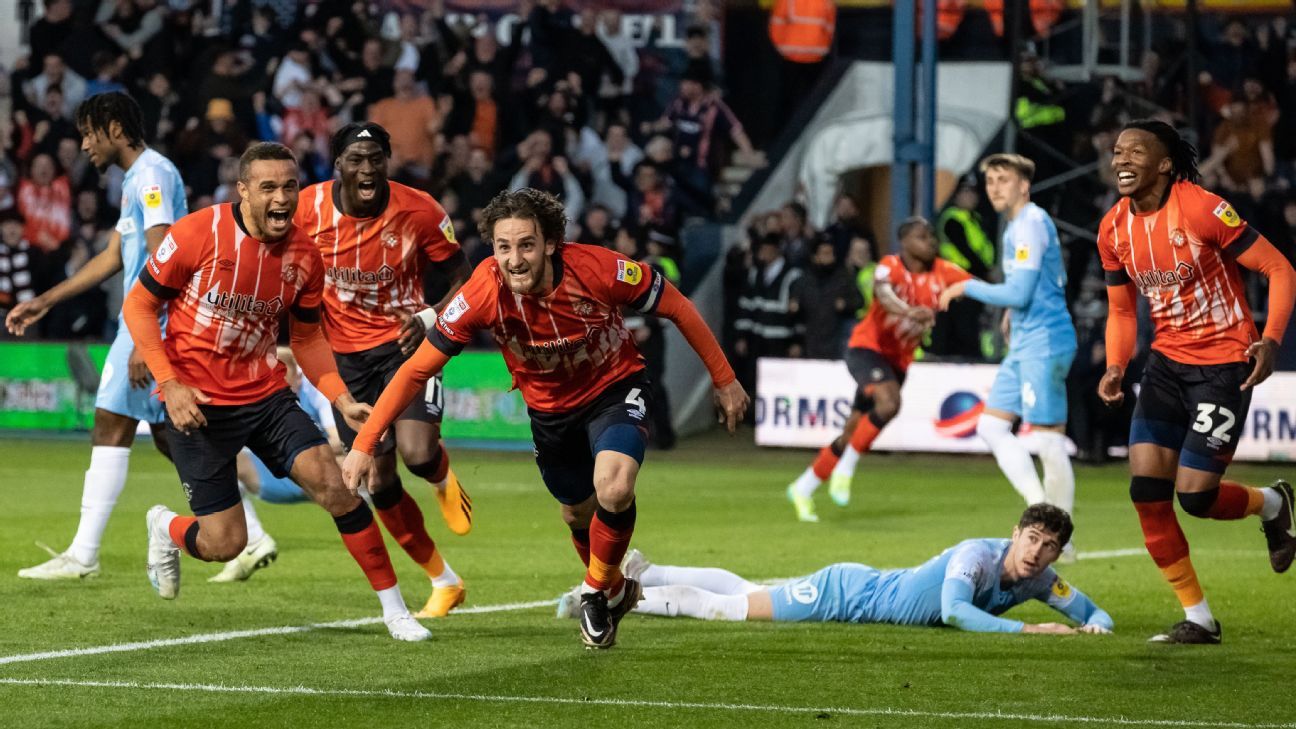 Manchester City has already wrapped up the Premier League title heading into the season's final weekend (remember, Ted Lasso is only a TV show). So where is the drama? It's playing out in Coventry on Saturday, where FC Luton Town visits Conventry City in what is basically a play-in game to be the third and final squad promoted to the Premier League next season (it's the match for third place in the Championship League, the second-tier league of English football).
What makes this story so compelling is that only 14 years ago Luton Town was down in the FIFTH division of English football. Long ago, in the early '90s, it had been in the top tier (it was not known as Premier League then but rather the First Division… we prefer the new name), but hard times emerged and the club foundered. Now, after a long and arduous climb up the ranks, the Hatters are one victory away from returning to the top of the pops… they'd be playing agains Man City and Arsenal and Liverpool and all the rest beginning in August.
A more inspiring story than either Wrexham or FC Richmond. SportsBrain informed me and I thought you ought to know about it.
You Must Be Jokic-ing
True story: Back in the pre-Internet age, I wrote a weekly column for Sports Illustrated called SI View. I wrote that for four very long years. Unlike today, we only had one page per week and there was very little space for commentary. I couldn't react to the previous night's events or go long on different facts in the industry. I couldn't go Richard Deitsch, in short, and major props to him for taking the baton into the internet age and doing wonderful things with the column that I never did.
The truth, though, of it all, is that I never sought a job at SI (or in sportswriting) so that I could sit on the couch and watch sports on TV (I know… what is wrong with me?). I recall some time in my third or fourth year at SI finding a cartoon in The New Yorker. It's a grave in a cemetery and the epitaph reads, "I watched sports." That cartoon hit me and I posted it on my door.
And so it was that in my final year on the gig I simply opted not to watch the Super Bowl. I'd had enough. Again, this was not in the age of an internet column. I had not actually been derelict in my duties, but it definitely told me that I had no passion for doing the job they'd given me.
All of which is to say that I understand why Lisa Salters said what she did recently, but given the money she earns annually, I'm still shocked. Salters appeared on a podcast and candidly confessed that she'd never seen Nikola Jokic play. Not, never seen in person, but simply had never seen him play.
WUT?!?
Nikola Jokic is a two-time NBA MVP (and probably should be a three-timer). There are millions of NBA fans out there, globally, who are familiar with Jokic's game. You are the featured sideline reporter for ESPN/ABC and you've never seen him play? Sure, part of this is an indictment of Disney for not putting the Denver Nuggets on TV more often (they did finish with the No. 1 record in the West), but part of this also is on Salters.
This is your job. And you are paid a lot of money to do it. No one's asking you to tell us the starting five of the Charlotte Hornets (I'm not even sure their own announcers could do that). But to have never seen a two-time NBA MVP play on TV or in person? That's blatant neglect of duties. And yeah, you cannot help but feel that just a little of this dismissal of Jokic's sublime gifts (13 triple-doubles in the postseason, already a career mark that toppled Chamberlain's) from the folks at ESPN isn't just a weeeeee bit of reverse racism (which is, let's call it bluntly, simply racism) at work here. White Men Can't Hoop. Except that this one just took out ESPN's GOAT in a four-game sweep (and LBJ, to his credit, acknowledged Jokic's greatness).
Susie B. Is Happy
Nvidia (NVDA) popped more than 25% on Wednesday's after hours earnings report. The tech monster is now up 163% this year alone and more than 500% over the past five years. It reminds me that I should listen to my own advice more often.
And still today on CNBC's "Halftime Report" there were Wall Street experts explaining why they were smart to not invest in it and why they won't be doing so now. The facts are wrong; we weren't. How Nate Silver of them.
Dollar Quiz
Which one of these cities did NOT have an entry in the 1876 National League (inaugural year): Hartford, Louisville, Rochester?
On whose side of the Trojan War was Paris?
What number below 200 has the most other numbers that factor into it as whole numbers (no fractions)?
Name a country that begins with an "O."
Who holds the record for most hits in an MLB game, or how many hits did he have (I doubt anyone will get this, but we will all learn something).