Starting Five
1. "You Did WHAT!?!?"
"They can take away our lives, but they will never take…our…eh, never mind." Listen, Scotland, I'm all for you doing whatever is in your best interests, but no more bitching about how the English refer to you as Scots when you act like wankers and as Brits when you (Andy Murray) win Wimbledon.
Scotland, after centuries of at least some moaning and groaning about its English overlords (and ladies), had the opportunity to become independent yesterday and said, "No, thanks." Think of it this way: they're that kid you knew in college who always had a dog-eared copy of Kerouac or Thoreau or even Hunter S. Thompson in his backpack, but then two months after graduation was back living with his parents.
2. Jack Pot* **
*The judges will also accept "Yo! Yo! Ma!"
**The judges will not accept "The Great Wall Street of China"
Today is the day that Ali Baba (BABA) has its IPO (Initial Public Offering). If you did not know, the Chinese symbol for this company is $$$$.
Ali Baba, China's Amazon, has 80% market share of the world's largest economy and a 46% revenue growth. Also, its founder, Jack Ma, is a former English teacher who looks like some team's mascot.
BABA was priced at $68 for its IPO but as I type this, it looks as if it'll open at between $84-87. My bet is that it'll approach at least $95 per share today. Worth noting: Baidu (BIDU), the Chinese Google, had its IPO in 2005 and its stock price has risen about 8,000% since then. If you had just invested $10,000 on Day 1, that would be worth $800,000 today. That's crazy talk.
3. 56-0
That was the score after three quarters in the Georgia Dome last night in a football game. This is why I always berate SEC teams for scheduling non-conference patsies. Wait, what? Atlanta? The Falcons? Never mind.
Wasn't it refreshing to see a genuine, malicious NFL beat down that did not involve women or children?
I didn't watch the game –there was a decent college game, outside of the kicking, taking place in Manhattan, Kans. –but apparently fans of the Buccaneers are wondering if their team will simply fast forward to 0-16. Sure, Tampa Bay was the first team to go 0-14 (1976), but then the Detroit Lions outdid them a few years ago by going 0-16, so it's time for Tampa Bay to come back over the top by being the first NFL team in the Super Bowl era to put together TWO winless seasons. You can do this, Tampa!
3. Blurred Lines*
(Medium Happy hired a consultant who advised us to skew younger with our audience [sorry, Susie B.] Anyway, the consultant also told us that we could save money by hiring consultants, which seemed counterproductive, but who are we to argue with wise, sage consultants who have expertise in telling everyone else how to do their jobs?)
This morning, the line for the iPhone 6 outside the Apple store at 59th St. and Fifth Avenue reportedly stretched 20 blocks down 5th Avenue (the line for ashes outside St. Patrick's Cathedral, eight blocks south, on Ash Wednesday only stretches one or two blocks).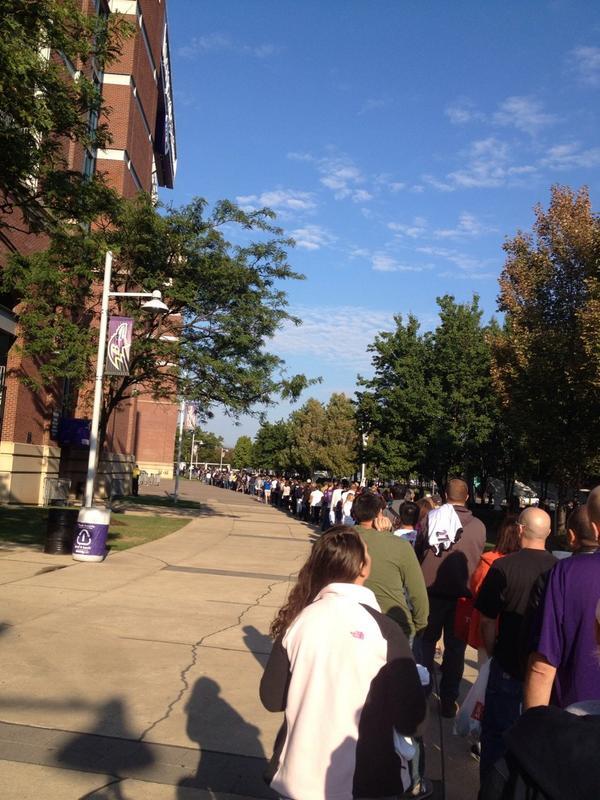 Meanwhile in Baltimore, the line for the Ray Rice jersey exchange stretched the length of –I don't know, what unit of length could I possibly insert here as a metaphor????–several football fields as fans lined up to turn in their purple 27 jerseys. Because, you know, what could make more sense than finding out your misappropriated hero worship of a man who simply plays a game has been compromised by discovering that he is not actually heroic? Here, here, NFL fans.
4. Copper Kettle Clash
I've got to give some love to Arizona football today, as the state's top two ranked teams, defending champion and No. 1 Mountain Pointe, and No. 2 Chandler (alma mater of Brett Hundley), square off in Ahwatukee (a.k.a. "All White 'tukee"). But the more historically significant contest will take place in the heart of the Superstition Mountains east of Phoenix, as the 100th meeting between the high schools of the neighboring mining towns of Globe and Miami takes place.
It's known as the Battle for the Copper Kettle and these are two old, authentic Arizona mining towns. No Scottsdale splash and flash out here. They'd already sold 5,000 tickets for the game by Monday, even though Miami is 1-3 and Globe is 0-3. The coach at Miami, Brandon Powell, was once the quarterback at Globe, as this cool story by Scott Bordow of The Arizona Republic details.
5. The Film Room with Chris Corbellini
 This week our intrepid reviewer went to see The Skeleton Twins, starring Stephon and Penelope, or something like that.
The Skeleton Twins
***1/2 stars
by Chris Corbellini
You can take the boys and girls out of Saturday Night Live, but you can never take the Saturday Night Live out of those boys and girls. The script for "The Skeleton Twins," chock full of family dysfunction, becomes a ray of sunshine on screen thanks to the chemistry between SNL alums Bill Hader and Kristen Wiig. Here is an indie about suicide and suicide attempts, depression, infidelity and closeted homosexuality, and yet with Hader and Wiig as the leads it somehow manages to be funny. Not darkly funny or morbidly funny or ribald "Bridesmaids" funny. Funny with a gentleness and honesty that cannot be faked.
It kicks off with a line of voiceover narration: "I don't know, maybe we were doomed from the start," and finds Wiig eyeing a handful of pills, and Hader in a bathtub with his wrists slit open, 3,000 miles apart but clearly sharing the same brain and DNA. Before Wiig can take one last big gulp the cell rings and a nurse calmly explains her brother tried to kill himself. He beat her to it. Off she flies to Los Angeles to bring the struggling actor home to upstate New York … to look after the poor soul, sure, but also to rescue something and distract her from marriage and the downward facing dog her life has become. The movie spells out quickly that depression is the family curse — the father killed himself, and mom checked out by joining another clan altogether — and their shared illness leads to bad choices and outbursts directed at well-meaning loved ones, and each other.
The details and casting elevate good material to very good, and in flashes here and there, Wiig and Hader take it a level higher. The story understands that depressives never take rejection well, and in some cases, all it takes is an off-hand remark to be the trigger and send someone cannon-balling into a pit of gloom. Like Hader's character, Milo, casually saying to sis she might not be a good mother. The husband, played with unfailing optimism by Luke Wilson, calls it "landmines" when discussing his wife's occasional meltdowns during a heart-to-heart with Milo, and guessing it's his fault, admits he always apologizes for whatever he said. If only he knew. The brother knows.
The town Wiig's character, Maggie, still lives in had to be small enough that there's a yearning to leave and seek out the cities and fortunes of life, but big enough where a not-so-innocent rendezvous at a restaurant with a scuba instructor wouldn't arise suspicion with the locals. The kind of 'burb you ignore as it passes by the window of your Metro North train out of New York City. That is, until the holidays, when the main streets are lit up with flickering Christmas lights, or Halloween decorations. I guessed the filming took place in Sleepy Hollow or Katonah, and while I was wrong, I was happy to see that's what the filmmakers were going for.  The setting is important. Aside from the house and a dentist office and a hometown bar, there's nowhere else to go to distract Maggie and Milo from reconnecting, and to take turns body-slamming each other emotionally, Superfly Snuka-like, as only family can.
Let's circle back to the hometown bar. One memorable scene finds the brother and sister at a table at the watering hole on Halloween, reminiscing about their family therapist when they were teenagers. It also shows quite clearly that even after 10 years apart, it doesn't take long for siblings to get in step with one another, to remember what that was once like, and find joy in it.  It's almost like they have their own language. Hader and Wiig have that kind of connection in real life, after all those years and skits and behind-the-scenes drama on SNL (even the parties were stressful), and it unspools for the rest of us to see here. You can feel the director's giddiness over this, when the pair can make a simple cutaway shot of passing a photo of their mom's new family between each other feel both hilarious and familiar.  And then there's the pair's rendition of Starship's "Nothing's Gonna Stop us Now" in the living room, the showiest and funniest scene in the film.
Don't get me wrong, "Skeleton" wasn't a perfect acting showcase, and if depression isn't your brand of cinematic scotch, you might consider skipping this. I thought the waterlogged ending was afterschool special-ish, and Milo's attraction to his former schoolteacher, played by Ty Burrell, came from an especially dark place (with Milo playing up the eager youngster angle in his presence, the most energy he shows in the movie). But after all those Saturday nights together, after Hader as Stefon and Wiig dancing with Mick Jagger, you do feel like you know them like family. It's the same old rock-solid Wiig, who can deliver laughs from stress and dark places, and Hader is right there with her, moment for moment, insult for insult, in his first leading role.  And you root for their Milo and Maggie to get it together. For that secret language they share, if nothing else.
P.S. – I thought it odd that Maggie would be her brother's emergency contact for a hospital since they hadn't spoken in 10 years, but then again, I don't have a sister that would guilt me into doing so. It also shows how lonesome Los Angeles can be for single actors still hanging onto the dream. The ER had no one else to call.
P.P.S. — I just have to link out to another of Hader's funniest moments on screen. I'm sure he was concerned "nutless monkey" would stay with him forever.