STARTING FIVE
1. Gareth Bales Out Real Madrid
(The judges would also have accepted "Keeping it Real")
Oh, this was just a magnificent singular effort by the prince of Wales in the Copa del Rey. That it was also the game-winner made it even sweeter. We'll likely never see Bale play in a World Cup, since Wales has only qualified once, in 1958, so enjoy him between August and May.
2. Faulty Towers
The Arizona Diamondbacks find themselves in unfortunate serpent stances: an MLB-worst 4-14 after being swept at home by the New York Mess. They are 1-11 at Chase Field. They traveled to Australia to begin the season for a two-game set in Sydney versus the Dodgers and failed to score a run. They've allowed 115 runs in just 18 games. Everyone is playing in their pool right now. The honeymoon for manager Kirk Gibson is definitely over, but the GM, Kevin Towers, is taking the blunt of the blame.
Do Jeff Hornacek and Ryan McDonough do baseball?
3. Lake Bell Epoque
That's Brooklyn royalty Lake Bell on the cover of Esquire and no, I still don't understand why HBO chose not to review "How To Make It In America." Where's my Rasta Monsta energy drink?
4. Gnash-ville
Over the next 11 days there will be 89 films shown at New York City's Tribeca Film Festival, but none has more teeth than Zombeavers, the seminal "undead semi-aquatic rodent horror flick." The full list of films is here, and I encourage you to see a few if you're in town. Me, I'm already working on a Kickstarter campaign to fund my film, ZomBiebers.
5. "Oui Out, Bitches!"
Laker legend Kobe Bryant said "Au revoir" to the worst season in franchise history one day early, jetting off to France on the eve of the team's final game, in San Antonio. The Lakers defeated the league's best team, 113-100, to finish 27-55.
Reserves
Walhbergers
Donny Donnie Wahlberg inducts himself into the Over-Chicked Hall of Fame by getting engaged to Jenny McCarthy. Mark Wahlberg as a brother-in-law? That'll be interesting.
Bullets, Near Broadway
If the Yankees do make the playoffs this season, it'll be because of their pair of aces: 25 year-olds Masahiro Tanaka and Michael Pineda, who both anchored shutouts against the Chicago Cubs in the Bronx yesterday. It was baseball's first doubleheader sweep shutout since 1988, and the two hurlers, both of whom are in their first active year in pinstripes (Pineda was injured all last season), were brilliant. Tanaka allowed just two singles, both on bunts.
The Cubs, by the way, have never won a game in the Bronx. They were swept in both the 1932 and 1938 World Series, in a 2005 interleague series (in which Derek Jeter hit his first and only career grand slam), and yesterday.
***
Jerry Seinfeld's 10 funniest jokes…
****
Man you don't at all feel sorry for…
The Hall
Charter Inductees: Ty Cobb, Walter Johnson, Christy Mathewson, Babe Ruth, Honus Wagner 1937:  Tris Speaker, CF; Cy Young, P ; 1938: Grover Cleveland Alexander, P; Eddie Collins, 2B 1939:Nap Lajoie, 2B; Joe Jackson, LF; 1940: Billy Hamilton, OF; Cap Anson, 1B; 1941: Wee Willie Keeler, RF; George Sisler, 1B; 1942: Rogers Hornsby, 2B; Pie Traynor, 3B; 1943: Mickey Cochrane, C; Frankie Frisch, 2B 1944: Ed Walsh, P; Old Hoss Radbourn, P 1945: Lou Gehrig, 1B; Kid Nichols, P 1946: Ed Delahanty, LF; Lefty O'Doul 1947: Pud Galvin, P; John McGraw, INF 1948: Carl Hubbell, P; Addie Joss, P 1949: Harry Heilman, OF/1B; Monte Ward, P/SS 1950: Cool Papa Bell, CF; Jimmie Foxx, 1B 1951: Mordecai "Three Finger" Brown, P; Josh Gibson, C 1952: Paul Waner, RF; Charlie Gehringer, 2B 1953: Mel Ott, RF; Hank Greenberg, 1B 1954: Eddie Plank, P; Dan Brouthers, 1B 1955: "Wahoo" Sam Crawford, OF; John Clarkson, P 1956: Chief Bender, P; Bill Dickey, C 1957: Sam Rice, RF; Joe DiMaggio, CF 1958: Bill Terry, 1B; Heinie Manush, LF 1959: Dizzy Dean, P; Tim Keefe, P 1960: Gabby Hartnett, C; Mickey Welch, P 1961: Bob Feller, P; Ducky Medwick, LF 1962: Luke Appling, SS; Jesse Burkett, LF 1963 Jackie Robinson, 2B; Zack Wheat, LF 1964: Jake Beckley, 1B; Rube Waddell, P 1965: Ralph Kiner, 1B; Lefty Grove, P
 1966: Ted Williams, LF; Smoky Joe Wood, P/OF 1967: Roy Campanella, C; Max Carey, OF 1968: Goose Goslin, LF; Rabbit Maranville, SS 1969: Stan Musial, 1B/OF 1970: Ferris Fain, 1B; Earle Combs, CF 1971: Warren Spahn, P; Yogi Berra, C 1972 Satchel Paige, P; Sandy Koufax, P 1973: Robin Roberts, P; Whitey Ford, P 1974: Mickey Mantle, CF; Eddie Mathews, 3B 1975: Lefty Gomez, P; Hack Wilson, CF 1976: Jack Pfiester, P; Johnny Mize, 1B 1977: Ernie Banks, SS; Mickey Welch, P 1978: Roberto Clemente, RF; Chuck Klein, RF 1979: Willie Mays, CF; Luis Aparicio,  SS 1980: Al Kaline, RF; Enos Slaughter, RF 1981: Bob Gibson, P; Harmon Killebrew, 1B 1982: Hank Aaron, RF; Frank Robinson, OF 1983: Brooks Robinson, 3B, Juan Marichal, P 1984: Hoyt Wilhelm, P; Arky Vaughan, SS 1985: Lou Brock, LF; Pete Browning, OF 1986: Sidd Finch, P 1987: Willie McCovey, 1B, Roger Maris, RF 1988: Willie Stargell, 1B, Catfish Hunter, P 1989: Earl Averill, CF, Billy Williams, LF 1990: Johnny Bench, C, Carl Yastrzemski, LF 1991: Jim Palmer, P, Joe Morgan, 2B 1992: Rod Carew, 2B; Gaylord Perry, P 1993: Reggie Jackson, RF, Tom Seaver, P 1994: Phil Niekro, P, Rollie Fingers, P 1995: Pete Rose, INF, Mike Schmidt, 3B 1996: Steve Carlton, P, Denny McLain, P
1997
Don Sutton, P; 1966-1988, Dodgers, 4 others
As a rookie Sutton, then 21, found himself in the same Dodger rotation as Sandy Koufax and Don Drysdale. His career was almost the polar opposite of Koufax, one of length and consistency that rarely approached untouchable brilliance. Sutton won 324 games in 23 seasons, finished with 3,574 strikeouts and 58 shutouts, all of which place him in the top 15 on those respective lists. And yet he only had one 20-win season.
Jim Rice, LF; 1974-1989, Red Sox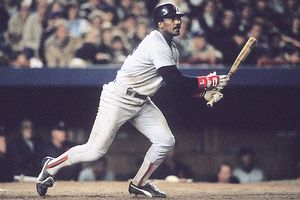 In the summer of 1975, sports' greatest debate was which Boston Red Sox rookie would win American League Rookie of the Year (if not MVP): Rice or Fred Lynn (it'll be a "30 for 30″ some day; book it). The latter would win both, while Rice would finish 2nd and 3rd in the respective categories…and go on to a more prolific career. The eight-time All-Star led the A.L. in total bases three years in a row, becoming the first player since Ty Cobb to do so. Good company.
Remote Patrol
Life Below Zero
National Geographic Channel 9 p.m.
This is NOT a Bret Easton Ellis novel brought to the screen. Or one of the worst Elton John albums ever. Instead, it's a peek inside the lives of seven Alaskans who prefer living on the outer fringes of North America and the habitable planet. With a cameo by no one you've ever met.