by John Walters
Starting Five
1. All He Does Is Win, Win, Win, Win, Win
Avowed: In our next life we are all coming back as Tom Brady. Judge Richard Berman overturns Roger Goodell's four-game suspension and Brady will start next Thursday night in the season opener versus Pittsburgh.
Tom denied everything from the start, figuring (correctly) that it was more valuable to play in the Super Bowl and win and let the punitive chips fall where they may than it was to potentially miss the Big Game. He gambled, he won, and then he still got off scot-free. Was there malfeasance and, minimal as it may have been, was he involved? I believe so. Did the NFL actually prove it? No.
The Pats still lose $1 million and two draft picks. As if they care.
2. Where There's a Wool….*
…there's a weigh. This is Chris the sheep, who was found outside Canberra, Australia, and just lost 89 pounds of wool thanks to a kindly shearer by the name of Ian Elkins. If you've ever worn an Irish cable sweater on a 90-degree day, you have a tiny idea of what it felt like to be Chris. Released of his fleece, he feels relief.
*The judges will also accept "Baa Baa, Fat Sheep" and "Ewe Won't Believe How Large This Sheep Is" and "It Could Be Just About Anything In Sheep's Clothing"
3. ISIS at Work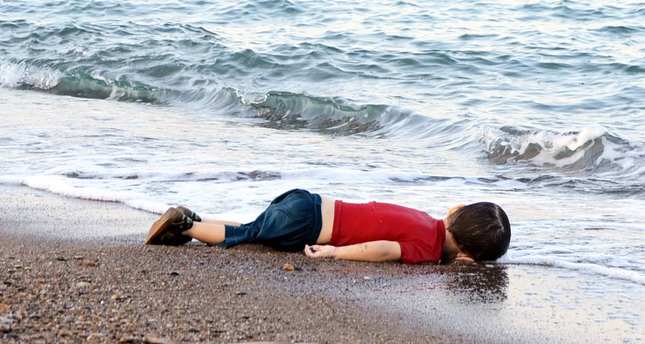 This is Aylan Kurdi, one of 12 Syrian refugees (five were children) who drowned when their boat sank before reaching the Greek island of Kos. ISIS is everyone's problem. And sometimes it takes photos like this one, of a little three year-old boy, to remind people that there are monsters in the world and that they are currently occupying Aylan's country.
Also, before you start blaming Hungary or Germany for being unsympathetic, ask yourself why hundreds of thousands of Muslim refugees aren't fleeing to Muslim nations that are closer to home — and don't involve a sea voyage.
4. "Off With His Head!"

I go to SI.com, I see a headline of "Why Roger Goodell Has To Go." Charlie Pierce said the same thing in Grantland. Steve Politi called for the head of Kyle Flood, the coach of Rutgers, today. When did everyone in sportswriting become young Jon Arryn (I throw that bone out for you Game of Thrones readers), "I want to see him FLY!"
"Off with his head!" is not a universal answer to the world's problems. And my experience is that most scribes know — and understand — less about what's going on inside a big operation than the people running it.
Fire someone for corruption? Sure. For a criminal act, or sexual harassment, etc? Sure. But if sportswriters held themselves to the same standard they are holding Roger Goodell, for example, there'd be even more of us unemployed.
5. County Antrim
I saw a photo of this rope bridge on a travel site and thought, So that's why Game of Thrones does so much of its filming in County Antrim, Northern Ireland. Cool spot (I still have a softer spot in my heart for Scottish Highlands, but they're both gorgeous).
Remote Patrol
Michigan at Utah
FS 1 8:30 p.m.
What are you still doing here?!? Go turn on the game!!!!