by John Walters
Starting Five
1. Creature Feature
I love that the Empire State Building did this on Saturday night. Easily the largest animals to be associated with the grand edifice since King Kong. And I'm praying they meet a better fate.
All things bright and beautiful,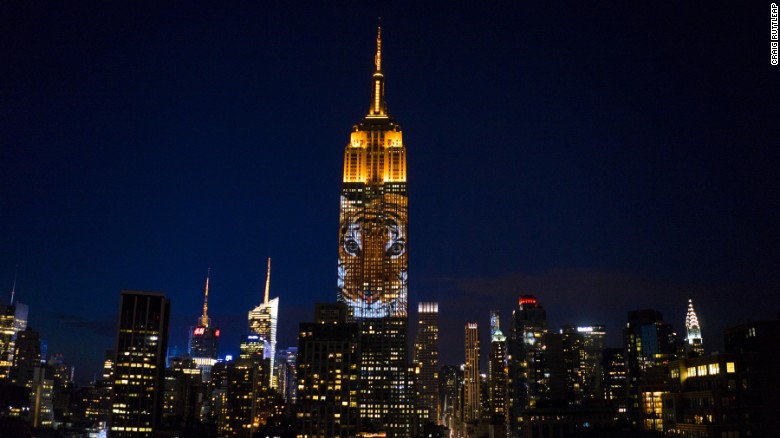 All creatures great and small,
All things wise and wonderful,
The Lord God made them all*
(and even if you don't believe in 'He', they are the masterpieces of evolution. They need our protection. If you want to help, this is the site that Jimmy Kimmel mentioned for the organization, Wildlife Conservation Research Unit.)
2. 0:34
That's how long it took Ronda Rousey to dispose of, well, I can't remember her name, but that's sort of the point, in Brazil on Saturday night in UFC 190. And that has been one of Rousey's more interminable bouts. She's Mike Tyson, reborn and with a sports bra.
The Pacquiao to Rousey's Mayweather is Cris "Cyborg" Justino, who is Brazilian and attended Saturday night's bout. The problem is that Cyborg fights for another label and at a weight class of 145 pounds to Rousey's 135. "
"I fight in the UFC, in the 135-pound division," Rousey said after Saturday's win. "(Cyborg)  can fight at 145 pumped full of steroids [she tested positive four years ago]or she can make the weight just like everybody else without them."
Them's…fightin' words.
3. Tex-Mets
It's August and both the Mess (tied) and Yankees are in first place? Who saw this coming?
The Mets, despited having the lowest run total in the majors, swept the Nats at Citi Field this weekend and so people in that borough are seeing waves of folks riding the 7 train now even before Serena Williams arrives later this month. Jacob deGrom (who autocorrects to "legroom") and Noah Syndegaard are studs and suddenly I have an urge to shop at IKEA…or attend a weekday matinee game with Don Draper and Freddie Rumsen.
Meanwhile, Mark Teixeira smote his 29th home run and 74th RBI in a 12-3 win at Chicago yesterday. The Yanks went 6-4 on a 10-game road trip that concluded on Sunday and are 59-45. Tex, whom I thought was way over the hill, is now 3rd in homers and 2nd in RBI.
4. "Danger, Wil Robinson!"
This weekend in Philadelphia, the purported City of Brotherly Love, HitchBOT, everyone's favorite itinerant robot, was beheaded (so THAT is where Walter Palmer has been hiding himself). HitchBOT is a robot that hitchhikes across countries –last summer it made its way across Canada– testing the good will of motorists.
"Sometimes bad things happen to good robots," said one scientist affiliated with the HitchBOT project.
5. Anectodal Recall
I had been meaning to see Supermensch, the Mike Myers-directed documentary on superagent Shep Gordon, ever since it was released in 2014. I finally did this weekend on Netflix.
Fantastic.
I don't want to ruin a single anecdote for you — they're tremendous — but do know that Shep, whose principal client, original client and best friend is Alice Cooper, crosses paths with Cary Grant, Janis Joplin, Jimi Hendrix, Sharon Stone, Groucho Marx, Anne Murray and Teddy Pendergrass, not to mention that he is also responsible for memorable scenes in both Wayne's World and Almost Famous.
Highly recommend it.