by John Walters
Starting Five
1. Upon Further Review
Yesterday Florida State University made the rare and unusual move of dismissing a blue-chip quarterback from its team. De'Andre Johnson, who was Florida's "Mr. Football" last autumn (in a state that has more football talent than any), was shown the door after this video surfaced.
Granted, the woman at the bar is badly behaved. Granted, she raises her fist to Johnson first. But you NEVER strike a woman. You just don't. This is one of just many reasons that 18 year-olds such as Johnson are not allowed to drink in bars.
Of course, reasonable people may wonder why FSU did nothing for 12 days about this incident until yesterday, when the video was finally released by the State Attorney's Office. It just leads me to think that Everett Golson has been looking very sharp in his offseason workouts.
Meanwhile, c'mon, would it be the worst thing in the world if Notre Dame offered Mr. Johnson a chance at redemption?
2. Men Behaving Badly (Parts 2 & 3)
A decade ago, back when Bill Cosby was admitting in a civil suit that he obtained Quaaludes in order to have sex with young women ("When you got the Quaaludes, was it in your mind that you were going to use these Quaaludes for young women that you wanted to have sex with?" Troiani asked. "Yes," Cosby replied.), I probably would have told you that you were crazy to suggest that Bill Cosby would obtain drugs in order to rape women.
What's next? Subway's Jared Fogle involved in a child porn investigation?!??
3. Carnage in Belgium
Stage 3 of the Tour de France, in the Belgian lowlands, was supposed to be a relatively sedate affair. Instead, on a straightaway with a slight incline Frenchman William Bonnet's inattention (I wonder if he was texting) led to 20 cyclists getting caught in a pile-up. Four cyclists had to drop out immediately. Bonnet was led off in a neck brace while Fabian Cancellera, who was wearing the yellow jersey, fractured a pair of vertebrae and had to withdraw.
Race directors made the rare move of briefly halting the race since all medical personnel were treating riders at the scene and wouldn't have been able to assist if there was another crash.
4. Amicus Briefs!
There she is: Attorney, athlete, and incurable Seatle Seahawk fan (you think she chose those colors randomly?) Amelia Boone, gracing the August cover of Runner's World. Very cool.
Your author ran a race with Miss Boone back in January, which is to say that I saw her at the starting line and then never again.
5. Steeple People
Believe it or not, the dude in the red singlet is seconds away from setting the U.S. record in the 3000-meter steeplechase. Evan Jager, a proud Wisconsin alum, was racing in Paris on the 4th of July and leading as he approached the final hurdle on the last lap.
And then, ever so slightly, Jager's toe struck the red barrier. And that allowed Jairus Birech of Kenya to overtake him and break the tape. Still, Jager rose up and finished in 8:00.45, which is a new American record. Without the stumble, Jager would've become the first non-African born person ever to run this race in under eight minutes. Which we assume he'll do later this month.
If this had taken place at the Olympics, it would've been a Forever Moment.
Music 101
Photograph
In honor of Ringo's landmark birthday, here's the best song with this title that is not performed by Def Leppard.
Remote Patrol
The Station Agent
The Movie Channel 8 p.m.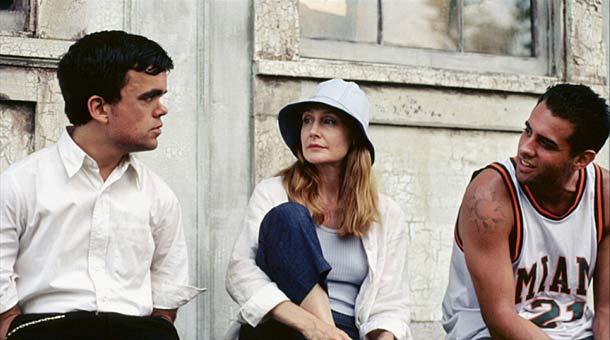 Three relatively unknown actors at the time — Patricia Clarkson, Bobby Cannavale and The Imp himself, Peter Dinklage — in an abandoned train depot in New Jersey. Sorry, Zach Braff, but this is the best love letter to the Garden State anyone wrote and filmed since the millennium began.