by John Walters
A personal note up top: Yesterday we staged our penultimate private party of the season at the Cookoutateria and I don't mind sharing with you the name of the company who rented out our space: Component Assembly. I tell you this because it's a contractor company—they worked on the Freedom Tower—privately owned, that specializes in carpentry.
Almost all of the 250 guests on a bright, sunny autumn afternoon were carpenters, men (and a few women) in well-work construction boots and bright orange or lime green hooded sweatshirts. More African-American or Hispanic than white, overall. And I mention this because we host dozens of parties in the summer, working with private equity firms, law firms, major banks, advertising agencies and accounting firms. 
And this, from a bartender's perspective, is what I can share with you: nobody but nobody even comes within a mile of tipping as well as these blue-collar laborers do. No one. One dude pulled out a $20, momentarily asked for change, then just said, "Keep it." 
At the end of the party the owner of the company gathered us around and sprayed anywhere from a $50 to a benjamin to each of us who worked the party. That just doesn't happen at our place. Ever. So a shout-out to Component Assembly but also to people who work with their hands, who are part of the real labor force. The only other party we worked this summer where guests were as generous and also generally seemed to be having as much fun was when we hosted the NYPD. 
Make of these observations what you will….
Tweet Me Right
A beautiful sunrise on campus this morning captured by @mattcashore from @PhotosND pic.twitter.com/MfRSjhRC0A

— Notre Dame (@NotreDame) October 19, 2018

Matt, we need this as our bedroom wall. Also, it's fall break at ND so this is the only way any students are going to see this…
Starting Five
The Price, Finally, Is Right (Even Though He's A Lefty)
Lanky lefty David Price, whose $250 million deal has long dwarfed his postseason stature—his teams were 0-11 in postseason games he'd started before Game 5 of the ALCS last night—at long last came through. Six innings, no runs, no walks and nine strikeouts as the Red Sox shushed the Astros and once again celebrated a series win on another team's mound.
Final score: 4-1, and Mookie Betts made a catch near the very same spot where he'd failed to make a catch (but did record the out, thanks to Cowboy Joe) the night before.
The Sawx will host Games 1 and 2 of the Fall Classic in Fenway beginning Tuesday.
2. From The Land to La La Land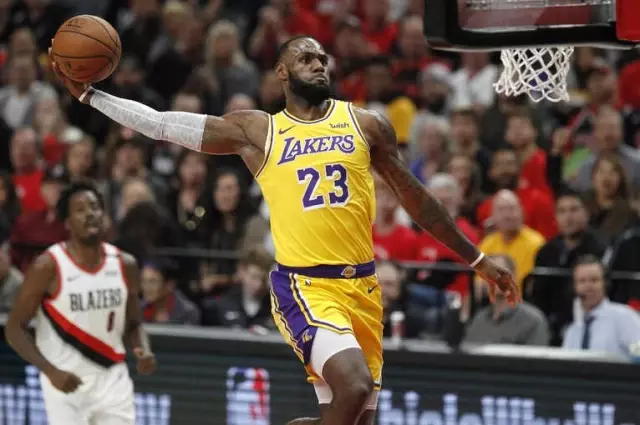 First of all, why are the Lakers wearing their home yellows on the road? How long has this been going on?….Second, if Josh Hart can come off the bench and score 20, how much longer is Lonzo Ball going to be in the rotation?….The LeBrakers lost 128-119 at Portland last night. Sweet Pea had 26 and 12 but the team shot only 7 of 30 from beyond the arc, which is why the Warriors are guffawing at this morning's shoot around in Utah…meanwhile, we did not know this but maybe you did: it was Portland's 18th consecutive win in their home opener and their 16th consecutive defeat of the Lakers. Wow.
3. Well, They're Comin' (Yes, They're Comin') To Your Ci-TAY!!!!
College GameDay to Pullman? That's kinda big news, but what about caravan of 2,000 to 4,000 Hondurans making their way to the U.S. border? No, this blog has not been hijacked by Dinesh D'Souza, it's really happening.
The reasons these immigrants/refugees provide as to why they are making this 1,000 to 1,700-mile trek (without even being awarded a T-shirt or medal) are not surprising: 1) A better life for their families, 2) To find work, 3) To escape gangs and 4) To scare the crap out of Mitch Mconnell.
This is going to be interesting. Remember when it was just a swarm of killer bees that Americans feared would be heading our way from Mexico? Any president, from Obama to Trump, would be compelled to take drastic action to curb this.
I'll repeat our MH solution to this entire conundrum: The U.S. should just "invade" these Central American nations economically. Forget NAFTA. Forget the U.N. If this many people from your country want to live in our country, then we're taking over your country. Oh, you have lovely beaches on both the Caribbean and Pacific? Even better.
4. When You Leave Even Pat Kiernan Speechless
A reporter was bodyslammed. Trump cheers for it. @patkiernan has had it. #MorningsOn1 pic.twitter.com/GS2kgAUiLP

— Jamie Stelter (@JamieStelter) October 19, 2018

New Yorkers know Pat Kiernan as the mild-mannered morning host of New York 1, the city's go-to all-day news channel that we all inevitably find because it's literally Channel 1 (no such channel ever appeared on our TVs when we were kids, an eternal source of confusion). If you watch Kiernan enough, you know that his greatest skill is being universally palatable, that he is inoffensive to the nth degree as he spends the mornings usually poring over our local papers and synthesizing the stories for the viewer.
Pat literally reads you the morning news, like a better-looking version of your own spouse sitting across the breakfast nook table as you're drinking coffee. So the fact that even he was bothered by this, in the same week that the news of the Jamal Khashoggi murder got nastier, tells you something.
5. Roma Conquers
Okay, so Hurricane Cooper-Ga Ga came and passed, leaving in its path of celluloid destruction a Best Original Song Oscar fave and definitely a Best Actor nomination for the star/director/writer, but most of us agree that it's a good, not transcendent, film.
And now here comes Alfonso Cuaron (Gravity, Children of Men, Y Tu Mama Tambien) with a film, set in Mexico City in the 1970s and shot in black and white, that critics are rushing to see as if they were northward-bound Hondurans.
It's the perfect critical backlash flick for A Star Is Born, and critics are tossing around the word "masterpiece," which almost definitely means it won't be playing at the Chattanooga multiplex any time soon. But in select cities, and with select critics, this will be a fave. And the question will become whether it belongs on the Best Picture or Best Foreign Picture list.
Tell me something, girl.
Music 101
Peg
Liner Notes: Released as a single in 1978 off the band's Aja album, this Steely Dan song spent 19 weeks on the Billboard charts, peaking at No. 11…the band went through six studio musicians before finally finding a seventh, Jay Graydon, who played the guitar solo to their satisfaction…the song has long been surmised to be about Peg Entwhistle, a Broadway star who leapt to her death from the Hollywood sign shortly before her first talkie film was released in 1932…the surviving member of the band, Donald Fagen, is playing as Steely Dan for the next two weeks not far from MH headquarters (5 blocks)
Remote Patrol
Dodgers at Brewers
NLCS Game 6
8 p.m. FS1
Joe Buck does not have many days off this time of year. From the NFL booth on Sundays to four Dodger-Brewer games this week, and possibly a fifth on Saturday. Meanwhile, the Brew Crew is waiting for Christian Yelich (.150 batting average in the postseason) to hit like the MVP that he is.