by John Walters
Starting Five
1. Wacko in Waco
Art Briles, 60, is gone. Ken Starr, 69 (So now you're calling him back), is no longer president. Both are gone following the 13-page Findings of Fact from the Hamilton Report and a meeting of Baylor's board of trustees. Bully for them.
I attended a Baylor home game in 2004 (to see Adrian Peterson for Oklahoma) at Floyd Casey Stadium and it was a dump. The entire atmosphere was probably the most K-Mart of any Power 5 school game I'd ever attended. In less than 10 years Briles turned that program around 180 degrees. Heisman Trophy winner. A Big 12 conference title and a Fiesta Bowl game. Three straight years of leading the country in scoring offense (2013, '14 and '15).
But Briles always seemed liked a red ass whenever he was questioned about Baylor's scheduling, or its off-field problems, etc. He was still that West Texas coach who felt he didn't have to answer to anyone. Hell, he'd been a Mike Leach assistant, after all. Well, yesterday the bill collector came.
As for Ken Starr, what a schmuck. He went all Captain Ahab chasing Bill Clinton around a in the late 1990s over a consensual sexual matter. Then he has a chance to help at least half a dozen female students, and he turns a blind eye. Of course it was never about justice for Starr; it was about power.
A quick word about football culture, if I may. I played high school football. I've also played on other sports teams and been part of other groups (there was that lute band in the early '90s that never really took off). Anecdotally, I've never heard guys talk more about women as being trophy kills, figuratively, as much as I have in football locker rooms. I should add that I've never served in the military (that third nipple kept me out).
Anyway, if you want to make a Mike Wilbon-type assumption that football, more than any other sport, has an atmosphere that is disrespectful to women, I'd go with you there based only on my experiences. I always liked the way Steve Spurrier did it: you touch a woman who doesn't want to be touched, violently or sexually, you're gone. No excuses. No mitigating factors. Coaches set the tone.
2. "Is Joe Flacco A Elite Quarterback?"
"Is Stephen Curry Undderrated as a Defender?"
Call it a dumb or bad question by ESPN's Michelle Steele (there are currently like 7 people at ESPN named Steele), but it produced the best reaction of the post-game press conference at Oracle following Golden State's Game 5 win. So in that respect it was the best question. Also, I mean, look at Russell Westbrook's face here. He's the Clubber Lang of this series, no doubt, but I foresee a Game 6 triple double for him. Oh, Thunder Road, Thunder Road trip….
3. Capsized
Refugees? Migrants? Yes. This boat was one of two that capsized in the Mediterranean this week, both of them overloaded with Libyan refugess. This boat capsized when its passengers spotted a rescue ship and everyone moved to the port side to see it. No word on how many died, but at least dozens did. An estimated 40,000 Libyan refugees have flooded into Italy this year ( <–sentences not to write if you want to persuade Phyllis to visit Italy with you).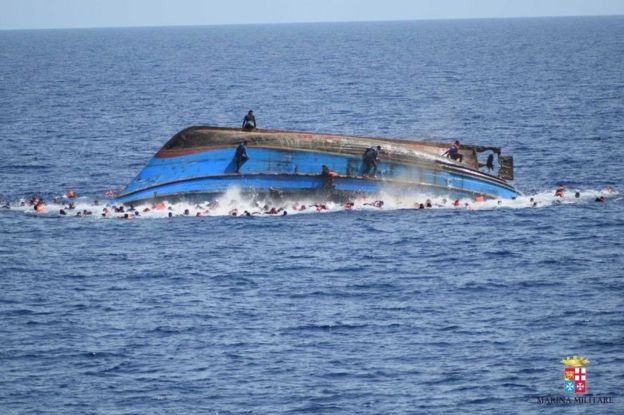 4. He Said What?
Donald Trump, speaking to a gathering in North Dakota yesterday: "There is one more thing that we have to do to make America wealthy again, and you have to be wealthy in order to be great. I'm sorry to say it…..We'll build the wall. We're going to build the wall. Believe me. We're going to build the wall."
One of my favorite Twitter follows, CNBC's Josh Brown, replied, "Just like Jesus."
In the interest of equal time, let's also post Jonah Goldberg's story in The National Review titled, "All of Hillary Clinton's Lies Are Premeditated."  I urge you to read it. I urge me to read it (I have not yet).
Quick Thoughts: I'm beginning to think that Trump will win, for the simple reason that nothing he does sticks to him but that this email fiasco will stick to Hillary. One of Trump's greatest strengths is that he is impervious to the "gotcha!" fact. Part of that is the media's fault. I mean, Jimmy Kimmel had him on the sofa and should have asked him, "I want you to tell me to my face that you were not John Miller." And he shouldn't have relented until Trump did that (it would have been good TV, too). But he didn't. Donald is a huckster, but we all know that. Hillary is Tracy Flick; she wants us all to think she's perfect, and she's not. And she'll pay a dearer price for that.
Also, some people think that because so many folks hate both candidates that voter turnout in November won't be "YUUUUUGE." I think exactly the opposite. People who usually don't vote will get off their asses to vote for Trump, and many others will do so to vote not for Trump. As former Secretary of Labor Robert Reich wrote two days ago, and  I am paraphrasing, "Not voting on election day is tantamount to voting for Trump."
I keep hearing that Trump is a Fascist. I don't agree. I think he's simply an opportunist. A narcissist. And a brilliant player of the game. But he's not a Fascist: he just understands that an undercurrent of Fascism has been developing here ever since 9/11 and he's ready to surf that wave to 1600 Pennsylvania Avenue. But let's not fool ourselves: this is, and has always only ever been, about his ego (and sure, you can say the same about Hillary, but at least she did the crappy Class Secretary/Sergeant at Arms types job, paid her dues).
5. Where In The World?
In case you forgot, this was our previous WITW:
That's the Genghis Khan Equestrian Statue on the banks of the Tuul River in Mongolia. A nice weekend trip. Now THIS was a Khan who truly had a wrath….
Music 101
Head Over Heels
"I'll take two-man British groups from 1984-85 for $200, Alex." You could make an actual category out of this, what with Wham! and Eurythmics (I know) and this band, Tears For Fears. This song packed at No. 3 in the U.S. in the spring of '85.
But if you think I'm going to squander the opportunity to put both songs with this title fro this era here, No way, Joaquin (wait, that's not how it goes). Here's the Go Go's song of the same name from 1984. This peaked at No. 11 (related: Talk Show is an underrated album).
Remote Patrol
Memorial Day Weekend
It's the best TV sports weekend of the year that does not include college football or March Madness. And it is definitely tops in terms of variety. Enjoy!
Saturday
UEFA Champions League Final: Atletico Madrid vs. Real Madrid
Fox 2:30 p.m.
A rematch of the 2014 classic, from Milan.
Game 6: Warriors at Thunder
TNT 9 p.m.
Will the refs curry favor on Steph?
Sunday
Monaco Grand Prix
8 a.m. NBC
Max Verstappen…..
Indianapolis 500
Noon ABC
The 100th running….
French Open
NBC Noon
Round of 16 from Roland Garros
Game 6: Cavs at Raptors
8:30 p.m. ESPN
Drink every time Mark Jackson says, "Momma, there goes that man." Cuz why put a brick through your TV set? Also, Susie B. is MIA for more than a week now. You're gonna have to develop thicker skin if you want to be in the sports-opining biz, kiddo.
Monday
French Open
Noon NBC
Round of 16
NCAA Lacrosse National Championship
ESPN 1 p.m.
Sticks and stones
NHL Stanley Cup Final: Sharks vs. Penguins
NBC 8 p.m.
Sharks on ice!