by John Walters
Starting Five
1. The Martin Chronicles*
The judges will also accept "Shkreli Vanilli."
Pharmaceutical magnate/extremely rare record collector Martin Shkreli, who is both a 1%er and a 5,000%er, appeared before a Senate subcommittee hearing yesterday. I don't think he embarrassed himself anywhere near as badly as Congressman Trey Gowdy, who tried to get cute with him by asking the correct pronunciation of his name, and then chiding Shkreli that, see, you are capable of answering questions…
However, I hope Shkreli listened to Rep. Elijah Cummings, though I doubt that he did. This was solid advice, that surely will appear in the ABC miniseries "Shkreli," next winter.
But he probably did not listen, as this tweet Shkreli sent out moments after appearing before the subcommittee suggests: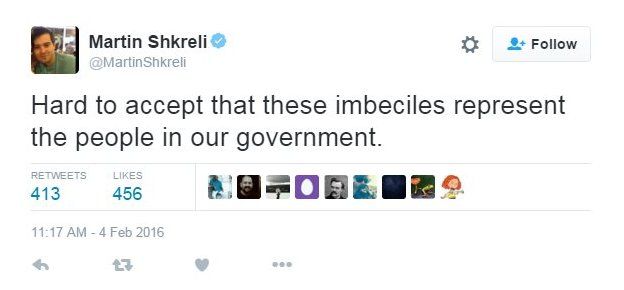 I'm a free-market advocate, but when is the last time you rooted so hard for karma to rise up and put its tentacles into someone?
2. The Binks Job
The only person in this video who did not demean himself or herself is the guy thrusting his pelvis into the face of the "reporter." If you see the video from earlier in this scene, Julie Stewart-Binks is giving Gronk the "Do Me" look something fierce.
I understand that he's Gronk, he's just a playful, seemingly lobotomized Hall of Fame tight end/sex toy. I'm sure he's actually much, much smarter (a 21st century Terry Bradshaw in that way). But how great that this happened on NFL Women's Summit day? And how curious that none of the women we normally hear waving pom moms for the Ya-Ya Sisterhood of Professionalism condemned this, or that the usual gaggle of feminist media pundits who ceaselessly remind us that every woman is great and heroic were silent?
Something tells me that Cam Newton doing this to, say, Michelle Tafoya, would not go down as easily.
3. Quarterback-ish
The video embedded here speaks for itself. Great job by Trevor Noah and The Daily Show writers untangling the racism nontroversy that the media has been attempting to create the past fortnight.
By the way, this was on Colbert last night. Also, very, very good.
4. Cranedemonium
A light snow fell this morning in New York City and, oh yes, so did this monster-sized crane in TriBeCa. Ouch. Usually when something this big collapses and crashes below Canal Street, it's the New York Stock Exchange.
Last night Johnny Manziel's ex-girlfriend, Colleen Crowley, made it public that Manziel struck her repeatedly and threatened to kill her (what's with all the anger, people?). This morning Manziel's agent dropped him. The domestic battery allegations could keep Manziel out of the NFL for good. As far as former Heisman winners go, it's not quite O.J.-level ignominy, but it's worse than Reggie Bush.
On the other hand, if you click the title of this item, you get to hear a good song. Also, Manziel may leave football before CTE gets him, so there's that.
Music 101
September
"You're a shining star
No matter who you are
Shining bright to see
What you could truly be…"
Maurice White, the founder of 70's super-funk and horn band Earth, Wind & Fire, passed away at the age of 74 in Los Angeles yesterday. White had been suffering from Parkinson's Disease. The lyrics above are from another EW&F tune, "Shining Star," but I'm going with their most popular hit here. I used to work with a very white and Midwestern writer at SI, an insanely talented writer, and it was always so incongruent with the rest of his upbringing that he was such a huge fan of Earth, Wind & Fire. But he was. And still is. And why not?
Remote Patrol
Saturday Night Live
11:30 p.m.
We all know what's on Sunday, but Saturday night's alright for viewing: At 7 p.m. on ESPN, you have No. 2 North Carolina at Notre Dame. At 8 p.m. on ABC, you've got the Republican debate in New Hampshire ("You down with GOP? Yeah, you know me!"), and the gloves are going to be off. At 9 p.m. on ESPN, you've got OKC, with the league's 3rd-best best record, at Golden State, who are 45-4 and 22-0 at home. And then finally, there is Larry David come home in full triumph as the host of Saturday Night Live. I think he'll get his sketches on this time around.