http://mediumhappy.com/?p=7562
by John Walters
Tweet du Jour
I dropped a box of spaghetti on the ground and accidentally graduated from Art School. pic.twitter.com/X8NdjG6vdY

— Mr. Drinks On Me (@Mr_DrinksOnMe) April 13, 2018
Starting Five
1. Fired And Furious*
*The judges will also accept, "Comey At Me, Bro!" and "Pee: Did He?"
James Comey's tell-all, A Higher Loyalty, will not be out until Tuesday, but you know how it is with leaks during the Trump defenestration administration. You've likely heard by now that the first two times Comey was alone with Trump, the president-elect doth protested too much about the Moscow Golden Showers tape. And he asked Comey to investigate it out of concern for his wife, which is an odd thing to request if the event in question, at which you are the center, never actually happened.
We liked this review of the book in The New York Times, because as the author noted, Comey is a chronically conscientious do-gooder whose zealousness in doing good not only likely steered the election in favor of Trump but also left him as a man whom both former candidates, Trump and Hillary Clinton, despise.
Rule No. 6: No good deed goes unpunished. 
You may want to read this: What if Amazon were to "accidentally" ship cases and cases of A Higher Loyalty to the White House?
2. Rich Man, Doorman
That's Dino Sajudin, a former doorman at Trump World Tower. He did a fantastic impersonation of Bobby Moynihan's "Second-Hand News Guy," claiming he'd heard Donald Trump had had an affair with a housekeeper and fathered a love child but that he ought not to criticize the housekeeper.
Then the National Enquirer got interested. They had him take a lie-detector test, he passed, and then they paid him $30,000 for the rights to the story "in perpetuity." Then they sat on it. NE publisher David Pecker, who paid five times as much to bury the Karen McDougall story with Trump, is a pal of the president's.
Is Dino lying? His ex-wife, a personal trainer in Brooklyn, says that he is a "pathological liar" (where have we heard that term before and to whom was it attributed?). We have no idea if the story is true, but it is interesting that Pecker phoned Michael Cohen about it before the $30,000 hush money was paid.
And we almost forgot: The Washington Post is reporting that some Trump officials are fretting that Michael Cohen taped many of his phone conversations, which would now be in the possession of the U.S. Attorney's office, Southern District of New York, which would be the most colossal and inept maneuver since the dudes who broke into the Watergate leaving the door open, which alerted the guard (Honestly, is there a greater oxymoron than "criminal mastermind?").
Today's episode of The Worst Wing is, frankly, overflowing with salaciousness.
3. Brokeneck Pace
This is Tim Don, one of the world's premier triathletes. Last May in Brazil the then 39 year-old Brit set the world record in the Ironman with an astounding time of 7:40:23. He broke the existing record by four minutes. Officially, he finished his 2.4-mile swim in 44:15, his 112-mile bike in 4:06:56, and his 26.2-mile marathon in 2:44:46.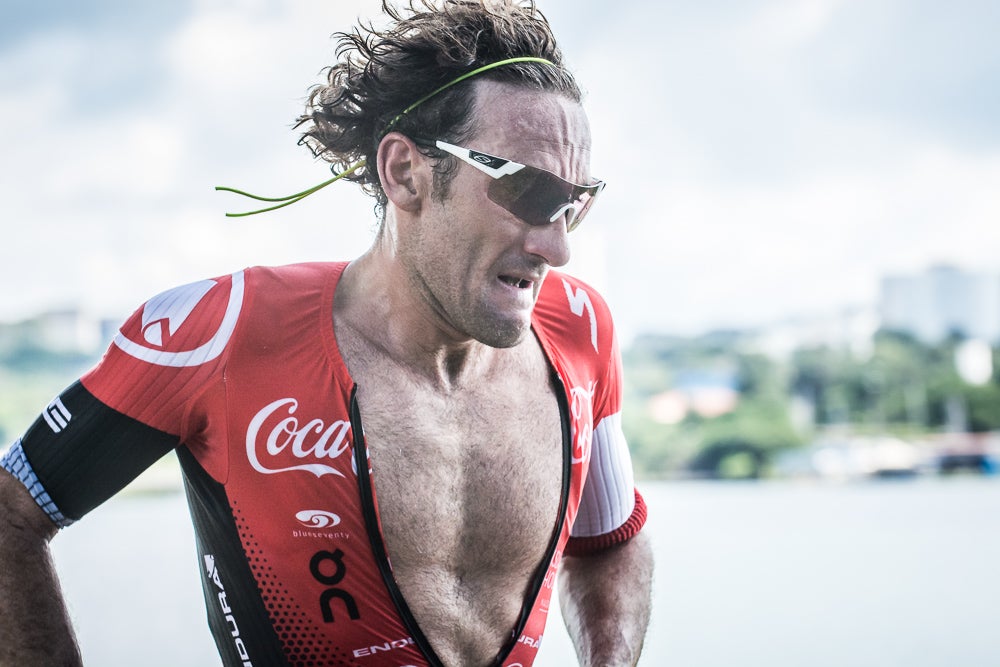 Five months later, while on a training ride in Colorado, he was struck by a car and fractured the C-2 vertebrae in his neck (the hangman's fracture, because that's the vertebrae that snaps). Fortunately, Don survived and he chose to wear a halo (above) for his recovery, ruling out surgery, because that would have limited the range of motion in his neck and ended his athletic career.
He wore the halo for four months. This Monday he's going to run the Boston Marathon (halo removed) and hopes to finish in 2:50. He truly is an Ironman. Terrific story in The New York Times.
4. Blacks' Law Dictionary
*The judges acknowledge that this hed makes little sense; we just wanted to…
That's Ieshia Charles, a single mother of five from Houston. But don't you fret, MAGA-land. She's not on food stamps and he hand is not out. Charles dropped out of high school to have her first child. Then, in 2009, she lost her job, she lost her home to a fire, and she lost her husband to an illness (she should be suing the producers of This Is Us for pilfering her life story).
Charles thought about committing suicide, but then she got right with God. And even though she had grown up herself homeless (mom on drugs, dad deceased), she had always wanted to be a lawyer. So her pastor urged her to get her GED. She did. Then college. Check. Now she's about to graduate from Thurgood Marshall Law School and we're just wondering when Octavia Spencer will sign on for the role (or is Tiffany Hadish or Kerry Washington going to pursue the part).
Never give up, kids. Never. Give. Up.
5. Move Over, Osmonds
There's a new most talented singing Mormon family from Utah, and it's the LeBaron clan. This, inspired by their mom's request for a song as a Mother's Day gift, is tremendous. They claim they only rehearsed it a few times before putting this on tape. The LeBarons, five kids and their spouses (dad's in the background, too), recorded it on Easter Sunday.
Music 101
Just Between You And Me
We're going to go out on short ledge, or ice floe, and declare April Wine as the hardest rocking band from Nova Scotia. This 1981 power ballad hit No. 21 on the Billboard charts.
Remote Patrol
You Magnificent Beast
Netflix
Greg Davies may be the world's tallest comedian (6'8″). Or at least he's England's tallest comedian. He's cheeky. You'll like.
***
MH staff sends out a special thank you to Cory, Kurt and Jeff. Much appreciated!