http://mediumhappy.com/?p=7746
by John Walters
Starting Five
Let's (Rock &) Roll!
Is Donald Trump headed to a Flight 93 memorial on 9/11 or has he just passed through the turnstiles for his first Grand Funk Railroad concert? You tell us.
You'll notice that's actually Melania, and not the body double, by the fact that she's walking a few feet behind her husband.
2. Notre Dame's Playbook? Play Book
We understand that there may be a few of you who also happen to follow Notre Dame football closer than the average reader, so here's our suggestion: In the Fighting Irish's next two games, at home versus Vanderbilt and at Wake Forest, Brian Kelly should play backup quarterback Ian Book at least half the snaps. At least.
Why? Well, because while Vandy and Wake aren't exactly pushovers (judging from last Saturday, nobody will be for this squad), the season hinges on the next two contests: Stanford and at Virginia Tech. And unlike last season at Miami, it probably would be a bad idea for Kelly to get frustrated with Brandon Wimbush and just throw Book into the game cold with the Irish trailing and the opposing crowd frothy (which would be the case in Blacksburg).
Yes, Book played the entire North Carolina game last season and the entire Citrus Bowl, both Irish wins. He doesn't have Wimbush's legs, but he has better pocket presence and better accuracy on his throws. It's not that Kelly needs to sack Wimbush. He just needs to acclimate him to the idea that both QBs can contribute. Such a philosophy seems to be working just fine at Alabama and Clemson.
Bottom line: We don't think the Irish get past both Stanford and Virginia Tech with Wimbush at quarterback. Maybe they don't get past both no matter who is taking the snaps. But we think they have a better chance if both options are viable, and the team isn't rattled by, or unprepared for, an in-game switch.
3.  Whiff 'lball
With less than three weeks to play in the regular season, baseball is on the precipice of an ignominious first: This may be the first year in more than 100 seasons that will have more strikeouts than base hits.
Thus far we've had 36,690 strikeouts in the 2018 season. As for base knocks, we've had 36,720. Bottom line: each team is averaging 1,223 strikeouts this year and 1,224 hits. Nearly identical.
When you consider that this year will probably be the second-most prolific year in terms of  home runs hit league-wide (second only to last year), what you've got is balls that either leave the park or end up in the catcher's mitt. There's less and less fielding happening than ever before, fewer and fewer singles, doubles and triples.
Launch angle. Exit velo. Power versus power. That's where the big contracts are, and that's why situational hitting is not in fashion. It's why a player such as Giancarlo Stanton can have a contact valued at $325 million, the largest in MLB history, yet be second in baseball in strikeouts (195) and on the verge of breaking the MLB record. Why? Because he's hit 33 home runs and no one puts more smoke on a ball when he connects.
Still, sometimes you're a slugger. But more often you're a shrugger. Is it worth it?
4. A Shot In The Dark
We confess to not understanding a lot about the shooting of Botham Jean by Dallas police officer Amber Guyger over the weekend. First, we don't understand what her being a police officer has to do with anything. She was not acting in an official capacity when she mistakenly entered Jean's apartment, believing it was her own. Second, we're very skeptical that her reaction—overreaction—would have been the same if she had accidentally walked into the apartment of a white male or white female. Third, Guyger appeared to be talking on the phone moments after the shooting. Whom did she call? What did she say? Will there be subpoenas for this? Fourth, why didn't she allow Jean an opportunity to answer her, why didn't she make any attempt to deescelate the sitch?
Legal experts, help us out: this is at least manslaughter, no? "The unlawful killing of another person without premeditation or so-called "malice aforethought."
How is what Guyger did similar to what we see with the acts that NFL players are kneeling about? Here's how: in places people don't want to talk about, cops are scared of encounters with black men. They act on their fear. And this is just another tragedy due to that.
5. We're Just Going To Leave This Here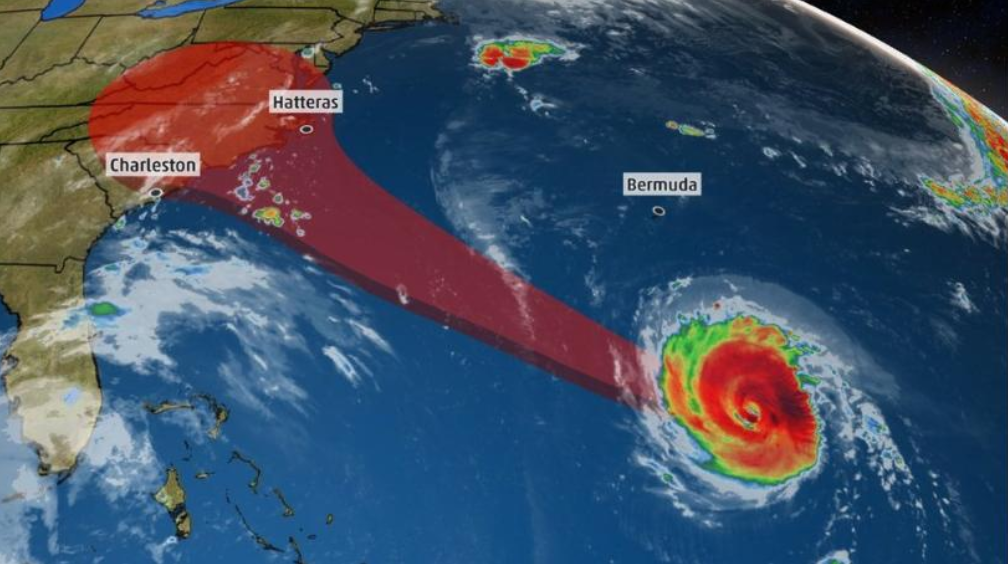 Headline in this morning's New York Times: "
$10 Million From FEMA Diverted to Pay for Immigration Detention Centers, Document Shows
As Hurricane Florence bears down on you, Carolinas, know that your government assistance is being used to house illegal immigrants. Oh, and please accept this roll of paper towels that president tosses your way as a token of our empathy.
Meanwhile, we don't think this tweet is going to age well….
Hate these games being cancelled due to hurricane. Couldn't they have waited another day or two to see what the impact of hurricane is… if any at all??

— Danny Kanell (@dannykanell) September 11, 2018

****
Yo, Susie B., AMD became a two-bagger today. Our first two-bagger of 2018. Lemonades on the MH staff!
Music 101
The Things I Will Not Miss
https://www.youtube.com/watch?v=t0PZ1ovDepE&list=RDt0PZ1ovDepE&start_radio=1&t=23
We were very young and impressionable when, within the span of a few months or even weeks, we first saw Planet of The Apes (on TV; it had been released in 1968) and Lost Horizon (in theaters, 1972). It's basically the same set-up—Americans drop out of the sky into an alien habitat no one knows exists—with quite different outcomes. For example, no one in the latter gets a forced lobotomy. Here's Liv Ullman and Olivia Hussey musing on how much they envy the other's world. All the songs in this film, which has somewhat been forgotten (too bad), were written by Burt Bacharach and Hal David.
Remote Patrol
A Night At The Opera
6 p.m. TCM
"You can't fool me! There ain't no Sanity Claus." Yuk after yuk after yuk in the Marx Brothers classic.
Crisis On Wall Street: The Week That Shook The World
10 p.m. CNBC
Was it only 10 years ago that Lehman Brothers exploded and the stock market collapsed? It feels more like hundreds of thousands—or millions—of dollars for many Americans (raises hand). Andrew Ross Sorkin interviews some of the key players in the saga.